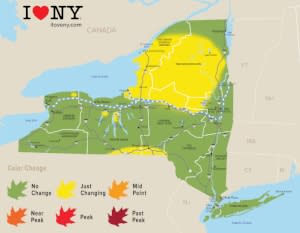 Color Changes Also Reported in Catskills, Thousand Islands-Seaway, Capital-Saratoga, Finger Lakes and Greater Niagara Regions
 Albany, NY – This is the second 2018 Fall Foliage Report for New York State. Reports are obtained from field observers and reflect expected color conditions for the coming weekend. Fall Foliage Reports are issued every Wednesday afternoon. 
Picturesque fall colors will continue to make their first appearances across New York State this weekend, with some areas of the Adirondacks approaching midpoint of change, according to observers for the Empire State Development Division of Tourism's I LOVE NY program.
In the Adirondacks, Franklin County spotters in Tupper Lake expect foliage heading toward midpoint of change this weekend, with 35-40 percent color change and fall colors of muted canary, goldenrod, maize, pumpkin, russet, cranberry and cerise. Spotters in Saranac Lake also expect conditions approaching midpoint with 40 percent color change. There is still a lot of green, but vibrant shades of red are emerging from the red maples, and sugar maples are showing various hues of yellow and orange.