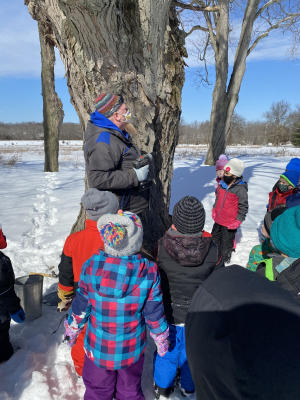 Maple Sugar Tours at HHNM begin this weekend
Cornwall, NY -  Maple Sugaring Season is once again upon us in the Hudson Valley and the Hudson Highlands Nature Museum is ready with their Maple Sugar Tours! Learn how to identify and tap sugar maple trees, discover sugaring techniques used by Native Americans, pioneers, and modern-day farmers, and see an evaporator in action.
Maple Sugar Tours will take place at the Nature Museum's Outdoor Discovery Center location, 120 Muser Drive, off of Angola Road in Cornwall. They'll  kick off on Saturday Sunday, February 21 and 22 and will continue on February 27 and 28; March 6, 7, 13 and 14 where two types of tours are offered hourly from 11am-3pm.