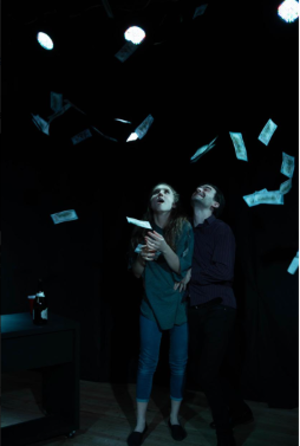 New York, N.Y. -- Eric Bogosian's 1 +1, a new play, will have its off-Broadway premiere at SoHo Playhouse (15 Vandam Street), it was announced by The Blackbox and SoHo Playhouse. Performances begin February 23 and run through March 19. Opening night is set for February 27. 
1 + 1 explores how a modern woman can still rise and fall at the whim of the men in her life. In 1+1, an unsuspecting aspiring actress in Los Angeles makes a seemingly innocent choice that lures her into the lucrative world of internet porn, and her fate seems caught between the two men who couldn't seem more opposite yet might have more in common than first meets the eye.
The play was originally developed at Powerhouse/New York Stage And Film in 2008, first produced at The Black Box in Englewood, NJ in 2021, and headlined NYC's Chain Play Festival in July 2022.
"Though the piece seems to be about internet porn and one victim in particular, what I wanted to get at was a deeper examination of responsibility when two people share blame over bad actions," says Mr. Bogosian, whose first time back in a theater after a year and a half was for his own play at The Black Box in Fall '21. "What I want is for the audience to ponder this particular set of circumstances through the eyes of the three characters. I want the audience to be intrigued and drawn in by what they see onstage."
Directed by Matt Okin, 1+1 features Michael Gardiner, Katie North, and Daniel Yaiullo reprising their roles from the New Jersey production. Danielle MacMath is the understudy, the Production Designer/SM is Ilana Schimmel, and original incidental music is by Ben Shanblatt.
1 +1 plays Thursday – Saturday at 7:00pm with a special performance on Monday, February 27.
Black Box's production has been praised as "a lustrous work of art" (Broadwayworld) and "well acted, thought-provoking and uncompromisingly dark... Bogosian explores some big themes throughout 1+1. And this production... does the play justice" (NJ Arts). It was featured on Theater Scene's Top 10 List of 2022, "It is due to Mr. Bogosian's jolting dialogue, command of narrative and humane depictions of his archetypal characters, that all make this underside of show business premise fresh... With this searing production, 1+1 is a welcome opportunity to experience Eric Bogosian's distinctive talent as a playwright" (TheaterScene.org).
For tickets, priced at $46, and information, please visit: www.SoHoPlayhouse.com.
###
Eric Bogosian is known for his six solo works produced Off-Broadway between 1980 and 2000 (three Obie Awards, Drama Desk) and his play, Talk Radio (nominated for Pulitzer Prize and for the 2007 revival, the Tony award). For Oliver Stone's film adaptation of Talk Radio (in which he starred), Bogosian received the Berlin Film Festival Silver Bear. In 1994, Lincoln Center Theater produced his play subUrbia and the revival was staged at Second Stage in 2006. In 2010, he starred in Donald Margulies' Broadway production of Time Stands Still alongside Laura Linney, Brian Darcy James, Alicia Silverstone and Christina Ricci. In addition, Bogosian is the author of three novels as well as numerous plays produced outside New York City. In 2015, Little, Brown published his non-fiction of an Armenian assassination team, Operation Nemesis. Bogosian is also known for his work as an actor, currently seen in the television series Law & Order, Billions, Succession, and Interview With The Vampire. In 2019, he played "Arno" in the hit film Uncut Gems. Bogosian lives in New York with his wife, stage director Jo Bonney.
The Black Box, a 501c3 nonprofit organization, is based in Northern New Jersey. The collaborative group of artists pivoted during the pandemic and the organization has become the area's prime incubator for new and under produced works by world-class playwrights. Following Eric Bogosian's 1+1, The Black Box 2022 season included The Cleopatra Club by legendary filmmaker Paul Schrader, Ode to Joy by Broadway's Craig Lucas, and the premiere production of Exposed by Beth Henley. Black Box's 2023 season will incubate works by Nicky Silver, Daniel Handler, Migdalia Cruz, Ken Levine, Halley Feiffer, John Lahr, and more to be announced. Works in collaboration with the Estates of Sam Shepard, Edward Albee, and I.B. Singer are also in the mix. For more information on Black Box, including collaborative performing arts classes through Black Box Studios (innovative theater education since 2007) and Shakespeare in the Park Bergen County (five summers of free shows in Northern, NJ), please visit www.BlackBoxPAC.com.
SoHo Playhouse (Darren Lee Cole, Artistic Director) has been one of Off Broadway's primary venues for new plays for the past 80 years. Formerly "Vandam Playhouse" the theatre has been home to countless dreams and movements. Many actors, directors, choreographers, production designers, theatre managers, technicians, and producers all received their start at SoHo Playhouse. Several of America's leading writers have premiered their work at 15 Vandam Street including Sam Shepard, Edward Albee, Tracy Letts, Charles Buch, Leroi Jones and Lanford Wilson. Award winning shows have included: "The Boys in the Band", "Killer Joe", "The Divine Sister", "Krapp, 39", "Piaf", "Room Service", "Jamaica Farewell", "Belly of a Drunken Piano", "Bukowski From Beyond", "The Emperor Jones", "Triassic Parq", "Rap Guide To Climate Chaos"", "The Other Josh Cohen", "Bill W and Dr Bob", "Bright Colors And Bold Patterns", "Josephine: A Burlesque Cabaret Dream Play", "Tammany Hall", Hannah Gadsby, Fleabag and TJ & Dave. The Playhouse has also proudly served as home to the Fringe Encore Series since 2005. Mr. Cole has served as Artistic Director since 2004.
###
1+1 Photo Credit: Florian Wahl Photography
Eric Bogosian Headshot Photo Credit: Monique Carboni
Press Contact: Scott Klein/Logan Metzler at Keith Sherman & Associates,