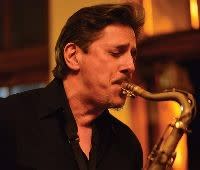 Yonkers, NY. March 4, 2020 -  For their third annual "Second Fridays" series of live jazz music, the Westchester Center for Jazz and Contemporary Music has agreed to donate a portion of each ticket sold to benefit the Foundation for the Yonkers Public Library. "I am excited for this opportunity to combine our efforts presenting great live music in Yonkers and making the city a cultural destination for jazz," said Liz Sander, owner of the Westchester Center for Jazz & Contemporary Music. "We welcome everyone to join us for a fun night out, to hear great live music and support the library, at the same time."
The series consists of three concerts, held on the second Friday of the month: March 13, April 17,* and May 8. Each show includes a guest artist playing original works, standards, and R&B with the Joey Berkley Band. 
"We are so grateful to the Westchester Center for Jazz for their support," said Nancy Maron, President of the Foundation. "Music has deep roots in Yonkers cultural life, and we hope to see lots of library supporters there."
Shows are located at 540 Nepperhan Avenue, Yonkers, NY at the Yoho Artist Lofts in the Carpet Mills Arts District. Each $25 ticket includes table seating in the intimate cabaret-style room. Tickets are available online here. Seating is on a first come, first served basis. Doors open at 7:30; Show starts at 8:00.
Schedule:
Friday, March 13
Matt McDonald, Trombone
https://www.mattmcdonaldmusic.com/
Trombonist Matt McDonald has performed at jazz festivals and venues around the world, including North Sea, Montreux, The Blue Note, Birdland, Carnegie Hall, and with world-class ensembles including Lincoln Center Jazz Orchestra under the direction of Wynton Marsalis, The Max Weinberg Big Band, Mambo Legends Orchestra, The Temptations, The Four Tops, The Christian McBride Big Band, and the Jimmy Heath Big Band.
Tickets available at:
https://www.artful.ly/store/events/20076
Friday, April 17
Christine Tambakis, Vocalist
Instagram@christinetambakismusic
Christine Tambakis has shared the stage and/or recorded with such artists as John Oates, The Neville Brothers, Matt Schofield, Bernard Purdie, Jon Herington, Boyz II Men, Bobby Brown, Lynyrd Skynyrd, Sugarland, Gretchen Wilson, Vince Gil, Amy Grant, and more and has performed at venues including B.B. Kings Blues Club NYC, Saturday Night Live stage, Brooklyn Bowl, The Bitter End, Joe's Pub, The Cutting Room, and at major festivals around the world.
Tickets available at:
https://www.artful.ly/store/events/20077
Friday, May 8th 
Tony Kadleck, Trumpet
Jazz trumpeter Tony Kadleck is a multi-talented force whose fiery blasts and sweet distinctive sound carry his horn into a musical space that defies categorization. One of the most sought-after trumpet players in the New York area, Tony Kadleck has performed & recorded with luminaries including Stevie Wonder, Michael Jackson, Elton John, the Boston Pops Orchestra, Tony Bennett, Natalie Cole, Luther Vandross, and Celine Dion. He's also performed with the Count Basie Orchestra, Ella Fitzgerald, Isaac Hayes, and Steely Dan and is currently a member of the Maria Schneider Jazz Orchestra and the New York Pops.
Tickets available at:
https://www.artful.ly/store/events/20078
About The Westchester Center for Jazz and Contemporary Music
The Westchester Center for Jazz and Contemporary Music provides an opportunity for musicians of diverse backgrounds, abilities, and ages to develop their own skills playing jazz and other related forms of contemporary music. Led by tenor saxophonist and band leader Joey Berkley, the team of instructors includes some of NYC's best professional musicians on all instruments. The school's priority is to develop musicians who play with confidence, skill, and knowledge. Courses currently offered include Big Band ensembles, improvisation and theory, composition, and R&B. Students join year-round and are welcome to sit in for a trial class.
facebook.com/westchesterjazzcenter 
@jazzcenteryonkers
About Joey Berkley and the Joey Berkley Band
Veteran tenor saxophonist Joey Berkley has been a part of the NY music scene for more than 30 years. Originally from Toronto, Canada, Joey's career has evolved from being known as a highly sought after sideman at ease in a wide variety of musical settings, to the present where Joey focuses his energy mostly toward writing and performing with his bands. Joey's compositions can be heard on his CD releases: "Made in NYC", "More'n Four" and "Joey Berkley's Bandits." The Joey Berkley Band includes pianist Gary Deinstadt, guitarist Andy Abel, drummer Chris Parker and bassist Joris Teepe. The title track from their 2019 release, "Moving Forward," has been described as a "post-bop burner with energy to spare." (All About Jazz) 
About the Foundation for the Yonkers Public Library
The Foundation for the Yonkers Public Library is a not-for-profit organization created by the Trustees of the Yonkers Public Library to enhance the Library's ability to provide outstanding programming, cutting-edge technology, and vibrant meeting places that best serve our diverse community.
www.facebook.com/foundationforypl
MEDIA CONTACT:
Liz Sander
(203) 252-7466