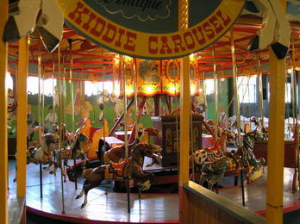 North Tonawanda, N.Y. – The Herschell Carrousel Factory Museum will be celebrating National Carousel Day on Saturday July 25th. The museum will be offering unlimited carousel rides with the purchase of regular admission and 10% off all Herschell Carrousel Museum logo merchandise. In addition, there will be docent lead tours of the museum at 11:00 am and 2:00 pm and STEM activities in the Children's Gallery throughout the day.
The museum will be reopening its Kiddieland Testing Park exhibit beginning on Friday July 24th. Visitors who would like visit Kiddieland during their trip will be required to reserve a time lot. To accommodate these changes and increased staffing and cleaning measures, Kiddieland is no longer included in our general admission for the 2020 season and can be purchased in addition to museum admission. Admission to Kiddileland will be $5.00 per child/$4 per child for members for a 30 Minute Time slot (allows for 4-5 rides). Adult chaperones or older siblings will be complimentary with the admission of a child. Visitors can call (716)693-1885 to make a reservation in advance or can make their reservation the day-of when purchasing admission. Please remember that children must be between 34 and 52 inches tall are able to ride the Kiddie Cars, Pony Carts, and Wet Boats. Kiddieland will be open on Friday and Saturdays during museum hours, weather permitting.
Herschell Carrousel Factory Museum COVID-19 Safety Regulations
Visitor safety is the museum's first priority and the museum is taking added measures to ensure it. The museum asks visitors to follow the following protocol when in the museum to keep themselves and others safe:
•             Face masks/coverings are required at all times for all visitors ages 2 and up.
•             All visitors are required to have their temperature checked when they enter the museum. Any guest with a body temperature of 100.4 degrees or above will not be permitted to enter.
•             Visitors must follow the guidance of all signage and staff around the museum.
•             Hand sanitizing stations are available throughout the museum space, including in both carousel areas.
•             The museum asks visitors to please practice patience with all staff and volunteers of the museum.
The museum will take the following additional steps:
•             Both carousels are operating on half hour schedules to ensure time for proper cleaning and sanitation.
•             The museum is closing an hour early each day to allow us additional cleaning time.
Visit www.carrouselmuseum.org for more information.
About the Herschell Carrousel Factory Museum
The Herschell Carrousel Factory Museum is located at 180 Thompson St. in North Tonawanda, New York. The mission of the museum is to be a premier national historic site and community resource for family learning and recreation that fosters an appreciation for the unique heritage of the carousel and related industries in the Niagara Region.