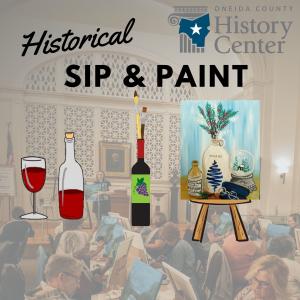 Saturday, November 19, 1:00-3:00 p.m.
Utica, N.Y. – The Oneida County History Center is bringing back its popular Sip & Paint program featuring a still life with historical artifacts from the museum's collection. Participants will create a holiday-themed painting with beautiful crockery from White's Pottery, a Utica Ginger Beer jug, and other historical items. Tickets are $40 for non-members and $35 for OCHC members and include all art materials, one beverage ticket, and light snacks. Pre-registration is required. Join us for an afternoon of a bit of painting, a little sipping, and a lot of fun!
Attendees will be led by the instructors from Painting with a Twist and will create their version of the featured painting while sipping and enjoying the company of other painters. The event will be held on November 19, from 1-3 p.m., in the OCHC exhibit gallery. Drinks will include wine and non-alcoholic options. Anyone planning to consume alcoholic beverages should come prepared to show a valid ID. For further information or purchase tickets, visit https://www.oneidacountyhistory.org/programs.html or call 315-735-3642.
The Oneida County History Center is a private 501(c) (3) not-for-profit educational institution dedicated to preserving the history, heritage, and culture of the Greater Mohawk Valley for present and future generations. Please contact the History Center at 315-735-3642 or visit the OCHC website (www.oneidacountyhistory.org) for additional information.
###
For Further Information Contact:
Patrick Reynolds at preynolds@oneidacountyhistory.org