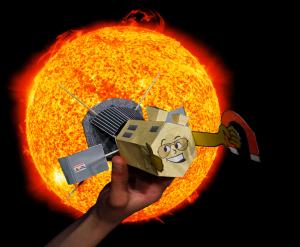 See press images here.

Yonkers, N.Y. – Be sure explore all of our virtual offerings on HRM's Museum From Home, a new digital initiative for audiences to experience all the HRM has to offer. There are a variety of recorded programs and workshops available, with new content being added each week in the categories of: Art Projects, Science Projects, Awesome Astronomy, Storytime, Teaching Resources, and HRM Collections & Exhibitions. In addition, there will be live-streamed programs, including virtual tours with curators, workshops with artists, conversations and Q&A with experts on timely topics, and community-curated exhibitions and playlists.

#MuseumFromHome 
 
PROGRAMS

Friday, May 8, 4pm
Awesome Astronomy LIVE: How Big is the Universe?
In this week's Facebook Live chat, Planetarium Manager Marc Taylor takes us back one hundred years, to a time when the big question in astronomy was, quite literally, how big is the Universe? This and other topics are covered in this week's Awesome Astronomy video, produced and narrated by planetarium Educator Ron Palumbo. Join the conversation on Facebook Live here.

Saturday, May 9, 1:30pm 
Curator Tour from Home: James E. Bartlett on We Came to Party and Plan 
Join James Bartlett, co-curator of the HRM exhibition Derrick Adams: Buoyant, for an informal overview of the artist's immersive, site-specific installation We Came to Party and Plan, a newly created body of work that invites the viewer into a party atmosphere full of complexity. Bartlett will be joined by HRM Director and CEO Masha Turchinsky, who will take us on a behind-the-scenes walkthrough of the exhibition at the HRM. Watch the tour on Instagram Live here.

Sunday, May 10, 2pm
Music for Our Mothers / Concierto por el Día de las Madres
Motherhood is celebrated all over the world, and Mother's Day is a very special holiday to the indigenous peoples of Mexico, who revere women for their life-giving and sustaining strength. Enjoy this international live concert of Mexican folk music with your mother, wherever she may be, or invite a dear friend or family member who has been like a mother to you.
Mezzo-Soprano Jacinta Fuentes, accompanied on the piano by Crystian Anaya Gutiérrez, will perform the songs of the isthmus of Tehuantepec in the native languages of Oaxaca and Chiapas, in honor of mothers everywhere! Join the live Zoom concert.

La maternidad es celebrada en todo el mundo, para los latinoamericanos y para algunos grupos indígenas de México es un día muy especial. Disfruta este evento internacional de música tradicional mexicana en la compañía de tu familia y las mujeres que representan una figura materna para ti. La mezzosoprano Jacinta Fuentes acompañada de Crystian Anaya Gutiérrez en el piano, ofrecerán este concierto cantando sones del Istmo de Tehuantepec, canciones representativas de Oaxaca y Chiapas, en honor de las mujeres que nos han dado la vida.

Friday, May 15, 4pm
Virtual Teen Night: Come to Party and Plan! 
Enjoy Virtual Teen Night festivities from the comfort of your home! A creative space for high school teens (ages 13-19) to join together in this LIVE event and show off their talent, fashion, and art. RSVP is required! Send an email to rsvp@hrm.org and we'll email you a Zoom link. This event will also be live-streamed on the Junior Docents' Facebook page: https://www.facebook.com/HRMJuniorDocents/

Interested in showcasing your creative talent in an open mic, fashion show, or art exhibition at the Virtual Teen Night at Home? Submit a video or picture of your artwork (4 minutes maximum for talent, 2 minutes maximum for fashion; it can be a tik tok video). An HRM Teen Programs coordinator will follow up within 3–5 business days to notify you of your acceptance. Any questions can be addressed to teenprograms@hrm.org or vchoy@hrm.org. Submission form (Talent, Fashion, and Art): 
https://docs.google.com/forms/d/1y5Fq143-AOm6R8OT1nS4YKWVeTN9_s8EfDIAbHlg_X0/edit

Friday, May 15, 4pm
Science & Nature Projects LIVE: Kitchen Universe
Bubbling tomato sauce and toaster coils might not seem to have much in common with the stars—but you'd be surprised! This live Zoom science lab will give you some observations to make and mini-experiments to try next time you are making a meal in the kitchen. Led by Marc Taylor, Manager of Planetarium and Science Programs. Recommended for ages 6+. Join the Zoom workshop here.

Monday, May 18, 12pm
Start Composting at Home: Techniques for Kitchen and Backyard
Watch Elisa Zazzera as she demonstrates the techniques you'll need to start composting at home. Zazzera is a Westchester County Master Composter and Recycler, member of the US Composting Council, and Friends of the Old Croton Aqueduct board member who has been actively involved in local and county-wide solid waste initiatives for close to 15 years. Zazzera has helped dozens of families start and improve their backyard compost systems, as well as helped to institute the Food Scrap Recycling Program in Hastings-on-Hudson. The video will be available to watch on our Science & Nature Projects page.

Wednesday, May 20, 3pm
Art Project LIVE: River Mapping
Join us for a live workshop and travel along some of our favorite works of map art in our collection. Flex your cartographic creativity by making your own map of places that are important to you. All you need is paper and something you can use for drawing. Ages 4+. Join the live Zoom workshop.

Friday, May 22, 4pm
Awesome Astronomy LIVE: My Favorite Spring Sights
Tony Gordon, longtime science educator at the Hudson River Museum, might not be able to get into the HRM Planetarium, but using "virtual planetarium" software, she will take us on a tour of her favorite constellations in the Spring sky. In this Facebook Live event, join our astronomy Q&A with Tony and Marc Taylor, Manager of Planetarium and Science Programs, who will further illuminate the heavens. Join the conversation on Facebook Live here.

Sunday, May 24, 1:30pm
Curator Tour from Home: Glenview and Gilded Age Women's Fashion 
Historic costume is a great lens for understanding the past because we can so tangibly imagine its connection with the clothing we wear. It's one thing to be in a restored room, but it's another thing to be able to imagine yourself in the right outfit—how you would look, how it would move with you, how it would constrain you. 

Join this virtual tour with Laura Vookles, Chair of the Curatorial Department, to personally see how women's fashion in the late nineteenth and early twentieth-centuries morphed from bustles to lobster-tail trains, to more bustles, then hourglass silhouettes. By the end of Glenview's era as a residence, women would finally be freed from their corsets. Join the Zoom event here.

Thursday, May 28, 5pm
Sketchbook Traveler: A LIVE Workshop with James L. McElhinney
What had once been a medium for mapmakers and naturalists has in the digital age become the most portable one for both artists and enthusiasts. Plein-air watercolor journaling transforms the sketchbook into something nimbler than canvas. 

In this workshop, engage in mindful travel through drawing and writing with artist James L. McElhinney. He will introduce you to the practice of expeditionary artists that is adaptable to all kinds of travel—real, virtual, remembered, or imaginary—in the great outdoors or in the confines of your home, your neighborhood, or your own backyard. For materials, bring paper or a journal/notebook, pencil, and watercolor paints and brushes (if available). Join the Zoom workshop here.

Friday, May 29, 4pm
Science and Nature Projects LIVE: Meet the Parker Solar Probe
Join this week's live Zoom workshop to learn how to make a model of the Parker Solar Probe, which is now orbiting and studying the Sun. The Parker is producing indispensable science about solar physics and the effects of solar storms on Earth. You can choose to make the "basic" or "advanced" model, but you'll learn about the mind-boggling engineering behind the spacecraft with either one! Led by Marc Taylor, Planetarium and Science Programs Manager; Recommended for ages 10+. Join the Zoom workshop here.
Photo: Parker Probe


Press contact:
Jen McCaffery
jmccaffery@hrm.org
(914) 963-4550 x240