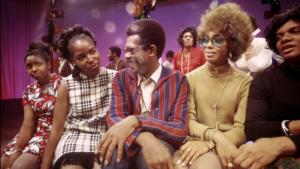 Communal moviegoing at the popular Queens Drive-In continues alongside online Virtual Cinema screenings and live events
Calendar Advisory (Aug 26–Sept 16, 2020)
New York, N.Y. – Museum of the Moving Image continues to present off-site and online programs while it prepares its building for re-opening. In addition to big-screen movies at the Queens Drive-In — projected in 4K on a 62-ft-wide screen with space for nearly 200 cars — the Museum will be presenting four new films in its Virtual Cinema this Friday with ongoing live online events. Additional programs will be announced as they are confirmed.

LIVE ONLINE EVENTS
Theorizing the Web Presents: Watching Me, Watching You
WEDNESDAY, AUGUST 26, 2:00 P.M.
MoMI continues its collaboration with Theorizing the Web on an ongoing series of live events about the internet and society. "Watching You, Watching Me" explores how online platforms can reinforce asymmetries of privilege and power. In "'What Is Nextdoor For?' Spaces of Imagining and Politics of Performing Community," Keli Gabinelli investigates how the online platform Nextdoor demonstrates the way that imagined communities online are sustained through mechanisms of exclusion. Then, in "The Moralization of Predictivity in the Age of Data-Driven Surveillance," Sun-ha Hong examines post-9/11 counterterrorism surveillance, and the longstanding biases and prejudices inherent in data-driven efforts to predict and preempt acts of terrorism. The discussions will be moderated by Zach Kaiser, followed by an audience Q&A. Join the live conversation here.
Theorizing the Web Presents continues bi-weekly. Upcoming events will be announced on the Museum's website.

Reverse Shot Happy Hour
WEDNESDAYS AT 5:00 P.M.
Reverse Shot is Museum of the Moving Image's house publication for criticism and writing on film past and present. Starting in May, Reverse Shot editors Michael Koresky and Jeff Reichert and longtime contributor Farihah Zaman began hosting weekly "Happy Hour" sessions, informal discussions about the state of cinema, criticism, and culture. Special guests FOR AUGUST 26 include critic and Reverse Shot contributor Chloe Lizotte (who recently kicked off the new Event Horizon column with an essay about the work of Conner O'Malley) and filmmaker-archivist Sierra Pettengill (The Reagan Show). More info.

QUEENS DRIVE-IN
Co-presented by Rooftop Films, Museum of the Moving Image, and New York Hall of Science. Address: New York Hall of Science, 47-01 111 St, Corona, NY. For tickets, visit rooftopfilms.com/drivein/queens/ Tickets range from $35–$45 per car (up to 5 passengers), except for free shows (which still require RSVP). Sign up for email updates at QueensDriveIn.com

FREE SCREENING
Up
WEDNESDAY, AUGUST 26
Dir. Pete Docter. 2009, 96 mins. Pixar's beloved animated tale of intergenerational friendship is among the studio's most moving works, a tear-jerking adventure of discovery and love that received two Oscars, including Best Animated Feature of the Year. Recommended for all ages. Part of the Wednesday Night Movies series of free screenings presented by Queens Borough President Sharon Lee.

This Is What We Mean by Short Films 2020
THURSDAY, AUGUST 27
For 24 years, Rooftop Films has been presenting their annual international This is What We Mean by Short Films program. This year's program is bursting with joyous musical valentines; cinematic explorations of erased Black histories; a queer, Indigenous mumblepunk take on the rock 'n' roll survival story; the tragic tale of a pair of dinosaurs who fell in love; and the world premiere of Andrew Wonder's The Great Fair on the grounds that once hosted history's greatest World's Fair! Films: And the People Could Fly (Dir. Roni Nicole Henderson-Day, USA 13 mins.), Día de la Madre (Dirs. Ashley Brandon, Dennis Höhne. USA, 6 mins.), Dinosaurs in Love (Dirs. Hannah Jacobs, Katy Wang, Anna Ginsburg. UK, 1 min.), The Great Fair (Dirs. Andrew Wonder, Colleen Dodge. USA, 8 mins.), Jesse Jams (Dir. Trevor Anderson. Canada, 16 mins.), The Shawl (Dir. Sara Kiener. USA, 7 mins.), Something to Remember / Något Att Minnas (Dir. Niki Lindroth von Bahr. Sweden, 5 mins.), Spit on the Broom (Dir. Madeleine Hunt-Ehrlich. USA, 11 mins.), Waiting for the Sun (Dir. Zelene Pineda Suchilt. USA, 3 mins.), and Wong Ping's Fables 2 (Dir. Wong Ping. (China/USA, 13 mins.).

Landfall
FRIDAY, AUGUST 28
Dir. Cecilia Aldarondo. USA, 2020, 91 mins. In Spanish with English subtitles. Set against the backdrop of protests that toppled the U.S. colony's governor in 2019, Landfall offers a prismatic portrait of collective trauma and resistance. Preceded by For Gregorio / Para Gregorio (Dir. Cristobal Guerra. USA, 9 mins.) In this work of vibrant intimacy, filmmaker Cristobal Guerra captures the life of his uncle Gregorio "Watusi" Guerra, a Queens resident who migrated from Puerto Rico to New York City in 1964.

Night of the Living Dead
SATURDAY, AUGUST 29
Dir. George A. Romero. USA, 1968, 96 mins. With Duane Jones, Judith O'Dea. Romero's seminal, independent zombie movie laid the groundwork for the indie horror film. But there has yet to be another film about the cannibalistic undead as scary as the original. Presented as part of the Museum of the Moving Image and Sloan Science & Film series Science on Screen. Preceded by the short film program Something's in the Air, which includes The Deepest Hole (Dir. Matt McCormick. USA, 13 mins.), Sniffles and Sneezese (McGraw-Hill, USA, 9 mins.), and Wood Child and Hidden Forest Mothere (Dir. Stephen Irwin, UK, 10 mins.).

2001: A Space Odyssey
SUNDAY, AUGUST 30
Dir. Stanley Kubrick. UK/USA, 142 mins. With Keir Dullea, Gary Lockwood, Douglas Rain. As brilliantly engineered as the space program itself, Stanley Kubrick's mysterious and profound epic—"the ultimate trip"—is about nothing less than the beauty and the banality of civilization, blending cool satire, an elaborate vision of the future, and passages of avant-garde cinematic inventiveness. Presented in conjunction with the exhibition Envisioning 2001: Stanley Kubrick's Space Odyssey at Museum of the Moving Image. Preceded by I'm Not a Robot (Dir. Sean Buckelew. USA, 2 mins.)

FREE SCREENING
The Lunchbox
WEDNESDAY, SEPTEMBER 2
Dir. Ritesh Batra. India/France/Germany/USA/Canada. 2013, 104 mins. With Irrfan Khan, Nimrat Kaur, Nawazuddin Siddiqui. In English and Hindi with English subtitles. A mistaken delivery in Mumbai's elaborate and efficient lunchbox delivery system connects a young housewife and a widower on the verge of retirement. The Lunchbox features Irrfan Khan—already an international star from his roles in Life of Pi, Slumdog Millionaire, and The Namesake—in one of his most poignant roles. Part of the Wednesday Night Movies series of free screenings presented by Queens Borough President Sharon Lee.

Do the Right Thing
THURSDAY, SEPTEMBER 3
Dir. Spike Lee. USA, 1989, 120 mins. With Danny Aiello, Ossie Davis, Ruby Dee, Giancarlo Esposito, Spike Lee, Bill Nunn, John Turturro. One of the most aesthetically accomplished and intentionally incendiary of all American films, Spike Lee's full-throttle portrait of a particularly eventful, hot summer day in the life of a Bed-Stuy neighborhood is a remarkable dramatization of race relations in America. Preceded by the short film program Stories from the City: Malcolm Trails (Dir. Marcus Brittain Fleming. USA, 2019, 1 min.), Flujos (Dir. Alejandra Araujo. USA, 2018, 3 mins.), and Queens Coming Back (Dir. Esneider Arevalo. USA, 2020, 5 mins.)

DOUBLE-FEATURE PRESENTATION
9to5: The Story of a Movement / Nine to Five
FRIDAY, SEPTEMBER 4
9to5: The Story of a Movement (Dirs. Julia Reichert, Steven Bognar. USA, 2020, 86 mins.). In the 1970s, America's secretaries took to the streets, fed up with on-the-job abuse. They created a movement called 9to5, which later inspired Jane Fonda to make a movie and Dolly Parton to write a song. This is the untold story of their fight from the Oscar-winning directors of American Factory. Followed by Nine to Five (Dir. Colin Higgins. USA, 1980, 110 mins. With Lily Tomlin, Jane Fonda, Dolly Parton, Dabney Coleman). This galvanizing workplace comedy kicked off the eighties with an unapologetically feminist bang, with a script based on Fonda's research into the 9to5 movement.

Born in Flames
SATURDAY, SEPTEMBER 5
Dir. Lizzie Borden. USA, 1983, 79 mins. Set in a near future landscape that looks a lot like downtown New York in the late '70s and early '80s, Born in Flames is a landmark of American independent cinema and a groundbreaking, exhilarating work of feminist agitprop. Preserved by Anthology Film Archives with restoration funding by The Hollywood Foreign Press Association and The Film Foundation. Laboratory services by Video and Film Solutions and Audio Mechanics. Presented as part of the MoMI series See It Big! The Future Is Now. Preceded by the shorts program Women's Work: Deborah Harry Does Not Like Interviews (Dir. Meghan Fredrich, 17 mins), Fascist Love (Dirs. Stefa Marin Alarcon, Cristobal Guerra, 3 mins.), Fucked Like a Star (Dir. Stefani Saintonge, Haiti/USA, 8 mins.), Laying Out (Dir. Joanna Arnow, 5 mins.), Stunting Cunts (Dir. Gina Kamentsky, 3 mins.), The Vibrant Village (Dir. Weronika Jurkiewicz, Poland/Hungary, 7 mins.), and Yes I Rode Here (Dir. Rachel Brown, 10 mins.).

DOUBLE-FEATURE PRESENTATION
Back to the Future / Rick and Morty
SUNDAY, SEPTEMBER 6
Back to the Future (Dir. Robert Zemeckis, USA, 1985, 116 mins. With Michael J. Fox, Christopher Lloyd, Lea Thompson, Crispin Glover.) In this rollicking comic adventure, 1980s teen Marty goes back to the 1950s and must arrange his own parents' meeting, while at the same time try to save the life of his friend, eccentric scientist Doc Brown. Followed by two episodes of Rick and Morty (Created by Dan Harmon and Justin Roiland, USA, 2013-2020, 45 mins. Rated TV-MA.) This Emmy Award–winning animated series follows genius scientist and misanthrope Rick and his nervous teenage grandson Morty as they dimension-hop to universes where snakes rule, cars sneeze, daylight savings time doesn't exist, and pizzas eat people. A pair of key episodes from the second and fourth seasons will be shown. Presented as part of the MoMI and Sloan Science & Film series Science on Screen.

Ema
THURSDAY, SEPTEMBER 10
Dir. Pablo Larraín. Chile, 2019, 102 mins. In Spanish with English subtitles. Adoptive parents Ema (Mariana Di Girolamo) and Gastón (Gael García Bernal) are artistic free spirits in an experimental dance troupe whose lives are thrown into chaos when their son Polo is involved in a shockingly violent incident. As her marriage crumbles in the wake of their decision to abandon the child, Ema embarks on an odyssey of liberation and self-discovery as she dances and seduces her way into a daring new life. Centering on the sinuous, electrifying art of reggaeton dance, Ema is an incendiary portrait of a lady on fire, from world-class director Pablo Larraín (Jackie, Neruda). Courtesy of Music Box Films. Preceded by Love in Motion short film program, with filmmakers in person. Part of Rooftop Films Summer Series 2020.

DOUBLE-FEATURE PRESENTATION
Bulletproof / Stray
FRIDAY, SEPTEMBER 11
A fascinating night of non-fiction filmmaking that puts a unique lens on hot button issues. Bulletproof (Dir. Todd Chandler. USA, 2020, 83 mins.) explores the complexities of violence in schools by looking at the strategies employed to prevent it. Unfolding alongside scenes of longstanding school rituals are a collection of newer traditions: lockdown drills, teacher firearms training, metal detector screenings, and school safety trade shows. Bulletproof asks what these rituals reflect back at us in a cinematic meditation on the array of forces that shape the culture of violence in the United States. Followed by Stray (Dir. Elizabeth Lo. USA, 2020, 73 mins.) Stray explores what it means to live as a being without status or security, following three stray dogs—Zeytin, Nazar and Kartal—as they embark on inconspicuous journeys through Turkish society that allow us an unvarnished portrait of human life — and their own canine culture. Stray is a critical observation of human civilization through the unfamiliar gaze of dogs and a sensory voyage into new ways of seeing. Courtesy of Magnolia Pictures. Part of Rooftop Films Summer Series 2020.

DOUBLE-FEATURE PRESENTATION
Videodrome / The Thing
SATURDAY, SEPTEMBER 12
Videodrome (Dir. David Cronenberg. Canada, 1983, 87 mins. With James Woods, Deborah Harry, Sonja Smits.) A cable-television programmer of softcore porn tunes into a startling new broadcast that offers a nightmarish realization of Marshall McLuhan's theories on the changing and dangerous media landscape. Followed by The Thing (Dir. John Carpenter. USA, 1982, 109 mins. With Kurt Russell, T.K. Carter, Wilford Brimley.) In Carpenter's horrifying classic, a scientists' outpost in Antarctica is infiltrated by an alien lifeform that can enter any body undetected and violently metamorphose into a simulacrum of its victim. With this monster on the loose, the isolated men become suspicious of one another and, even worse, begin to doubt themselves. Presented as part of the MoMI and Sloan Science & Film series Science on Screen.

FREE SCREENING
The Farewell
WEDNESDAY, SEPTEMBER 16
Dir. Lulu Wang. USA/China, 2019, 100 mins. In English and Mandarin with English subtitles. With Awkwafina, Tzi Ma, Diana Lin, Zhao Shuzhen, Lu Hond, Jiang Yongbo. Queens native Awkwafina stars in Lulu Wang's moving and funny hit about a family that withholds a big secret from their sick matriarch. Part of the Wednesday Night Movies series of free screenings presented by Queens Borough President Sharon Lee.


VIRTUAL CINEMA
MoMI announces the following new release films available for online viewing. A portion (50%) of ticket proceeds go to support the Museum.

Mr. Soul!
OPENING FRIDAY, AUGUST 28
Dir. Melissa Haizlip. 2018, 115 mins. Before Oprah Winfrey and Arsenio Hall, Ellis Haizlip made broadcast television history with SOUL!, an innovative weekly public TV series that aired from 1968 to 1973 and celebrated Black American culture. In addition to ushering giants and rising stars such as Gladys Knight, Stevie Wonder, and Al Green onto the national television stage, the show reflected Haizlip's personal fight for social equality, ensuring the revolution would be televised with such guests as James Baldwin, Stokely Carmichael, Kathleen Cleaver, and The Last Poets. This new documentary, directed by Melissa Haizlip and executive produced by Blair Underwood, celebrates this openly gay, Black pioneer, who ignited a Harlem Renaissance for a new era. An Open Your Eyes & Think MF release. Trailer | Tickets ($12 $10 MoMI members)

Route One/USA
OPENING FRIDAY, AUGUST 28
Dir. Robert Kramer. 1990, 255 mins. In 1988, renegade filmmaker Robert Kramer returned to the United States after years of living abroad. To reacquaint himself with the country, he decided to travel the entire length of Route 1, from the Canadian border to Key West, filming all the way. His companion on the trip is his ostensible friend Doc, played by actor Paul McIsaac, who readily engages with those he meets at locations as varied as an Indian reserve in Maine, Walden Pond, the Vietnam Veterans Memorial in Washington D.C., and evangelical churches. Though shot decades ago, Route One / USA feels remarkably contemporary in its portrayal of the racial, social, and economic challenges America continues to face. An Icarus Films release. Trailer | Tickets ($10 / $8 MoMI members)

Epicentro
OPENING FRIDAY, AUGUST 28
Dir. Hubert Sauper. Austria/France/U.S., 2020, 108 mins. The latest film from Academy Award–nominated director Hubert Sauper (Darwin's Nightmare) offers a typically complex and frankly bracing consideration of the past, present, future, and mythology of Cuba. Sauper dials back to the sinking of the USS Maine in 1898 to pinpoint the origins of destructive geopolitics that also overlap with the origins of cinema, and thus with the origins of cinematic misinformation, as an entry into presenting his own new (and mindfully fraught) images of the people of Havana. Epicentro challenges viewers to get beyond received notions of a society ambered and isolated in time—notions that locals are more than familiar with—by following wise young people who are angling for a future. Winner of the Grand Jury Prize, World Cinema Documentary Competition, 2020 Sundance Film Festival. Opening night film of 2020 First Look Film Festival. A Kino Lorber release. Trailer | Tickets ($12)

Ghost Tropic
OPENING FRIDAY, AUGUST 28
Dir. Bas Devos. Belgium. 2019, 85 mins. After a long day at work, 58-year-old Khadija (Saadia Bentaïeb) falls asleep on the last train home. When she wakes up at the end of the line, she has no choice but to make her way back to her Brussels home on foot. Along her nocturnal journey she is compelled to ask for help, as well as to look out for other inhabitants of the night. The latest from award-winning director Bas Devos is an evocative and compassionate tale made up of encounters that invariably take us to unexpected places. Absorbently captured in lowlight on 16mm, Ghost Tropic flows forward over a single night but lingers long afterwards. The film premiered at the 2019 Cannes Directors' Fortnight and was scheduled to have its New York premiere at MoMI as part of First Look Festival earlier this year. A Cinema Guild release. Trailer | Tickets ($12/$10 MoMI members)

Our Time Machine
OPENING FRIDAY, SEPTEMBER 11
Dirs. Yang Sun, S. Leo Chiang. China/USA, 2019, 81 mins. Shaken by the news of his father's dementia, artist Maleonn creates the stage play "Papa's Time Machine," a wondrous time-travel adventure performed with life-size mechanical puppets. Through the production, Maleonn confronts his own mortality, finding grace and unexpected joy. Yang Sun and S. Leo Chiang's documentary is a moving meditation on art, the agonies of love and loss, and the circle of life. A Passion River Films release. Trailer | Tickets ($12/$10 MoMI members)


CONTINUING VIRTUAL CINEMA PROGRAMS:
Michael Almereyda Here and Now
THROUGH SEPTEMBER 29
A true American iconoclast, Michael Almereyda has been directing, writing, and producing unconventional, fiercely independent visions in a variety of genres and styles for more than three decades, whether working in documentary, fiction, or a combination of the two. On the release of his acclaimed latest film, Tesla, Museum of the Moving Image is presenting a recent career retrospective featuring some of Almereyda's most memorable 21st-century visions, including a program of rarely shown shorts: William Eggleston in the Real World (2005), Experimenter (2015), Marjorie Prime (2017), Escapes (2017), and the short films To the Unknown (2017, 7 mins.), Skinningrove (2013, 15 mins.), The Great Gatsby in Five Minutes (2011, 11 mins.), The Ogre's Feathers (2010, 20 mins.), and The North Wind's Gift (2018, 20 mins.). Press release | Tickets ($3.99–$5.99)

A NEW YORK TIMES CRITIC'S PICK
Sunless Shadows
THROUGH AUGUST 30
Dir. Mehrdad Oskouei. 2019, 74 mins. In Persian with English subtitles. Sunless Shadows centers on teenage girls and women incarcerated for the murder of a male family member. One by one, Oskouei invites the young women to go into a room alone, push the red button on the camera and address their accomplices or victims. With this new confessional approach combined with the ever-deepening relationships he has with his subjects, Oskouei presents a picture of the disenfranchised in an aggressively male-dominated society and of the prison that is their shelter from it. A Cinema Guild release. Press release | Trailer | Tickets ($12/$10 MoMI members)
Presented as part of the series Bound Unbound: Four by Mehrdad Oskouei, which also features the director's earlier films Starless Dreams, The Last Days of Winter, and It's Always Late for Freedom. A series pass is available for $20 ($16 MoMI members).

Visit MoMI's Virtual Cinema page for all ongoing titles.
Top image: Mr. Soul! (Dir. Melissa Haizlip. 2018.) Host/Producer of the television show SOUL!, Ellis Haizlip, is surrounded by members of the J.C. WHITE CHOIR just after their mesmerizing performance on the show in a scene from the film Mr. Soul! Photo by Alex Harsley / Courtesy of Shoes in the Bed Productions.

Press contact: Tomoko Kawamoto, tkawamoto@movingimage.us

MUSEUM INFORMATION
The Museum's mission is to advance the understanding, enjoyment, and appreciation of the art, history, technique, and technology of film, television, and digital media. Though devastated by the effects of the COVID-19 pandemic, the Museum continues to fulfill its mission online through: live conversations with artists, filmmakers, scholars, media educators, and other industry professionals; articles published in MoMI's online film magazine Reverse Shot and science and film resource Sloan Science & Film; access to the Museum's collection of more than 150,000 objects; and the online presentation of a range of films—including acclaimed new release features and award-winning science shorts, plus archived video of Museum events, and more. For more information, visit movingimage.us. Follow MoMI on Facebook, Twitter, Instagram, and YouTube.

ABOUT QUEENS DRIVE-IN
The Queens Drive-In was co-created by Rooftop Films, New York Hall of Science, and Museum of the Moving Image to present safe, communal moviegoing in New York City during the ongoing COVID-19 pandemic. With the goal of bringing film, culture, togetherness, and joy back to the City, the drive-in will be donating a portion of every ticket sale to non-profit organizations that serve the hardest-hit communities in our borough. The drive-in also serves to sustain jobs, and support New York and the larger filmmaking community. Located at the New York Hall of Science in Flushing Meadows Corona Park, screenings run from August 13 through October 31. For more information, visit queensdrivein.com.

Museum of the Moving Image is housed in a building owned by the City of New York and has received significant support from the following public agencies: New York City Department of Cultural Affairs; New York City Council; New York City Economic Development Corporation; New York State Council on the Arts with the support of Governor Andrew M. Cuomo and the New York State Legislature; Institute of Museum and Library Services; National Endowment for the Humanities; National Endowment for the Arts; and Natural Heritage Trust (administered by the New York State Office of Parks, Recreation and Historic Preservation).