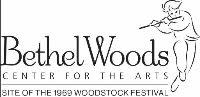 WHEN: Tuesday, July 6th, 2021, 3:00-7:00 PM
WHERE: The Event Gallery at Bethel Woods, 200 Hurd Road, Bethel, NY 12720
WHAT: Bethel Woods Center for the Arts, a nonprofit cultural organization located in Bethel, NY, will host a Job Fair highlighting seasonal opportunities available to individuals looking for work featuring a flexible schedule and fun work environment.

Having welcomed more than three million visitors since opening in 2006, Bethel Woods relies on the talent and commitment of seasonal staff to create a seamless and enjoyable concert experience for guests throughout the summer. The 2021 Pavilion season kicks off with a performance by Chicago on July 20th. Training will be offered and there is no experience required. Available opportunities include:
Museum Staff;
Ticket Takers;
Box Office Staff;
Ushers;
Facilities & Grounds People;
Parking Staff and more.
 
WHO: Lauren Jones, Human Resources & Operations Manager, Bethel Woods Center for the Arts
Staff and Supervisors of Bethel Woods Center for the Arts
Spectra Experiences
Sky Retail
 
Those who are unable to attend the fair but interested in employment are encouraged to fill out and submit an application. Pertinent information available at BethelWoodsCenter.org/Employment.
###
About Bethel Woods Center for the Arts
Bethel Woods Center for the Arts inspires, educates, and empowers individuals through the arts and humanities by presenting a diverse selection of culturally-rich performances, popular artists, and community and educational programming.  Located 90 miles from New York City at the site of the 1969 Woodstock festival in Bethel, NY, the lush 800-acre campus includes a Pavilion Stage amphitheater with seating for 15,000, an intimate 440-seat indoor Event Gallery, the award-winning Museum at Bethel Woods, and a Conservatory for arts education programming.
 
Through the in-depth study and exhibition of the social, political, and cultural events of the 1960s, as well as the preservation of the historic site of the Woodstock Music and Art Fair, Bethel Woods educates individuals about the issues and lessons of the decade while inspiring a new generation to contribute positively to the world around them. The not-for-profit organization relies on the generous support of individuals, corporations, and foundations to develop and sustain programs that improve the quality of life in the region and beyond.
 
For more information please visit www.BethelWoodsCenter.org.