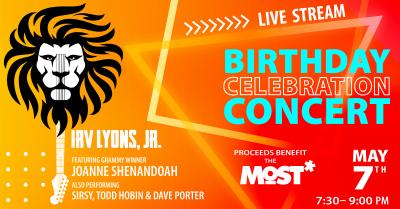 Event link here
Syracuse, NY -- Grab a drink and some (virtual) friends and get ready for the concert of the quarantine! Irv Lyons Jr., Chief Development Officer at the MOST, has decided to host a jam-packed concert for his birthday on May 7, 2020, with local favorites. All proceeds to benefit the MOST.
Starting at 7:30 pm, the schedule is as follows:
•          SIRSY from 7:30 pm - 7:50 pm
•          Dave Porter from 7:50 pm - 8:10 pm
•          Todd Hobin from 8:10 pm - 8:30 pm
•          Grammy award winner, Joanne Shenandoah from 8:30 pm - 8:50 pm
•          Irv Lyons Jr. Music from 8:50 pm - 9:00 pm
"I love making music and performing and thought a virtual concert would be a great way to support another love of mine - the MOST," said Irv Lyons Jr.
The event will be hosted by Facebook event on the MOST page, where artists will begin a "live stream" during their allotted time. Options to donate will be available throughout the concert via Facebook and GoFundMe.
"The staff and I are so grateful to Irv and the incredible line up of talent who are performing on Irv's Bday. It's such a fun way to connect through music and raise much-needed funding for the MOST," said Lauren Kochian, President of the MOST.
All are welcome to attend, virtually.
Link to Facebook event here.
Link to MOST GoFundMe here.
For more information about the MOST, visit https://www.most.org/.
About the MOST
The Milton J. Rubenstein Museum of Science & Technology (MOST) is a hands-on science and technology museum for all ages. The MOST hosts numerous STEM education programs and community outreach events annually and is home to 35,000 square feet of interactive permanent and traveling exhibits, Silverman Planetarium, and Bristol IMAX® Omnitheater - the only domed IMAX theater in New York State. The MOST's vision is to be a preeminent science and technology center, inspiring all generations through hands-on education and entertainment.
The MOST is regularly open 10 a.m. to 5 p.m. Wednesdays through Sundays. The Museum is open on Mondays and Tuesdays for local school Winter Recess, Midwinter Break and Spring Break. For hours and pricing, visit most.org or call 315.425.9068.
Media Contact
Stephanie Herbert, Marketing and Communications Coordinator
sherbert@most.org, Cell: 585-402-6886