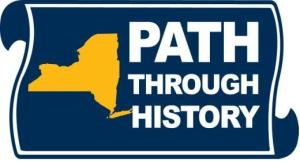 Visit the Home of a Civil War General and U.S. President, Experience One of the Last Lighthouses of its Kind, and Join an Old Fashioned Ball Game at Path Through History Weekend Events
Special Programs Offer Immersive Opportunities to Experience New York State History and Heritage during the 2018 Path Through History Weekends, June 16-17 and October 6-8
New York, N.Y. -  Events across New York State will offer new perspectives into the state's history and heritage during this year's Path Through History Weekends. Scheduled to coincide with Father's Day on June 16-17 and Columbus Day on October 6-8, these events are ideal vacation and family opportunities. During these weekends, hundreds of museums, historic sites, parks and community groups across the state will host special tours, reenactments, and other enhanced programming. Many participating sites will also offer special discounts or free admission. Visitors might find themselves playing an early form of baseball, talking to a soldier at a living history reenactment, watching a glassblowing demonstration, or sampling new foods at a festival showcasing one of the state's diverse communities.
"From the Civil Rights movement and expansion westward via the Erie Canal to pivotal wartime moments, New York and its people have helped shape America's history," New York State Executive Director of Tourism Ross D. Levi said. "With one-of-a-kind insider experiences, Path Through History Weekends provide a great opportunity to discover some of New York State's fascinating story. These weekends are an especially great time to plan a family getaway that is both enriching and fun."
The weekends showcase New York's Path Through History program, introduced by Governor Andrew M. Cuomo in 2012, which uses 13 themes to organize more than 650 heritage sites across the state. The Path Through History website provides maps; a user-friendly list of historical sites searchable by theme, region and dates of travel; and an itinerary builder to help visitors plan a trip along their very own path through history.
For an idea of what's on tap, check out this sampling of the June 16-17 Path Through History Weekend events from New York's eleven vacation regions:
The Adirondacks
Strike up the Bagpipes – You don't have to be Scottish to enjoy Scots Day, June 16, at Fort Ticonderoga. At this day-long celebration, visitors can watch border collie demonstrations and bagpipe performances, savor Scottish cuisine and beverages, and explore their Scottish roots at one of the participating clan tents. Living history events throughout the day tell the tale of the Black Watch, the legendary Scottish fighting force that distinguished themselves for centuries. There will also be a ceremony to honor the Scottish soldiers who bravely fought here at the Battle of Carillon during the French and Indian War in 1758.
Capital-Saratoga
"Meet" Ulysses S. Grant – A visit to Grant Cottage in Wilton provides an intimate look at the man himself. This Civil War general and 18th president of the United States was broke and dying of cancer when he came to this cottage to write his memoirs, at the suggestion of his friend Mark Twain. For six weeks, he raced against pain and time to complete his memoirs and support his family after his death. Today, the cottage has been restored with many of his personal items and looks much as it did when he stayed here. On June 17, Father's Day, admission for dads is FREE, and guided visits of this four-room cottage bring this often-misunderstood hero to life.
The Catskills
Letters from the Great War – The Sullivan County Historical Society in Hurleyville will host a performance by the Catskill Readers Theatre as part of their new "The Great War" exhibit. The performance, which includes readings of letters from World War I soldiers alongside music from the era, will take place at 2 p.m. on June 17. The exhibit is open from 10 a.m. to 4:30 p.m. from June 16 through Armistice Day, November 11 and contains Sullivan County-related World War I memorabilia featuring items on loan from residents and the Society's own collection. Admission is FREE; donations are welcome.
Central New York 
From Submersibles to Pluto – The Roberson Museum and Science Center in Binghamton features exhibits that span the world and beyond, from local history as revealed by Native American artifacts, to planetarium shows that follow space probes to Pluto and across Milky Way. On June 16-17, the museum will provide enhanced tours of the Roberson Mansion, with new personal anecdotes about the family from recent research. Be sure to check out an inspiring exhibit about local 20th century inventor Edwin A. Link, whose groundbreaking flight simulators and submersibles helped open new frontiers in the sky and under the sea. Open Saturday and Sunday from noon to 5 p.m.
Chautauqua-Allegheny 
Tour with an Expert – Jane Johnson, director of exhibits and special collections at the Roger Tory Peterson Institute of Natural History in Jamestown, will offer a personally guided tour of the institute's new exhibition, "Roger Tory Peterson: The Life, The Work, The Legacy" at 11 a.m. on June 16. Peterson is best known for "A Field Guide to Birds," first published in 1934, and his work inspires both bird-watchers and environmentalists to this day. This special tour will look at Peterson's original artwork, memorabilia and artifacts, as well as the institute's lovely grounds and the acclaimed building that bears his name, created by renowned architect A.M. Stern.
Finger Lakes 
The Role of Women – The Seneca Art & Culture Center at Ganondagan in Victor has a new exhibit entitled "Hodinöhsö:ni' Women: From the Time of Creation" and on June 16 and 17, visitors can explore the exhibit guided by one of the women of Ganondagan. The tours, which depart hourly from 10 a.m. to 4 pm., will highlight the important and integral role of women in the Haudenosaunee (Iroquois) culture and its influence on American thinking. Katsitsionni Fox's short film "Haudenosaunee Women & Women's Suffragists: A Hidden History" is included in the exhibit. Admission also includes self-guided tours to the rest of the Seneca Art & Culture Gallery, the Seneca Bark Longhouse, and a short film, "Iroquois Creation Story."
Greater Niagara 
A Celebration of Freedom – The Juneteenth Festival of Buffalo, first held in 1976 as an alternative to the nation's Bicentennial Celebration, celebrates the 1865 abolition of slavery in the U.S. Among the nation's largest annual Juneteenth festivals, this year's event will take place on June 16-17 in Martin Luther King, Jr. Park with additional activities on other dates. The event is fun and educational, with vendors selling ethnic foods and crafts, tours of local Underground Railroad and other African-American heritage sites in the city, musical performances by local artists, lectures, and other activities reflecting the broad spectrum of African American heritage and history.
Hudson Valley
Canals, Glass, and iPhones – From June 15-17, the Corning Museum of Glass's GlassBarge will be docked at the Hudson River Maritime Museum in Kingston. Visitors can board and watch a free 30-minute glass-blowing demonstration and learn about Corning innovations in glassmaking that included the creation of Edison's first successful lightbulb, the screen for the first iPhone, and optical fibers used for telecommunication systems. GlassBarge will be accompanied by the Lake Champlain Maritime Museum's Lois McClure, a replica barge that offers a window into 19th-century canal life. Visitors may also want to visit the Hudson River Maritime Museum itself, where hands-on activities include an interactive model of the canals and locks. GlassBarge demonstrations are FREE, but reservations are recommended due to capacity restrictions on the barge.
Long Island 
Where Modern Aviation Took Off – Long Island's location and geography have long made it a natural center for aviation. From hot air ballooning and Charles Lindbergh's first transatlantic flight to the quest to reach outer space, many of aviation's firsts happened in Long Island. The Cradle of Aviation Museum in Garden City tells the story with more than 72 aircraft and space vessels, including one of the few lunar modules not on the moon. There's also a planetarium and giant domed theater offering engaging shows throughout the day. To celebrate Path Through History Weekend, the museum will be offering "Buy One, Get One" admission on June 16 and 17.
New York City 
Play Ball like it's 1864 – Baseball was a different game in 1864; pitching was underhand, there were no helmets or gloves and players could catch a ball on a bounce for an out. On June 16, from 1 to 4 p.m., the New York Mutuals will play old-time baseball on the front lawn of the Bartow-Pell Mansion Museum, a 19th-century mansion with a carriage house and formal garden. The Mansion is located in the Bronx at Pelham Bay Park, New York City's largest park. After the official game, kids can play a game of rounders with the team. Beer and food vendors will be on-site. Registration is required, but dads are FREE in honor of Father's Day.
1000 Islands 
Once More Lighting the Way – The 1838 Selkirk Lighthouse at the Salmon River Lighthouse & Marina in Pulaski is celebrating its 180th anniversary this year. It is believed to be one of only two birdcage-style lighthouses in use today. After years of abandonment, the iconic lighthouse with its plank floors and 18-inch thick walls has been restored and refurbished. It once again serves as a navigational aid and (rentable) cottage. Listed on the National Register of Historic Places, the lighthouse will open its doors to visitors on June 16 and 17 from 11 a.m. to 3 p.m., with knowledgeable staff on-hand to guide and answer questions. Admission is FREE.
For more Path Through History Weekend events, searchable by region, city, and keywords, visit https://paththroughhistory.iloveny.com/history-events/path-through-history-weekend/.
###
About Path Through History
Path Through History highlights historically and culturally significant sites and events throughout New York State. The program, introduced by Governor Andrew M. Cuomo, builds on New York's robust heritage tourism attractions. The initiative is currently focused on 13 themes: Arts & Culture, Natural History, U.S. Presidents, Immigration, Women's Rights, Canals & Transportation, Civil Rights, Colonial History, Innovation & Commerce, The Revolutionary War, Native American Heritage, Sports History and the War of 1812. Important heritage sites and events across the state were selected with input from leading historians. For more information, visit https://paththroughhistory.iloveny.com
About New York State
New York State features 11 beautiful vacation regions. New York's attractions feature landmarks such as Niagara Falls, the largest park in the continental U.S. in the Adirondacks and treasures such as the Baseball Hall of Fame in Cooperstown and the Strong Museum of Play in Rochester. New York State offers diverse activities for all: outdoor fun- snowmobiling, skiing and snowboarding, fishing, hiking and boating, year-round festivals and exploring the rich history and culture of one of the 13 original colonies. Visitors also enjoy the fine cuisine, beverage trails and farm-to-table fresh foods. 
Learn more at iloveny.com and follow us on social media:
Twitter @ILoveNYPR (PR handle)
Twitter @I_LOVE_NY (consumer handle)
Facebook Facebook.com/ILOVENY
Instagram ILOVENY
YouTube YouTube.com/OfficialILoveNY
Media can find press releases and more at iloveny.com/thebeat. 

CONTACT:  
Phillip Novoa
Finn Partners
(646) 307-6330
Phillip.Novoa@finnpartners.com
 
Eric Scheffel
Empire State Development
(518) 292-5274
eric.scheffel@esd.ny.gov