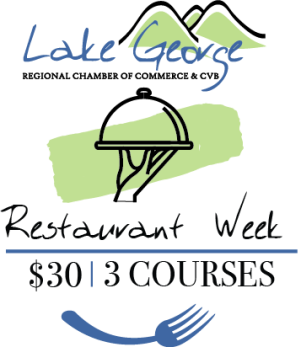 Restaurants Spotlight New York Grown or Produced Ingredients as part of Taste NY at the Adirondacks Welcome Center Restaurant Week Challenge
Lake George, NY — Lake George Region Restaurant Week is back! The second week of this semi-annual event runs Sunday, September 11-Saturday, September 17, 2022.
This year, Taste NY at the Adirondacks Welcome Center is sponsoring the promotion with a "Restaurant Challenge" that tasks participating restaurants to create a prix-fixe menu that includes at least one ingredient that is grown or produced in New York State. Each participating restaurant will offer their special three-course menu for just $30. The ingredients grown or produced in New York will be highlighted on these special Restaurant Week menus.
"We will be highlighting New York-made ingredients throughout this promotion, aiming to spotlight the connection between New York producers and local restaurants to showcase the value of supporting small business and community connections," said Lake George Regional Chamber of Commerce Executive Director Gina Mintzer.
Participating restaurants span the Adirondack region, as this promotion goes beyond Lake George. All restaurants that are members of the Chamber are invited to participate.
Additionally, patrons can enter to win gift cards donated by the participating restaurants. They simply need to ask their server for a Lake George Region Restaurant Week Survey or post about their meal using #DineLGR on Facebook, Instagram, TikTok, or Twitter, to be entered for a chance to win.
This year marks the 16th anniversary of the Lake George Regional Chamber of Commerce Restaurant Week semi-annual promotion. The Chamber usually coordinates Restaurant Weeks in June and September – the weeks after Americade and the Adirondack Nationals Car Show – which allows both year-round and seasonal restaurants to participate during less busy times. This season's participants include: 40 Oak Classic American Grille, Adirondack Pub & Brewery, BeBob's Backstreet BBQ, Charlie's Bar & Kitchen, Docksider Restaurant, Lobster Pot Restaurant, Log Jam Restaurant, Mario's Restaurant, Nettle Meadow Tavern at the Hitching Post, Sans Souci, The View Restaurant, and TR's Restaurant.  
In 2020 and 2021, the Chamber offered fall-themed Restaurant Appreciation Weeks in September. The promotion was reframed to recognize the hard-working staff at area restaurants and the creativity of local chefs by offering the ingredient themes of apples and pumpkins.
Of 257 responses from a past Restaurant Week survey, 97 percent rated their experience "excellent" or "good." A total of 41 percent of respondents said it was their first time at the restaurant, which shows participating restaurants are getting exposure to new customers. Finally, 18 percent of those surveyed were local, while 82 percent of the respondents
were visiting and staying in area lodging properties.
"Restaurant week is a great opportunity for people to sample the culinary talents at restaurants in our area. We're hoping visitors and locals will take advantage of this great value as well as the Taste NY mission of choose local, buy New York," Mintzer said. 
The special promotional price of $30 for a three-course meal includes only the specific menu choices curated by the participating restaurants, which are posted at www.lakegeorgechamber.com/restaurant_week. The promotional price does not include tax, tip, or beverages. Some restaurants exclude certain days during the week. That information is posted on the Chamber Restaurant Week page as well. Reservations are strongly encouraged.
About Taste NY
The Taste NY initiative has seen steady growth and recognition since it was created in 2013. The program, which is overseen by the Department of Agriculture and Markets, creates opportunities for local producers to showcase their goods at a variety of venues throughout the State and at large public events, such as the Great New York State Fair and the Barclays Tournament at Bethpage State Park. It has also helped the farms and companies participating in the program to reach more customers, increase online sales, and, in many cases, expand the processing capacity of their business. Taste NY's food and beverage businesses also support the state's farmers by using New York grown and produced ingredients in their products.
For a complete list of Taste NY locations, hours of operation and contact information, visit the Taste NY website. Connect with Taste NY through Facebook, Twitter, Instagram and Pinterest.
About the Lake George Regional Chamber of Commerce & CVB
The Lake George Regional Chamber of Commerce & CVB, Inc. strives to drive tourism to the Lake George region year-round while fostering a vibrant business community. The Chamber seeks to promote growth and development of its member businesses by offering networking events, educational programs, ribbon cuttings and other opportunities. Founded in 1952, the Chamber is a member-driven, not-for-profit 501 C (6) corporation. The Chamber, with a regional mindset, comprises more than 420 members in various sectors of the business community. The Chamber staffs the Visitor Center on the corner of Beach Road and Canada Street in the village of Lake George and the Adirondacks Welcome Center on the Northway between Exits 17 and 18 and typically serves more than 100,000 visitors annually. The Chamber also publishes an annual Travel Guide with a 70,000 circulation and a Community & Business Directory geared toward people and businesses looking to move to the area. The Lake George Regional Convention & Visitors Bureau (LGRCVB) is a division of the Lake George Regional Chamber of Commerce & CVB and works as an extension of the Warren County Tourism Department. While the Tourism Department markets Warren County to the leisure consumer tourism market, the mission of the LGRCVB is to bring year-round, weather-proof group business to Warren County in the form of meetings, conventions, reunions, sports events, weddings, and more. Learn more at lakegeorgechamber.com . Connect with the Chamber on Facebook, Twitter, Instagram, and TikTok.
###
MEDIA CONTACT:
Gina Mintzer
Executive Director
Lake George Regional Chamber of Commerce & CVB
(518) 668-5755 c. (518) 229-3827