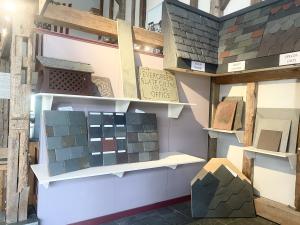 Granville, N.Y. – After several months of closure following the onset of the COVID-19 pandemic in March, the Slate Valley Museum is ready to re-open its doors. On Friday, September 25, the Museum will begin welcoming guests for scheduled visits.
"The Museum opened 25 years ago this month, and we are excited to re-open and begin our anniversary year by welcoming people back to visit us," shared Interim Director Sarah Kijowski, "We've reviewed guidelines and recommendations, and we've looked toward other museums of our size to see how they are handling visits and programs. We really wanted to take our time, learn from our peers, and open in the safest way possible for our visitors and our staff."
That means visits will work a bit differently than they have in the past. All tours will now be by appointment only, will require advance reservations, and are limited to the members of one party (up to a maximum of 8 people). Only one group will be scheduled at the Museum at one time. These self-guided visits will be limited to two hours to ensure that the Museum is available for the next scheduled group. Staff members will be available to answer questions.
As in many other public places, museum visitors will also be asked to wear face masks and practice social distancing during their visit. "We will be asking visitors many of the same questions they're hearing elsewhere right now regarding their travels, how they're feeling, etc. We want the Museum to be accessible, but we also want to be safe for everyone who enters," explained Kijowski.
In addition to changes in the admissions process, visitors will also get to enjoy new experiences inside the Museum. A new display highlighting diverse uses of slate, installed in one space, will encourage guests to explore and contemplate slate in the world around them.
Those interested in scheduling a visit can call 518-642-1417 or email associate@slatevalleymuseum.org to make their reservation. From September 25 through December 19, visits will be available at the following times: Tuesday through Friday at 12pm or 2pm; and, Saturday for 10am, 12pm, or 2pm. Reservations are first come, first served. To secure a preferred time, the Museum staff recommends calling a few days in advance, especially for weekend time slots.
As for the 25th anniversary, Kijowski says that planning is in full swing. "We are going to celebrate our anniversary over the course of the next year," she said. "We look forward to sharing our plans with everyone very soon, and hopefully bringing about some joy during this difficult time."
Museum admission is $5 for adults, $3 for seniors (65+), and free for members of the museum, children under the age of 12, and slate industry workers.
The Slate Valley Museum is located at 17 Water Street in Granville, NY. Tel. 518-642-1417 www.slatevalleymuseum.org.
###
Contact:
Sarah Kijowski, Interim Director, Slate Valley Museum 
Tel:  518-642-1417  
Email:  executivedirector@slatevalleymuseum.org
Website:  www.slatevalleymuseum.org