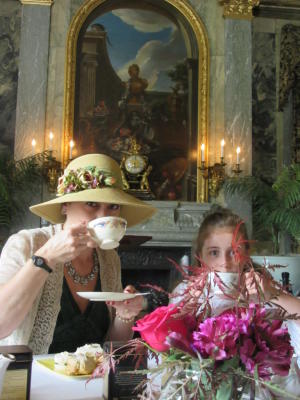 Staatsburg, N.Y.  (12/16/19) — Staatsburgh State Historic Site will once again present its winter "Gilded Age Tea & Talk" programs in the mansion's elegant formal dining room on weekend dates in the winter months of 2020.  The programs feature scones, tea sandwiches, sweets and the site's Staatsburgh Blend tea, a custom blend created for the site by renowned tea purveyors, Harney & Sons. 
"Guests really enjoy being able to take tea in the mansion's formal dining room," says site manager, Pam Malcolm, "it makes the experience of enjoying the mansion that much more vivid to eat and drink where the Mills and their guests once did.  And researching and presenting the talks on Gilded Age history allows staff to deepen our knowledge of the period, and explore a topic further than house tours allow us to delve."  "The series sells out each season and we encourage people to reserve soon to be able to attend the programs they wish to."
The cost for the tea is $35 per person or $30 per person for Friends of Mills at Staatsburgh members.  Reservations are required and can be made by calling (845) 889-8851.
Saturday, January 18  --  Art on Ice: Gilded Age Figure Skating
Staatsburgh's curator and professional figure skater, Maria Reynolds, will explore the popularity of skating during the many winters of the Gilded Age.  Ruth Mills was an avid skater and this talk will explore some of the moves she performed; Maria researched and performed the same graceful maneuvers once executed by the regal Mrs Mills!  Snow date: Saturday, January 25
Sunday, January 26  --  UnderWhere? 1905
As a follow-up to her popular 1885 UnderWhere? program, NYS Bureau of Historic Sites Interpretive Programs Coordinator, Kjirsten Gustavson, has created a brand new program exploring the layers of women's dress from 1905, wearing period clothing she made herself.  This lively costumed lecture discusses the layers of clothing required to make the Edwardian woman appear fashionable.  
Snow date: Sunday, February 2
Saturday & Sunday, February 8 & 9 -- Famous Love Stories of the Gilded Age
Enjoy a Valentine's tea and a chocolate treat while listening to stories of true love, devotion, and a bit of heartbreak, researched by Staatsburgh's curator, Maria Reynolds.  This annual talk features new stories every year. A perfect valentine experience for your beau!   Snow dates: Saturday & Sunday, February 15 & 16
Sunday, February 23  --  Millionaires & Masquerade Balls
Reprising her popular talk from 2019, guest historian Carol Kohan will explore how the centuries-old diversion of masquerade and fancy dress balls flourished across continents and enthralled New York society, including the Millses, in the Gilded Age. Snow date: Sunday, March 1
Sunday, March 8  -- "Fighting for Our Feathered Friends": The Role of Women and Tea in Bird Conservation
Some visionary women of the 19th and early 20th centuries were instrumental in fighting against the extinction of birds, from the ravenous millinery trade.  In this talk, site manager Pamela Malcolm will explore their cause and activities, as well as the beautiful and ruinous use of exotic feathers in turn-of-the-century millinery.   Snow date: Sunday, April 19
Sunday, March 22 -- Music of the Gilded Age
Musician and Chair of the Academy of Music at Dutchess Community College, Dr. Christopher Brellochs, will explore the exciting world of music during the Gilded Age era through recordings and video excerpts from his documentary series, "Music of the Gilded Age in the Hudson Valley."  (This program will be followed in the spring by a musical performance at Staatsburgh on Sunday, April 26th.) This program is funded by an IBM Community Grant.  Snow date: Sunday, March 29  
Staatsburgh State Historic Site is offers scheduled programs and group tours by appointment January through mid-April.  Drop-in tours resume in the spring.  Please call (845) 889-8851, or consult Staatsburgh's internet sites for more information
Staatsburgh State Historic Site and the Ogden Mills & Ruth Livingston Mills Memorial State Park are located on Old Post Road in Staatsburg, off Route 9 between Rhinebeck and Hyde Park. The historic site is one of 6 sites and 15 parks administered by the Taconic Region of New York State Office of Parks, Recreation and Historic Preservation. For more information, call 845-889-8851, or visit Staatsburgh's websites at https://parks.ny.gov/historic-sites/25/details.aspx, www.facebook.com/StaatsburghSHS and www.staatsburghstatehistoricsite.blogspot.com.  Staatsburgh's events are listed at https://parks.ny.gov/events/event-results.aspx?hs=25
The New York State Office of Parks, Recreation and Historic Preservation oversees 180 state parks and 35 historic sites, which are visited by 62 million people annually. A recent study found that New York State Parks generates $1.9 billion in economic activity annually and supports 20,000 jobs. For more information on any of these recreation areas, call 518-474-0456 or visit www.nysparks.com, connect on Facebook, or follow on Twitter.
###
Contact:
Donald Fraser | Donald.Fraser@parks.ny.gov | (845) 889-8851 ext. 338