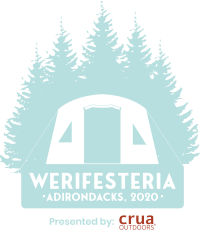 Crua Outdoors is hosting a gathering for the outdoors community. Suitable for families, groups and solo travelers.
Adirondack Park, N.Y. – A new celebration dedicated to spending time enjoying the magic of the outdoor lifestyle is coming to the Adirondacks this summer. On July 31, August 1 and August 2, Crua Outdoors, in partnership with Paul Smith's College, is hosting the inaugural Werifesteria by Crua Outdoors event. 
"The definition of Werifesteria [wurife'sti(ə)rēa] is to wander longingly through the forest in search of magic and mystery," according to Derek O'Sullivan, founder of Crua Outdoors. "We are excited about bringing people together to experience the awe and wonder of outdoor recreation, sleeping outdoors under the stars, and enjoying being together in the spirit of fun and adventure."
Werifesteria by Crua Outdoors is a weekend-long event to develop new skills, experience adventure and foster community. Not only is this a trip-of-a-lifetime experience, it's also a chance to give back; Crua has partnered with Paul Smith's College to help disadvantaged children gain a formal outdoors education.
The event will include guided activities, fully catered meals, live entertainment, discussions, workshops, a keynote speaker of national acclaim, and access to the latest gear. Accommodation packages went live today, January 22.
For more information on Werifesteria by Crua Outdoors and ticket packages, please visit www.cruaoutdoors.com/pages/werifesteria .
###
Editor's Note: Please click on the image above or the link below to access a downloadable version of the Werifesteria logo. 
About Crua Outdoors: Crua Outdoors, with headquarters in Ireland and a US location in Saranac Lake, New York, was founded in 2015. Crua's founders knew there had to be a better way of getting a good night's sleep in the great outdoors. They needed a tent that was more than a tent; that was a comfortable refuge that would be warm in the winter and cool in the summer - introducing the revolutionary Crua range of high-quality insulated tents. They believe that great ideas happen when you wake up shivering in the dead of night in the west of Ireland.
Crua™ was founded by Derek O'Sullivan, an Irishman with years of experience in camping and trekking outdoors. Crua in Gaelic also means "forgiving," in the sense of being easy to manage or use. All of their tents are built to provide the most comfortable, quietest night's sleep you'll experience outside your own bedroom. When you sleep well, you camp well. FMI: www.cruaoutdoors.com
CONTACT: Megan Crowder, Marshall Communications, on behalf of Crua Outdoors; mcrowder@marshallpr.com