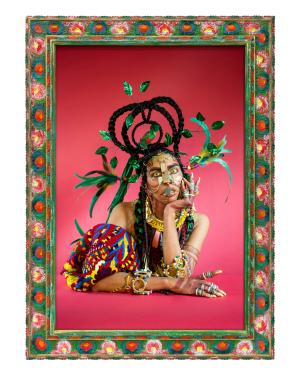 Saratoga Springs, NY (April 18, 2023) — The Frances Young Tang Teaching Museum and Art Gallery at Skidmore College is pleased to announce its series of Family Saturday programs continues April 29 at 2 pm with Family Saturday: Face to Face.
After learning about the exhibition Face to Face from the student curators in Associate Professor and Chair of Art History Saleema Waraich's course "(De)Colonizing the Museum: Addressing Systemic Racism and Promoting Social Justice," participants will create their own mixed-media portraits in response to Martine Gutierrez's Demons, Chin 'Demon of Lust,' p93 from Indigenous Woman.
Family Saturdays, which are suitable for children 5 and older accompanied by an adult, aim to foster multigenerational creative cooperation through looking at artwork, discussing it, and engaging in a hands-on art-making activity. The programs run from 2 to 3:30 pm and are free and open to the public. No registration required; supplies provided on a first-come, first-served basis.
In accordance with guidance from Saratoga County, the CDC, and Skidmore College, the program is mask optional, and participants are welcome to wear masks should they wish.
The spring season's Family Saturdays conclude on May 13. Summer dates include June 24, July 29, August 12, and August 26, with details to be announced later. For more information, visit the Tang website at https://tang.skidmore.edu or contact the Tang Visitors Services Desk at 518-580-8080.
On View
About the Tang Teaching Museum
The Tang Teaching Museum at Skidmore College is a pioneer of interdisciplinary exploration and learning. A cultural anchor of New York's Capital Region, the Tang's approach has become a model for college and university art museums across the country—with exhibition programs that bring together visual and performing arts with interdisciplinary ideas from history, economics, biology, dance, and physics, to name just a few. The Tang has one of the most rigorous faculty-engagement initiatives in the nation, and a robust publication and touring exhibition program that extends the museum's reach far beyond its walls. The Tang Teaching Museum's award-winning building, designed by architect Antoine Predock, serves as a visual metaphor for the convergence of art and ideas. The Museum is open to the public on Thursday from noon to 9 pm and Friday through Sunday from noon to 5 pm. https://tang.skidmore.edu
Links
Face to Face exhibition page: https://tang.skidmore.edu/calendar/1942-family-saturday-face-to-face
Martine Gutierriz's work in the Tang collection: https://tang.skidmore.edu/collection/artworks/2307-demons-chin-demon-of-lust-p93-from-indigenous-woman
Tang on Instagram: https://www.instagram.com/tangteachingmuseum/
Tang on Facebook: https://www.facebook.com/TangMuseum/
Tang on Twitter: https://twitter.com/TangMuseum
Caption for image:  Martine Gutierrez, Demons, Chin 'Demon of Lust,' p93 from Indigenous Woman, 2018, chromogenic print mounted on Sintra, hand-painted artist frame, 43 ⅝ x 31 ⅝ inches, Tang Teaching Museum collection, purchase, 2019.29.1
###
Media Contact
Michael Janairo
Tang Teaching Museum | Skidmore College
518-580-5542