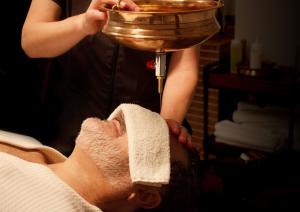 Heal the mind, body and spirit at a transformative wellness retreat in the Catskills Mountains
Monticello, NY (December 2022) – Nestled in the Catskills Mountains, Yovan (YO1) Longevity & Health Resorts is an oasis for those searching to transform and revitalize their entire being. The health and wellness destination offers holistic healing practices to restore balance and offer long-lasting results. YO1, or "Yovan" in the Indian classical language, Sanskrit, means youth, representing the human quest of attaining eternal youth, an optimum state of health and self-empowerment through a complete rejuvenation of mind, body, and spirit. These ancient values have transcended into the resort's practices. At the core of these are Ayurvedic Therapies. 
YO1 has mastered the art of Ayurveda. Working with a 5,000-year-old system of holistic medicine, the experienced specialists at the resort study and perform specific ayurvedic treatments to address the root cause of guests' varying issues. This results in wellness programs that are focused on restoring guests' health and balance through Eastern holistic therapies and guidance from an authentic Indian perspective. For this season, specialty treatments, like Abhyangam, an Ayurvedic full-body massage that nourishes the skin with medicated oil while balancing the doshas, and other personalized treatments, like the Immunity Boosting package, are designed to adjust to wintertime needs. 
To escape the cold this season, the state-of-the-art facility includes a spa and fitness center with an Olympic sized pool, a health museum, cozy bedrooms, transformation spaces including numerous yoga, massage and therapy rooms, a salon, a 214-person indoor theatre, and a kitchen boasting delicious and nutritious vegetarian, vegan and plant-based meals. Throughout their stay, guests can bask in luxury accommodations within a winter wonderland, with stunning views of Bailey Lake and frost-covered foliage of the Catskills.
Idyllically situated just a hundred miles outside of New York City, YO1 is a picturesque retreat tucked away from the complexities and strains of urban life. The wellness sanctuary sits on 1,300 acres of pristine land, perfect for outdoor winter activities, and offers a customized approach based on the individual's personal constitution and health goals, thus allowing guests to experience a private journey to understanding the self. Offering traditional holistic methods of healing and detoxification treatments that include authentic Ayurveda, Yoga, Acupuncture and Naturopathy programs, YO1 is an ideal environment to transform and rejuvenate while boosting immunity and harmony in the body.
"YO1 is a one-of-a-kind luxury health resort in the country, comparable to the best in the world, and uniquely focused on the Indian art of healing with a wellness first approach," says CEO and Managing Director of YO1, Harish Goyal. "We offer rejuvenating experiences as well as a consciously curated culinary program, and our goal is to spark a positive, transformative journey towards a balanced and healthy lifestyle for lasting change."
YO1's services include comprehensive introductory and  restorative packages and unique health programs centered on the specific wellness needs of the client. From Discover your Dosha, which looks at the vital energies innate within a person, to Diabetes-II management, Pain management, Weight management, Immunity Booster and more, to yoga classes from early morning to twilight, the unparalleled offerings at YO1 are focused on the mind-body connection; showcasing how everything in the human body is deeply interrelated, thereby promoting the healing of the whole person.  
Guiding this immersive experience are YO1's wellness experts who apply an integrated focus on the spiritual and physical science, with programs to create a sustainable journey towards a healthier and more joyful lifestyle. This instruction allows guests to reconnect with themselves and integrate simple shifts in their daily self-care routine to continue these healing practices when they return to their homes and busy lives.
YO1 Media Kit: https://bit.ly/YO1MediaKit      
About YO1    
Situated in the tranquil Catskills Mountains in Monticello, New York, YO1 Longevity & Health Resorts is a wellness center that aims to provide guests with a luxurious experience to help regain their health and happiness. Resting on over 1,300 acres of pristine landscape, including the historic and impressive Kutsher property, YO1 offers guests the fresh air and serenity needed to make profound health changes, which they are seeking. For more information, visit www.yo1.com.