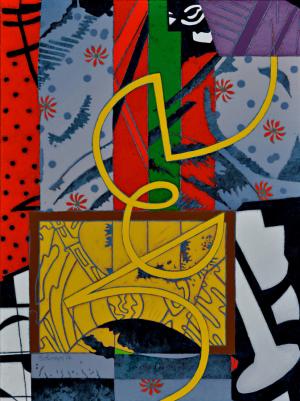 Online Talk with D. Jack Solomon: Saturday, September 26, 2020 at 4 pm
Lake George, N.Y. – The Courthouse Gallery has announced a new exhibition of the paintings of D. Jack Solomon. The exhibition will be installed in the gallery, and available for the public to view (gallery hours listed below).  In place of on-site gallery reception, Join us for a Live Online Talk with Jack Solomon on September 26 at 4pm. In advance, we will provide a link, with directions on how to join the discussion at the gallery's website.. 
D. Jack Solomon's vibrant paintings are a complex mix of imagery, often whimsical, with rich colors and surfaces. Working from a red undercoat creates luminous eye-popping effects where the red paint is exposed. It also serves to unify the contrasting forms weaving through the paintings intricate space. Solomon draws from many sources, including early modernism, surrealism, abstract expressionism, pop art and cartoon imagery, to name a few.  But Solomon finds inspiration everywhere.  He says: "There is not a day that goes by that I am not inspired by something or someone.  I'm very grateful for this." Finding inspiration from so many places has led to a prolific painting career spanning many decades. 
He says: "My paintings are a condensation of sensations received through juxtapositions of shape, line and color, interpreted into a visual language. Inventing a unique structure that positions disparate elements to the whole is one of the most challenging and motivation facets of making my art. I have been intrigued throughout my creative life with the similarities among all the arts as to how component parts assembled within a specific context come to a desired gestalt. It is the organization and orchestration in musical composition that I most profoundly relate to and have been influenced by."
D. Jack Solomon earned his B.A. from San Diego State College, and M.A. from San Francisco State College.  He also served in the Underwater Demolition Team in the U.S. Navy from 1953 – 57.His work has been featured in many solo exhibitions, most recently at Gallery A, Richmond, VA; Hudson Opera House, Hudson, NY; Conde Nast Gallery, New York, NY; Clement Art Gallery, Troy, NY; and Albany Center Gallery, Albany, NY. His work has been included in recent group exhibitions at Lockwood Gallery, Kingston, NY;Thompson Giroux Gallery, Chatham NY;Cross Cotemporary, Saugerties, NY;Scarlet Seven Fine Art Gallery, Troy, NY; and Geoffrey Young Gallery, Great Barrington, MA.His works can be found in many public collections, including the Albany Institute of History and Art, Albany, NY; Virginia Museum of Fine Arts, Richmond, VA; and Long Beach Museum of Art, Long Beach, CA.His awards include grants from the Pollock-Krasner Foundation; Rensselaer County Council for the Arts; Change, Inc; and a National Endowment for the Arts Individual Artist Grant. Solomon has taught at many colleges and universities, includingVirginia Commonwealth University, Richmond, VA; Brooklyn Museum School of Art, Brooklyn, NY; SUNY Purchase, Purchase, NY; SUNY New Paltz, New Paltz, NY; and 29 years at Parsons School of Design in New York, City, retiring in 2011. He currently lives and works in Hudson, NY with his wife, and fellow artist, Jeannette Fintz. 
The Courthouse Gallery is located at the side entrance of the Old County Courthouse, corner of Canada and Lower Amherst Streets, Lake George, NY.  Hours during exhibitions are Wednesday through Friday 12 – 5 pm, Saturday 12 – 4 pm, and all other times by appointment.
Please NOTE: Regular Gallery hours may change due to the COVID-19 health emergency.  For updates please call 518-668-2616, or email laura@lakegeorgarts.org, or visit www.lakegeorgearts.org .
###
Image: Re-Encounter, acrylic on canvas, 24 x 18 inches.