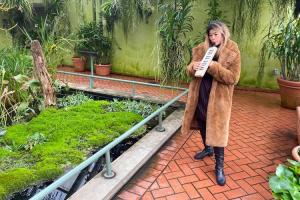 Plant-generated soundscapes and live musical performances created by composer Ricardo Romaneiro
February 11 & 12, 2023
Brooklyn, NY—Brooklyn Botanic Garden and Metropolis Ensemble today announced Biophony: SoundGarden, an immersive soundbath experience created by composer Ricardo Romaneiro for Brooklyn Botanic Garden's conservatories taking place on February 11 and 12, 2023.
The installation includes an audiovisual tapestry (sound design by Leo Leite) and lighting installation (light design by Dominic Chang) running in sync with plant-generated soundscapes and groupings of live musicians situated in each of the Conservatory pavilions highlighting varied ecosystems. Seventeen composers/performers collaborated with Romaneiro to develop graphic scores within a larger compositional structure, while also working alongside gardeners and curators to develop this site-specific project co-commissioned by Metropolis Ensemble and Brooklyn Botanic Garden.
Biophony: SoundGarden will be open to the public on February 11 and 12, 2023, from 10:30 a.m. to 3 p.m. with an ongoing audiovisual experience featuring plant-generated and interactive musical elements as well as live, concurrent performances in each Conservatory pavilion at 10:30 a.m,, 11:30 a.m, 1:30 p.m., and 2:30 p.m. both days. Visiting Biophony: SoundGarden is free with Garden admission.
Visit bbg.org/biophony for tickets and find more details about the program and artists at metropolisensemble.org/soundgarden.
Biophony SoundGarden features:
An immersive audio and light display with performances featuring gongs, harp, electric cello, synthesizers, and electronics in a space that is transformed into four color chambers where visitors can sit or lie down to improve their mental, physical, and spiritual well-being.
 
An ambient soundscape in the Tropical Pavilion featuring trombones, where visitors' "alpha" brainwaves will be stimulated to evoke a sense of relaxation and reflection.
 
A melodic soundscape in the Desert Pavilion featuring double basses on drones and pedals, where visitors' "beta" brainwaves will be stimulated to evoke a sense of conscious focus and concentration.
 
A cooling soundscape in the Warm Temperate Pavilion featuring contra alto clarinet, strings, and voice, where visitors' "alpha" brainwaves will be stimulated to evoke a sense of comfort and meditation.
 
A relaxing soundscape in the Bonsai Museum featuring flutes and gayageum (a traditional Korean plucked zither), where visitors' "delta" brainwaves will be stimulated to evoke a sense of deep sleep and sonic healing.
 
An evocative soundscape in the Aquatic House featuring synths, violin with pedals, and voice, where visitors' "theta" and "gamma" brainwaves will be stimulated to evoke a sense of floating, dreaming, imagination, creativity, and a flow state.
A family-friendly, hands-on interactive sound experience on the Trail of Plant Evolution in the Conservatory Entry Garden where kids can interact with plants wired to sensors and speakers to explore how physical touch changes the tonality of plants, allowing kids to create their own "living" composition.
Featured artists include:
Conservatory Well

Mélanie Genin, harp
Samer Ghadry, gong installation
Topu Lyo, electric cello
Ricardo Romaneiro, synthesizers and electronics
 

Tropical Pavilion

Zekkereya El-Magharbel, trombone
Kalun Leung, trombone
Caleb Smith, trombone
 

Desert Pavilion

Eleonore Oppenheim, double bass
Evan Runyon, double bass
 

Bonsai Museum

DoYeon Kim, gayageum
David Leon, flutes
Matthew Evan Taylor, flutes
 

Aquatic House

Lauren Cauley, violin
Erika Dohi, synths
Sara Serpa, voice
Warm Temperate Pavilion

Joanna Mattrey, viola
Hannah Sumner, vocals
Yuma Uesaka, contra alto clarinet
Biophony: SoundGarden is the fourth collaboration between Brooklyn Botanic Garden and Metropolis Ensemble; previous projects include performances during the "For the Birds" opening celebration in June 2022 and the Biophony Festival, an outdoor musical adventure across the 52-acre Garden, in both May 2022 and September 2021. The four-year partnership between Brooklyn Botanic Garden and Metropolis Ensemble will culminate with a final performance in summer 2024.
About Ricardo Romaneiro
Brazilian-born composer and Juilliard graduate Ricardo Romaneir synthesizes classical and electronic music. He previously created "The Rite: Remixed," a Metropolis commissioned work performed at Celebrate Brooklyn! in 2008 and "Brownstone," a 360-degree composition performed at the American Irish Historical Society in 2016. Romaneiro is cofounder of Subhaze, an audiovisual studio creating immersive concert installations that transcend the traditional performance experience.
About Andrew Cyr
Grammy-nominated conductor and artistic director Andrew Cyr founded Metropolis in 2006 to create new platforms for outstanding composers and performing artists. He has led premieres at Brooklyn Academy of Music; Celebrate Brooklyn!; Radio City Music Hall; Kimmel Center Verizon Hall; Sounds from a Safe Harbour; New Victory Theatre; Cité de la Music, Paris; and Hamer Hall, Melbourne; and on The Tonight Show.
About Metropolis Ensemble
New York–based Metropolis is a Grammy-nominated nonprofit organization dedicated to commissioning and producing ambitious projects in contemporary music, and expanding opportunities for emerging professional musical creators and performers to collaborate and inspire new audiences. Metropolis has commissioned hundreds of new works and site-specific projects, gathering independent expert musicians in premiere performances at renowned venues such as the Hollywood Bowl, BAM, Lincoln Center, and the Metropolitan Museum of Art. Learn more at metropolisensemble.org.
About Brooklyn Botanic Garden
Brooklyn Botanic Garden is an urban botanic garden that connects people to the world of plants, fostering delight and curiosity while inspiring an appreciation and sense of stewardship of the environment. Situated on 52 acres in the heart of Brooklyn and open year-round, the Garden is home to over 12,000 kinds of plants and more than 30 specialty gardens. Learn more at bbg.org. 
About Biophony
Biophony at BBG is a four-year-long series of performances presented at Brooklyn Botanic Garden in partnership with Metropolis Ensemble. Previous events took place in fall of 2021 and spring of 2022; the next Biophony event will occur in the summer of 2024.
Support
Art in the Garden is made possible by the New York State Council on the Arts with the support of the Office of the Governor and the New York State Legislature.
Brooklyn Botanic Garden: communications@bbg.org | 718-623-7241
Metropolis Ensemble: press@metropolisensemble.org | 757-870-4591
Photo courtesy of Metropolis Ensemble