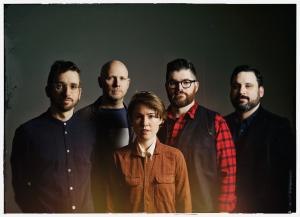 Acclaimed musicians to perform 'Let the Soil Play Its Simple Part'
Friday, September 23 @ the Tang Museum
Saratoga Springs, NY (August 23, 2022) — The Frances Young Tang Teaching Museum and Art Gallery at Skidmore College and Saratoga Performing Arts Center present a special performance by Pulitzer Prize winner Caroline Shaw and GRAMMY Award winning Sō Percussion of their acclaimed collaboration Let the Soil Play Its Simple Part on Friday, September 23, at 7:30 pm at the Tang. The performance is part of an on-going series of collaborations between SPAC and Skidmore College. The event is free and open to the public.
Let the Soil Play Its Simple Part, released in 2021 by Nonesuch Records, features the Pulitzer Prize-winning composer, violinist, and singer making her debut as a solo vocal artist with the acclaimed experimental percussion quartet Sō Percussion, who are returning to the Tang having performed in the Museum in 2014.
Shaw's faultless ear for melody and harmony, combined with Sō's rhythmic invention and compositional experimentation, make for a world of sonic richness that feels fresh and unique. It is a journey across the landscape of the soul, told through the medium of distinctly contemporary songs. The thrill in this collaboration lies partly in the sense that each entity adds dimensions to the other's music which revitalizes them both. Shaw gives voice and melody to the years of experimentation in rhythm, color, and complexity which defines Sō's work over two decades and more than twenty albums. Sō opens a world of sonic possibilities and rhythmic virtuosity which dramatically expands Shaw's palette beyond the vocal and string writing which she is best known for.
In a rave review, Pitchfork said Let the Soil Play Its Simple Part "reaches toward the peaceful bewilderment of feeling ensconced in the great web of everything, the mysterious force which exists in the words of a 300-year-old hymn, the open canvas of the sky, the pop song leaking through the radio."
Generous support for the program was provided by Dexter and Deborah Senft.
For more information, contact the Tang Visitors Services Desk at 518-580-8080 or  tang@skidmore.edu, or visit the Tang website at https://tang.skidmore.edu.
About Caroline Shaw
Caroline Shaw is a musician who moves among roles, genres, and mediums, trying to imagine a world of sound that has never been heard before but has always existed. She is the recipient of the 2013 Pulitzer Prize in Music, several Grammy awards, an honorary doctorate from Yale, and a Thomas J. Watson Fellowship. She has worked with a range of artists including Rosalía, Renée Fleming, Yo Yo Ma, and Kanye West, and she has contributed music to films and tv series including Bombshell, Yellowjackets, Maid, Dark, and Beyonce's Homecoming. Her favorite color is yellow, and her favorite smell is rosemary.
About Sō Percussion
Sō Percussion is Eric Cha-Beach, Josh Quillen, Adam Sliwinski, and Jason Treuting. For twenty years and counting, Sō Percussion has redefined chamber music for the 21st century through an "exhilarating blend of precision and anarchy, rigor and bedlam" (The New Yorker). They are celebrated by audiences and presenters for a dazzling range of work: for live performances in which "telepathic powers of communication" (The New York Times) bring to life the vibrant percussion repertoire; for an extravagant array of collaborations in classical music, pop, indie rock, contemporary dance, and theater; and for their work in education and community, creating opportunities and platforms for music and artists that explore the immense possibility of art in our time.
About Saratoga Performing Arts Center
The Saratoga Performing Arts Center (SPAC), located in the historic resort town of Saratoga Springs in upstate New York, is one of America's most prestigious summer festivals. Its tranquil setting in a 2,400-acre park preserve surrounded by hiking trails, 3 geysers, and natural mineral springs draws vacation crowds and arts connoisseurs each year for immersive experiences of performances by resident companies New York City Ballet, The Philadelphia Orchestra, The Chamber Music Society of Lincoln Center, the Freihofer's Saratoga Jazz Festival, Opera Saratoga, and concerts by Live Nation. SPAC also hosts CulinaryArts@SPAC events in addition to imaginative programming such as the popular "SPAC on Stage" series and Caffè Lena @ SPAC. SPAC is a 501c3 charitable organization. Donations and proceeds from fundraising events benefit the Center's children's education programs and support the vibrancy of its classical season. https://spac.org
About the Tang Teaching Museum
The Tang Teaching Museum at Skidmore College is a pioneer of interdisciplinary exploration and learning. A cultural anchor of New York's Capital Region, the Tang's approach has become a model for college and university art museums across the country—with exhibition programs that bring together visual and performing arts with interdisciplinary ideas from history, economics, biology, dance, and physics, to name just a few. The Tang has one of the most rigorous faculty-engagement initiatives in the nation, and a robust publication and touring exhibition program that extends the museum's reach far beyond its walls. The Tang Teaching Museum's award-winning building, designed by architect Antoine Predock, serves as a visual metaphor for the convergence of art and ideas. The Museum is open to the public on Thursday from noon to 9 pm and Friday through Sunday from noon to 5 p.m. The Museum is a Blue Star Museum, offering free admission to active military and their families this summer through Labor Day. https://tang.skidmore.edu
###
Media Contacts
Michael Janairo

Head of Communications and Strategic Initiatives

Tang Teaching Museum at Skidmore College

815 N. Broadway

Saratoga Springs, NY 12866

518-580-5542

Kristy Godette Ventre

Senior Director of Marketing & Communications

Saratoga Performing Arts Center

108 Avenue of the Pines

Saratoga Springs, NY 12866

518.584.9330 ext. 125
Caption for image: Caroline Shaw and Sō Percussion, photograph by Shervin Lainez