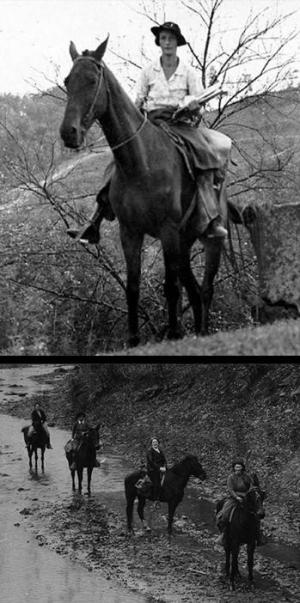 November 13, 2019, beginning at 6:00 p.m.
Library Research Room and Henry A. Wallace Center at the FDR Presidential Library and Home
Hyde Park, N.Y. – The Franklin D. Roosevelt Presidential Library and Museum and the Poughkeepsie Public Library District present "Pack Horse Librarians in Appalachia" -- a BIG READ document show and presentation with historian Sandra Opdycke -- at 6:00 p.m. on Wednesday, November 13, 2019. The program will begin in the Research Room of the FDR Presidential Library with a document show of original items from the Library's collections related to Depression-era Appalachia, followed by a presentation by Opdycke in the Wallace Visitor Center.
This is a free public event but registration is required. 
Visit www.fdrlibrary.org or CLICK HERE to register.
The Pack Horse Library initiative of the New Deal sent librarians deep into Appalachia. The project, as implemented by the Works Progress Administration (WPA), distributed reading material to people who lived in some of Eastern America's most remote locations. For more information on community events like this or the Poughkeepsie Public Library District's BIG READ programs visit: poklib.org/events/nea-big-read-2019
Sandra Opdycke graduated from Vassar College in 1957. After raising three daughters, she worked in the mental health field. In her fifties, she earned a Ph.D. in U.S. History at Columbia University. Over the next decade, she taught American History and Urban History at Bard, Vassar, and Marist Colleges. She also wrote a history of Bellevue Hospital and co-authored several books on social policy. Since her retirement, Opdycke has concentrated on writing history books for college students. She is the author of WHEN WOMEN WON THE VOTE: THE FINAL DECADE, 1910-1920; the ROUTLEDGE HISTORICAL ATLAS OF WOMEN IN AMERICA; and THE WPA: CREATING JOBS AND HOPE IN THE GREAT DEPRESSION. Other works have focused on Jane Addams and the 1918 influenza epidemic. She serves as an occasional lecturer at the Center for Lifetime Studies in Poughkeepsie New York.
###