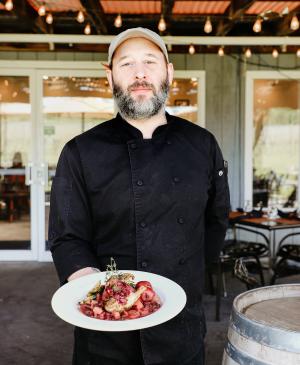 Executive Chef Benjamin Bird brings new life to the newly branded Field & Vine Restaurant
Romulus, N.Y. -- Tucked away along the shores of Cayuga Lake sits a hidden gem of Finger Lakes wine country. The FLX food and beverage scene has exploded in recent years, but Knapp Winery is a true pioneer, opening the region's very first on-site winery restaurant in 1992.
Knapp is a pioneer for other reasons as well–being the first FLX winery to plant and vinify the grape variety Cabernet Franc, Knapp's lineup is a refreshing departure from the region's usual Rieslings. Karen and Cole Wilson saw something truly special in Knapp, purchasing the winery in 2021. The Wilsons have honored Knapp's history while bringing new life to the business, and the latest venture is a refresh of the historic Vineyard Restaurant.
Knapp's Vineyard Restaurant is now Field & Vine, a name that honors the beautiful vineyard views along Cayuga Lake. Led by long-time chef John McNabb, McNabb is now Head of Hospitality working alongside new Executive Chef Benjamin Bird.
Bird's roots are truly in Finger Lakes food, growing up working on his family's dairy farm and getting his very first gig as a dishwasher in 2000. A graduate of Le Cordon Bleu Culinary Arts in Pittsburgh, his resume brings a wealth of impressive experience. When asked what he hopes to bring to Field & Vine, Bird says,
"My goal is exceptional dishes with quality ingredients that are both approachable and relatable. I approach food with respect and integrity, I hope to learn together, grow and expand the way we feel about food...this is the industry I love, crave, sacrifice for. This is a beautiful area with amazing food and wine, and I hope to bring a memorable experience that's part of that."
Chef Bird's favorite wine at Knapp is the Siegerrebe (food pairing soon?). Outside of his career, he is a father of three, dog dad to a 1 year-old Great Dane, and a husband to wife Tameika–whose own cooking he loves. Bird is an avid drummer and loves to see live music whenever he can.
Field & Vine's refresh is part of a larger, exciting trend in the Finger Lakes. While the renowned wine has always been the driving force of millions of visitors each year, food is now following suit with an abundance of local, quality, farm-to-table style dining experiences.
Be sure to visit Field & Vine and the magic Chef Benjamin Bird brings on your next visit along the Cayuga Wine Trail. The restaurant is open Wednesday–Sunday all summer long. Learn more at knappwine.com/field-and-vine-restaurant.
###
Image: Chef Bird
Media Contact:
Brittany Statt
brittanystattco@gmail.com
(585) 339-8780