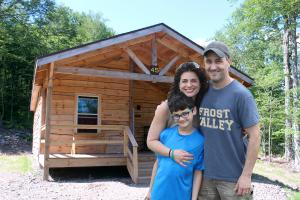 Claryville, N.Y. — After months being stuck inside, families looking for a chance to immerse themselves in nature now have an ideal travel destination in the heart of the beautiful Catskill Mountains. Beginning July 7th through mid-September, Frost Valley YMCA is opening its 5,500-acre property to families who are invited to stay in a variety of accommodations at both its Main Camp and East Valley Ranch in Claryville, New York.

Guests can enjoy a relaxing, camping-style getaway Tuesdays through Sundays, with the option to come for a shorter stay, or extend the getaway to multiple weeks. Whether families are looking for a place to make their home base for exploring the Catskills this summer, or just need a relaxing retreat, Frost Valley offers an array of lodging options including cabins, lodges, hotel rooms, a Japanese-style house, and even Mongolian yurts. Families can soak up the restorative effects of nature during self-led activities including: fishing, birding, family games and sports on its many fields (equipment will be provided), campfires at their lodging site, and hikes to breathtaking, scenic vistas including High Falls, its onsite 50-foot waterfall with observation deck.

These lodging reservations will run a little differently than Frost Valley's typical family retreats and new protocols will be implemented to help prevent the spread of Covid-19. For example, Frost Valley is only offering a limited number of accommodations each week. To ensure proper social distancing, the maximum group size is 10. Social distancing between family groups and face coverings are required where appropriate. A brief health questionnaire and a temperature check will also be required before each guest enters the property. The limited number of Frost Valley staff working onsite are also taking precautions to keep everyone safe, including daily temperature checks and health screenings, adhering to travel restrictions, and more.

"We're so excited to welcome families back to Frost Valley to relax and recharge in nature after a stressful time of quarantine, and we are as committed as ever to our mission to provide outdoor opportunities for all," says Danielia Barron, Director of Group and Family Retreats for Frost Valley YMCA. "This is an extra special opportunity, because typically we are closed to families this time of year so we can focus solely on our summer camp programs. We're looking forward to families enjoying camp during the summer for the first time!"

Financial assistance is available. For more information or to make a reservation, please visit www.frostvalley.org/lodging-reservations, call 845-985-2291 ext. 450, or email reservations@frostvalley.org.

Frost Valley YMCA is a values-driven organization that fosters youth development, healthy living, and social responsibility through outdoor educational and recreational programs for all. Located in the heart of the Catskill Mountains, Frost Valley provides year-round access to nature and fun through programs such as summer camp, adventure trips, farm camp, equestrian programs, group and family retreats, family weekends, school trips, teambuilding and more. Frost Valley, a not-for-profit organization chartered through the YMCA of the USA, is guided in this pursuit by its core values which serve as pathways for guests as they bond with nature and each other: Caring, Community, Diversity, Honesty, Inclusiveness, Respect, Responsibility, and Stewardship.
###
Photo: FamilyLodgingReservations.jpg
Photo Caption: Frost Valley YMCA Opens to Families on July 7, 2020.
 
PRESS CONTACT: Amanda Hinski, Chief Brand Experience Officer
TEL: (845) 985-2291 x383  EMAIL: ahinski@FrostValley.org
Photos and interviews are available upon request.