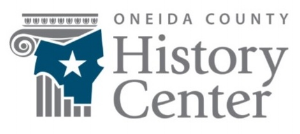 Utica, N.Y. – History is happening now in our community and across the world. History Makers salutes just a few of Utica's African American citizens who belong in our history books. This exhibit features memorabilia from Oneida County's first female African-American legislator Evon Ervin, Utica's youngest council person Delvin Moody, and actor and internationally recognized prostate cancer awareness advocate Kevin Byrd.
Mr. Byrd recently donated 30 signed copies of Our Stories, Our Voices: Black Men Speak Their Truth to the Oneida County History Center (OCHC).The proceeds from books purchased through the history center will be used to provide memberships to area youth and families, with a focus on low-income households and students of color.
The public is encouraged to come see the exhibit where they have an opportunity to nominate other contemporary History Makers from Oneida County.
History Makers will be on display from April 24 through July 30, 2021. Admission to the exhibit gallery is free with a suggested donation of $5:00. 
The Oneida County History Center is a private 501(c) (3) not-for-profit educational institution dedicated to preserving the history, heritage, and culture of the Greater Mohawk Valley for present and future generations. The History Center is open Tuesday-Friday from 10:00-4:00 pm, and on Saturdays by appointment. Masks and distancing are required. Please call 315-735-3642 or visit the OCHC website (www.oneidacountyhistory.org) for additional information.
###
For Further Information: 
Patrick Reynolds