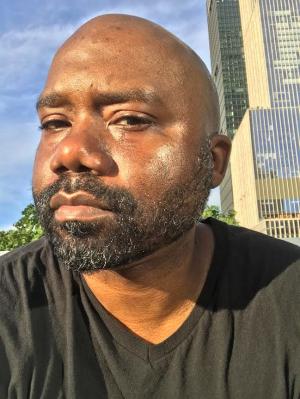 A new solo exhibition of work by artist Ricardo Osmondo Francis explores the complexity of Black identity 
Yonkers, NY (January 23, 2023) - The new solo exhibition "The Black Iconic" from Newark-based artist Ricardo Osmondo Francis opens at the Yonkers Public Library, Riverfront Art Gallery on Thurs., Feb. 2 at 5:30 p.m. in participation with the First Thursday Gallery Hop in downtown Yonkers. 
"The Black Iconic is one of the most exciting and impactful exhibits we've ever had," said Haifa Bint-Kadi, curator and arts educator at the Riverfront Library. "Our community will be seen, heard and affirmed which is a testament to the power of art and its ability to shape perceptions and raise narratives that are often hidden or disappeared. Our gallery has been transformed into a space for reflection and intimacy that will leave all observers feeling they've witnessed an unforgettable moment in history."
This exhibit features a wide array of Francis' luminous paintings and is a brooding elegiac vision of the Black visage delineated in both grand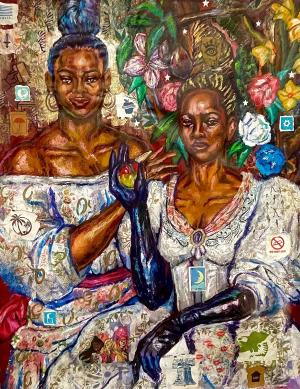 decadence and technically through densely evocative images that are steeped in multicultural symbolism.   
Francis' work is inspired by the complexity of African American identity, mythology, and painting itself, and examines how Black people are perceived both socially and politically on the world stage through a spiritual gaze. The exhibition runs through March 26, 2023 and is curated by Bint-Kadi. 
About the Artist
Ricardo Osmondo Francis was born September 8, 1976, in Houston, Texas. He attended the Maryland Institute College of Art in Baltimore, MD, and received a BFA in 1998 in painting. Inspired by Classical art, multi-ethnic antiquity, and present day advertisement imagery, Francis' vivid pictorial works present a torrent of imagery culled from every possible corner of the visual culture. His lush elaborately graphic surrealistic paintings and drawings often depict the social constructs of humanity and the complexity of our existence through conceptually layered portraiture, still life, and abstract compositions.
About Yonkers Public Library
The Yonkers Public Library is the largest library in Westchester County and was established in 1893 to serve the citizens of the City of Yonkers. There are currently three branches; Riverfront Library, our main branch, in downtown Yonkers, the Grinton I. Will Branch on Central Avenue and the Crestwood Branch in the Crestwood section of the city. Our mission is to change lives every date. Our expert, trusted staff help all the people of Yonkers find the information they need, the programs they enjoy, and the reading they love. For more information about the Yonkers Public Library, visit  www.ypl.org.
PHOTO ATTACHED: Artist Profile Picture and Featured Image  "Daughters of the Revolution"