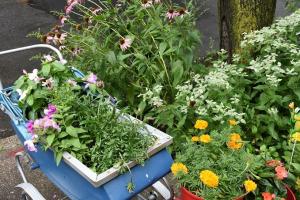 Application Deadline Is June 1!
2019 Marks 25 Years of the Contest Greening Brooklyn Block by Block
Brooklyn, NY—Brooklyn Botanic Garden (BBG) is delighted to announce the 25th annual Greenest Block in Brooklyn contest. For 25 years, the contest has been a cornerstone of Brooklyn Botanic Garden's community greening initiatives, promoting streetscape greening and neighborly connectivity. The contest supports Brooklyn residents in addressing environmental issues unique to living in a densely populated urban environment: greening in limited streetscape spaces, street tree care, use of smart, sustainable horticultural practices, and water conservation. The contest calls on neighbors to come together in their greening and to pass along horticultural knowledge to each other and the next generation.