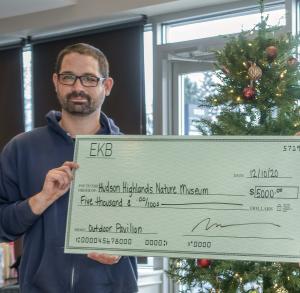 Grant from Matt & Kathryn Wilhelm Family Foundation (EKB Kitchens)
Cornwall-on-Hudson, N.Y. -- When the COVID-19 pandemic forced the Hudson Highlands Nature Museum to suspend educational programming in late March, the leadership and board looked to play to its strength of nature based outdoor learning and play to support its mission of creating future stakeholders of our shared community environment.
The first opportunity to do that came in July.  By scaling back the overall size and creating individual age group pods, the museum's Director of Education Jenny Brinker successfully planned and ran a healthy (and infection free) eight week summer camp for children.  The response by their families was overwhelmingly positive with parents thankful their children could safely interact with other children after months of social isolation.