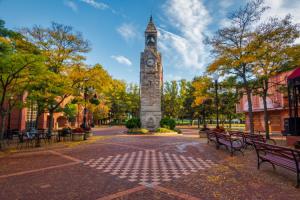 Corning, NY – Corning's Centerway Square has been voted the #2 Best Public Square in the country, as part of USA Today's 10Best Readers' Choice travel awards for 2023. Nominees are chosen by a panel of relevant experts which include a combination of editors from USA TODAY. After being nominated, the public votes over a four-week span to determine bragging rights. Centerway Square has been named to the Top 10 multiple times.
Small towns, like Corning, are a testament to the past and a way to connect to bygone days. But even more so, they help us connect to a way of life built around community and fellowship, where neighbors support each other and celebrate together, and where strangers are treated as friends. At the heart of all that, literally and metaphorically, you'll find the town square. Integral and culturally significant, these gathering places have historically been sites for markets, political rallies, entertainment and music. Around them, you will often find thriving shops and restaurants. And emanating from them, you can often feel the very pulse of the community.
"Even though we are a small city in population," says Coleen Fabrizi, Executive Director for Corning's Gaffer District, "being in the heart of our downtown, Centerway Square is an enchanting and wonderful experience."
The love for Centerway isn't just shared by those who live here. The quaint brick-lined square has been named one of the 15 Most Beautiful Town Squares in America by Travel + Leisure. That beauty is only part of the appeal, though.
"Our square has historic charm paired with beautiful architecture with the clock tower as the centerpiece," adds Kevin Peterson, President of Explore Steuben. "It is where community and visitors mingle and a space that hosts popular annual events. During the holidays, the square is transformed into a magical space that gets you into the spirit of the holiday season. It has been a tradition of our family and many others over the years."
"Centerway Square," adds Coleen, "continues to be the epicenter of our downtown, a place where everyone is welcome, whether listening to a concert, playing a board game, or enjoying a meal in the sunshine, etc. where old friends gather and new friendships begin."
You can learn more about Corning at ExploreSteuben.com. And to see the entire Top 10, visit https://www.10best.com/awards/travel/best-public-square/.  
###
Photo courtesy Brian Maloney
Contact:          
Dave DeGolyer, Communications Director
Explore Steuben
1 W. Market Street, Suite 201
Corning, NY 14830
607-426-5371 (cell)