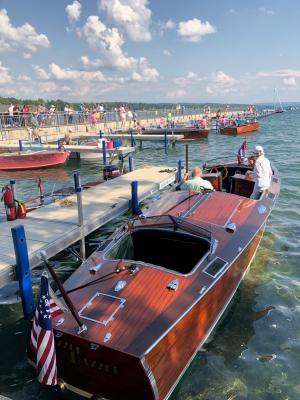 Skaneateles, N.Y. - Skaneateles' Antique and Classic Boat Show, now in its 45th year, returns to Clift Park July 28-30. Hours are 3 p.m. to dusk Friday, 9 a.m. to dusk Saturday and 8 a.m. to 2 p.m. Sunday. Admission is free.
The show, hosted by the Finger Lakes Chapter (FLC) of the Antique and Classic Boat Society and the Skaneateles Area Chamber of Commerce Foundation, draws exhibitors from throughout New York state, the East Coast, the Midwest and Canada.
Visitors will have an opportunity to learn about, and meet the owners of, some 90 runabouts, launches, sailboats, canoes, rowing craft and race boats, many restored to their original condition.
"The show offers nonstop splendor, set against the backdrop of Skaneateles' fine boutiques, galleries and restaurants," said Hilary Fenner, executive director of the Skaneateles Area Chamber of Commerce. "We can't wait to welcome you!"
Highlights of the weekend include:
Boat parade and fly-by, led by the Skaneateles Fire Department, starting at 3:15 p.m. Saturday.
Performances by the Skaneateles Community Band, 7:30 to 8:30 p.m. Friday; the Diana Jacobs Band, noon to 3 p.m. Saturday; and the Soda Ash Six, 10:30 a.m. to 1:30 p.m. Sunday.
Display of model antique boats by the Syracuse Model Boat Club, 10 a.m. to 3 p.m. Saturday and Sunday.
Guided village bus tours, hosted by the Skaneateles Historical Society (SHS) and Laker Limo, 10 a.m., 11:30 a.m., 1 p.m. and 2:30 p.m. Saturday. Tickets are $10 and include admission to the Skaneateles Historical Society Museum at the Creamery. Preregistration is encouraged by calling 315-685-1360; tickets will also be available at the SHS booth at the show.
Youth judging competition, 10:30 a.m. Saturday.
Opportunities for children to paint toy wooden boats, 11 a.m. to 2 p.m. Saturday, and a kids' craft activity hosted by the Skaneateles Library, 11 a.m. to 1 p.m. Sunday.
Knot-tying demonstration, 11 a.m. Saturday.
Photo-shoot and spectator cruise aboard the Judge Ben Wiles, 10 a.m. Sunday. The Judge will leave from the Mid-Lakes Navigation dock in Clift Park and make a slow tour of the north end of Skaneateles Lake, while exhibiting boats make random passes and provide opportunities for action shots. Tickets are $17 for adults, $5 for children under 13 accompanied by an adult. For reservations, go to midlakesnavigation.com or call 315-685-8500.
Raffle drawings will be held 1:30 p.m. Sunday, with a wide array of prizes. 
First prize, highlighting Relaxation, combines a spa package from Mirbeau with a $100 gift certificate from Gilda's and a $50 gift certificate from REVIVE Cryo & Wellness. Second prize is an Experience Skaneateles package featuring a $100 Mid-Lakes Navigation gift certificate, a private tour for four and a print from The Barrow Gallery and a $50 gift certificate from Papavero.
Other prizes include an Entertainment package featuring two tickets to "A Chorus Line" at The Rev, an overnight stay at the Hilton Garden Inn and a $50 gift certificate from Prison City Pub and Brewery; a Skaneateles Dining package featuring gift certificates from Patisserie and Blue Water Grill; and a Shop Skaneateles basket featuring gift certificates and products from Eleanor Rhinehart Studio, Emma + James, Genesee Daley and Pure Placid.
Also, a toy wooden boat filled with lottery tickets; a Morning in Skaneateles package featuring a $25 gift certificate from Clover's and a $25 gift certificate and two mugs from Skaneateles Bakery; a framed Boat Show poster; a long-sleeve Boat Show shirt; and a toy wooden boat filled with candy.
Judging of the boats, in 35 categories, takes place Saturday morning. Throughout the weekend, visitors will cast their votes for the highly coveted People's Choice Award, sponsored by Doug's Fish Fry, which will be presented at 1:45 p.m. Sunday.
The poster for this year's show was created by Michael and Elaine Sherwood Jakubowski of Hammondsport, New York, who assembled a series of photos taken over the past few years, then used AI to give it a painterly appearance. Posters are $10 and are on sale at the show and the Skaneateles Area Chamber of Commerce, 22 Jordan St.
T-shirts featuring the poster will be available at the Ship's Store, along with a wide variety of other nautical apparel and decor.
In anticipation of the show, The Comprami Questo, a trout boat owned by Lily Nelson, daughter of the late Rick Nelson, a former FLC president, is on display at M&T Bank in downtown Skaneateles. Rick gave Lily an appreciation for not only the beauty of antique boats but also the history they convey. The two shared an inside joke about the Italian phrase "comprami questo," which translates to "buy me this."
If the show inspires you to learn more about antique boats and boating, stop by the Skaneateles Historical Society, 28 Hannum St., to see the Cockerel, the "new" Rhodes Bantam on display. The boat, the second off the Rhodes Bantam line and the oldest in existence, was built in 1946 at the Skaneateles Boat Co. 
M&T Bank is the show's presenting sponsor. Contributing sponsors include the Sherwood Inn, Beak & Skiff/1911, Brinson Marine, Doug's Fish Fry, The Savage Homestead, Finger Lakes Insurance Agency, Jordan Insurance, Good Eats & Sips, Jacobs Press, Mirbeau Inn & Spa, Skaneateles Brewery, Skaneateles Festival, Skaneateles Suites, Skaneateles Town Square, 1st National Gifts, Blue Water Grill, Cayuga Tree Service, Finger Lakes Sotheby's International Realty, Gilda's, Howard Hanna Real Estate Services, Mid-Lakes Navigation, Janice M. Miller, Architect, Ricklefs Landscape & Excavation, Sea Culture Brand, SECNY Federal Credit Union, Stroll Skaneateles, The Rev Theatre Co., Tops Friendly Markets, Valentine's Pizza and Deli, and Wirth's Automotive. 
Media sponsors are FLX Local Media, Group M Communications and WRVO Public Media.
For more information, go to skaneateles.com or call the Skaneateles Area Chamber of Commerce at 315-685-0552. 
###
Media Contact:
Sandi Mulconry
Wednesday, July 12, 2023
Group M Communications 
315-685-9363