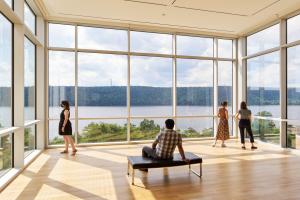 Inaugural exhibitions: "Kengo Kito: Unity on the Hudson" and "Sylvia Sleigh: Invitation to a Voyage" Open on June 16

Yonkers, NY (May 25, 2023) — Hudson River Museum is thrilled to announce the opening of its new West Wing, a transformational project that will bring a premier museum experience to all in Westchester and the metropolitan area. The new wing, designed by Archimuse, expands the Museum's total footprint by more than 12,000 square feet, including more than 3,000 square feet of exhibition galleries and exhilarating views of the Hudson River and Palisades.

Recognizing the Museum's key role as a cultural anchor, community and education partner, and tourist destination, Westchester County ($6.2M), the City of Yonkers ($5.45M), and New York State, Empire State Development ($630,000) have joined forces in support of this game-changing capital improvement project with $12.28M in generous funding. This support will enhance the Museum's ability to organize and host ambitious exhibitions and programs while providing additional spaces to display and interpret our permanent collection in new and exciting ways.

The West Wing galleries will debut with two monumental and immersive exhibitions that celebrate our place along the Hudson River, the importance of connection and community, and this pivotal new era in the HRM's more than 100-year history. 
Kengo Kito: Unity on the Hudson features innovative Japanese contemporary artist Kengo Kito, who transforms nearly 2,500 colorful hula hoops into a site-specific artwork symbolizing humanity's interconnectedness and our relationship to the Hudson River. This exhibition will flow throughout the new Special Exhibition galleries. 
 
Sylvia Sleigh: Invitation to a Voyage, a 14-panel panoramic painting from the HRM's collection, which will open in the new Community & Partnership Gallery, fittingly depicts a summer gathering of friends and art-world figures along the banks of the Hudson River and will invite visitors to become part of the scene.
In addition to the capital support, funding for these inaugural exhibitions was made possible by significant support from New York State Senate and Majority Leader Andrea Stewart-Cousins and the City of Yonkers, Mayor Mike Spano. Additional assistance for HRM exhibitions is provided by the County of Westchester. Kengo Kito: Unity on the Hudson is also made possible by the W.L.S. Spencer Foundation.

The West Wing expansion and improvement project will ultimately expand the Museum's footprint from approximately 40,000 to 52,000 square feet while seamlessly integrating the enhancements with the existing Museum campus and without compromising community views of the river. It is the culmination of a multi-phased Master Plan begun in 2002, which included the creation of a new education center; a 400-seat outdoor amphitheater; and capital improvements to the HRM's entrance, lobby, galleries, and events space.

Tom D'Auria, Charmain, HRM Board of Trustees, states, "The opening of the spectacular West Wing ushers in an exciting new era for the Hudson River Museum. This project is the result of years of strategic planning and serves as an excellent example of collaboration among our City, County, and New York State governments for the benefit of our entire community. On behalf of the Board of Trustees, I extend genuine thanks to the many supporters and partners who have made this new building a reality."

Masha Turchinsky, HRM Director and CEO, stated, "The debut of this exciting capital project marks a pivotal milestone for the Hudson River Museum, our region, and our community. More than just additional space, the West Wing will allow us to imagine anew how we present and share art and ideas, and bring the public together in exciting and thought-provoking ways. We are so appreciative for the support of our New York State, Westchester County and City of Yonkers partners. It will be a great joy to welcome our visitors of all ages and herald a new era of exploring art, science, and history at HRM."

"I am thrilled to celebrate the opening of the new wing at the Hudson River Museum," said Senate Majority Leader Andrea Stewart-Cousins. "With this expansion, the Museum is embarking on an exciting era that will provide an exceptional new experience for residents of the region. The immersive exhibitions will create even more opportunities to welcome and embrace the community, while protecting the treasures that we can all learn from together. I am proud to be a supporter of the Museum's fantastic work. Congratulations to Director and CEO Masha Turchinsky and all involved for their dedication and collaboration in making this project a reality."

Westchester County Executive George Latimer stated, "The Hudson River Museum is a beacon in the County, a Westchester community anchor, and an important tourist destination. We are proud to have provided support to the Museum for this transformative capital project. It is a great investment in the future of Westchester County as an innovative cultural hub."

Yonkers Mayor Mike Spano added, "With soaring galleries and spectacular panoramic views, these new spaces elevate the experience for artists and visitors alike. Building on their successful reaccreditation, the Hudson River Museum continues to raise the bar as a prestigious, nationally recognized institution, ready and able to inspire future generations in our City and beyond."

Phase I: New Spaces for Exhibitions and Collections
As part of the initial unveiling, the Museum will debut its new Special Exhibition Galleries, which are designed to display world-class art, accommodate the widest range of changing exhibitions, and allow for an exciting variety of installation, performance, multimedia, and large-scale art. A highlight of the new galleries is a cantilevered glass overlook, which provides a dramatic three-sided panoramic view of the Hudson River and the majestic Palisades.

The Wing includes a new Community & Partnership Gallery, an inviting and experimental space that will feature local, regional, and emerging artists, including work by artists-in-residence, community collaborations, and inventive partnerships with schools and universities.

Art Storage: A Commitment to our Collection: This phase also includes new climate-controlled art storage to ensure safe housing and display of artwork and conform with current professional standards for collections management and storage. The Hudson River Museum's permanent collection contains more than 18,000 objects, including paintings, sculptures, works on paper, photographs, decorative arts, costumes, textiles, graphic design, historical objects, and ephemera. In addition, the Museum has an extensive collection of documentary photography and archival materials.

Phase II: Auditorium,  River Terrace, and Sustainable Landscaping (2023/2024)
Construction is nearly complete on a tiered, 100-seat, state-of-the-art Auditorium, responding to the natural cascading grade. The ADA-compliant Auditorium will allow the Museum to present multimedia presentations and performances, film and video projection, dance, lectures, and panel discussions.

Scheduled to align with the completion of the auditorium, the adjacent outdoor patio will be transformed into the River Terrace to enhance programming and offer new opportunities for gathering. The Terrace has been upgraded with a new concrete floor and sleek glass parapet, connecting the Auditorium with the Hudson Room, the Museum's special events space overlooking the River.

Landscaping and a Natural Classroom: Now in the planning stages, this meadow-style perennial and shrub garden on the western slopes of the Hudson River Museum will include native plants and pollinators and offer sustainable opportunities for interdisciplinary education, connections to the collection, and partnerships.

Phase III: Glenview Historic House (2024/2025)
The exterior of Glenview, the Museum's significant 1877 riverfront home on the National Register of Historic Places and fashioned in an eclectic Late Victorian style, will receive much needed conservation to its stone and wood work, roof, and windows. Designed by Charles W. Clinton, the noteworthy architect of New York's Park Avenue Armory building, Glenview's period rooms are furnished with some of the finest Victorian art and decorative arts in harmony with the architecture of the building. The home was recently featured in HBO's The Gilded Age, serving as the home of Mrs. Caroline Astor. 

Fund for HRM: Expanding the View
Building on this momentum, the Museum is leading a major gift initiative to complete Phase II and III through the Fund for HRM: Expanding the View, providing essential support for the Museum's continued growth and leadership. We have a proven record of achievement and deeply compelling programming reflective of the cultural issues of our time. The Fund for HRM allows us to continue this work and expand the views in our galleries, on our walls, and for our visitors. For additional information please contact Robert Panzera at rpanzera@hrm.org or (914) 963-4550 x218.
 
About the Architects
The West Wing was designed by Archimuse, which is led by Benjamin D. Kracauer, AIA, Principal, Architect, and Reuben S. Jackson, RA, Principal, Architect. Archimuse was founded in 1990 to directly address the goals and aspirations of the museum community: to conserve, to study, to interpret, and to exhibit. With its programmatic approach to planning, architecture and design, and coordinated and diversified methodology, Archimuse offers a uniquely balanced expertise to the planning and building process. Other clients and successful projects include the Brooklyn Museum of Art; Carnegie Museum of Art; Connecticut Historical Society; Hirshhorn Museum and Sculpture Garden; Metropolitan Museum of Art; Museum at Eldridge Street; Museum of Modern Art; Museum of Yachting, Newport, Rhode Island; New-York Historical Society; Orange County Museum of Art: Phillips Museum of Art at Franklin & Marshall College; Urban Cultural Parks in Cohoes and Buffalo, NY; and the Whitney Museum of American Art.

Photo: Steve Paneccasio

Press contact:
Jeana Wunderlich
jwunderlich@hrm.org
(914) 963-4550 x240

Samantha Hoover
shoover@hrm.org
(914) 963-4550 x216

###
 
About the Hudson River Museum
Hudson River Museum is a preeminent cultural institution in Westchester County and the New York Metropolitan area. Situated on the banks of the Hudson River in Yonkers, New York, the Museum's mission is to engage, inspire, and connect diverse communities through the power of the arts, sciences, and history.

The Museum offers engaging experiences for every age and interest, with an ever-growing collection of American art; dynamic exhibitions that range from notable nineteenth-century paintings to contemporary art installations; Glenview, an 1877 house on the National Register of Historic Places; a state-of-the-art Planetarium; an environmental teaching gallery; and an outdoor Amphitheater. Accredited by the American Association of Museums (AAM), the Museum is dedicated to collecting, preserving, exhibiting, and interpreting these multidisciplinary offerings, which are complemented by an array of public programs that encourage creative expression, collaboration, and artistic and scientific discovery.

Hours and Admission: Hudson River Museum is open to the public Thursday–Friday, 12–5pm, Saturday–Sunday, 11am–5pm. Feel Good Fridays: Free general admission, Fridays, July 7 - August 25, 5-7pm. Mask wearing and COVID-19 vaccination are no longer required, but are recommended for all visitors.  Learn more and purchase tickets at hrm.org/visit.

General Admission (as of June 15): Adults $13; Youth (3–18) $8; Seniors (62+) $9; Students (with valid ID) $9; Veterans $9; Children (under 3) FREE; Members FREE; Museums for All* $2, *SNAP/EBT card with photo ID (up to 4 people). Planetarium tickets: Adults $7; Youth (3–18) $5; Seniors (62+) $6; Students (with valid ID) $6; Veterans $6; Children (under 3) Free. Glenview tours: Adults $7; Youth (3–18) $5; Seniors (62+) $6; Students (with valid ID) $6; Veterans $6; Children (under 3) Free. The Museum is accessible by Metro-North (Hudson Line—Yonkers and Glenview stations), by Bee-Line Bus Route #1, by car, and by bike. Make your visit a One-Day Getaway, and buy a combined rail and admission discount ticket. Learn more about Metro-North Deals & Getaways
Press Preview and Ribbon Cutting: Thursday, June 15, 10am
Members Opening Reception: Thursday, June 15, 7–9pm
Public Opening: Friday, June 16, 12–5pm
Free Community Day: Celebrating Unity on the Hudson: Sunday, July 9, 11am–5pm

View press images
RSVP to prdept@hrm.org