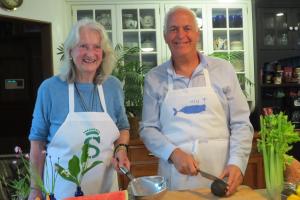 Live Zoom Cooking Show; Thursday, June 4, 11:00 am; To RSVP go to southamptonhistory.org/calendar; free admission
Southampton, N.Y. – A monthly Live Zoom cooking show will take place in the kitchen of one of the last, private Gilded Age estate in Southampton. The program takes place on the first Thursday of every month beginning Thursday, June 4 at 11:00 am. The first Zoom program will feature how to make a rhubarb pie using organic, home grown produce and is hosted by the Southampton History Museum.
The program features Mrs. Peter A. Salm, also known as The Countess von Salm-Hoogstraeten, and her private chef, Brian Hetrich. The vast kitchen is located inside the Port of Missing Men which was built by H.H. Rogers, Jr., whose father was the richest man in 1910.