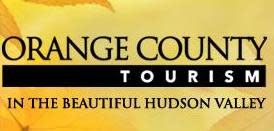 Getaway ideas for couples, singles and friends looking to celebrate Valentine's Day
Orange County, N.Y. (February 10, 2020) – The most romantic day of the year is just around the corner, and the heart of the Hudson Valley beats for everyone looking for an unforgettable Valentine's Day weekend. Couples can soak up every last drop of romance with a candlelit dinner at one of Orange County's acclaimed farm-to-table restaurants. Those looking to escape Cupid's arrow entirely can rock out with friends all night long at a historic performance venue or laugh away their blues at a comedy show.
"A weekend filled with good food, great company, and even better memories awaits in Orange County," said Orange County Tourism Director Amanda Dana. "Whether you prefer to dine or dance, don't miss an incredible lineup of events this Valentine's Day weekend. With charming B&Bs and select hotels, you can take advantage of all that the county has to offer and make the weekend truly unforgettable."
Some Valentine's Day events in Orange County, N.Y. include:
For couples already looking to tie the knot, explore Orange County, N.Y.'s unique wedding venues at orangetourism.org/weddings-special-occasions. From upscale barns and charming B&Bs to historic wineries, picturesque riverboats, and scenic open-air locations, Orange County, N.Y. provides endless inspiration for couples planning a wedding.
About Orange County Tourism
Orange County Tourism, based in Goshen, N.Y., is the county's tourism headquarters and a participant in the I LOVE NY program. A comprehensive listing of area attractions, lodging, and events can be found at www.OrangeTourism.org. Like Orange County Tourism on Facebook for the latest news on local happenings. For a free copy of the Orange County Travel Guide, e-mail tourism@orangecountygov.com or call 845-615-3860.
###
 For more information, contact:
Christine Cordova
Focus Media, Inc.
845-576-2242