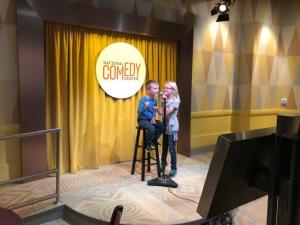 1. The National Comedy Center was just recognized as the "Best New Museum" in the country by USA Today AND you can bring your kids there for FREE, or teens there for half off through March 15th: With I Love NY recently naming the National Comedy Center as one of the best family-friendly indoor activities in New York State, the National Comedy Center has announced "Family Fun Weeks," now through March 15, with a special family admission offer just in time for school winter break in many local communities. Children age 12 and under will be free and teens age 13-17 will be half-price with an accompanied adult purchasing an admission ticket. All kids and teens will also receive free Groucho Marx disguise glasses as part of their Comedy Center experience.
The National Comedy Center offers state-of-the-art exhibits and interactive activities for the entire family, including the opportunity to draw your own cartoon, create your own internet meme, take the stage for "comedy karaoke" face-off in a "Laugh Battle," and put yourself in scenes from some of the greatest TV and movie comedies of all time.
Spring Fest Returns to Peek'n Peak Resort with More Planned Activities than Ever Before! – March 20-22, 2020:
Friday, March 20: Springfest Weekend kicks off with a Toga Party at 8 PM. Toss back a few Jello shots and enjoy live music in Bistro 210 beginning at 9 PM.

Saturday, March 21: Compete in a variety of activities at The Retreat including the iconic Cardboard Box Derby beginning at 9 AM, the Witzig Olympics at 1 PM and the crowd-favorite Pond Skim Competition at 2PM. Join Peek'n Peak for the end of season Drink Us Dry Party with ice luges and a party on the deck. Also enjoy live ice carving demonstrations, appearances by Old Man Winter, and the popular band Mom Said No at 8 PM in Bistro 210!

Sunday, March 22: Recover from the best weekend ever on Sunday morning with the 1st Annual Hair of the Dog Party, with an amazing Bloody Mary Bar at The Sports Bar from 12 PM – 4 PM.
Learn How Sap is Made into Maple Syrup During New York State's Maple Weekends – March 21-22 & 28-29, 2020: Tour sugar houses throughout the Chautauqua-Lake Erie Region, taste samples, and purchase NYS Maple Products during New York State's Maple Weekends. Attend a pancake breakfast or other maple-themed events such as "French Crepes at the Winery" at Johnson Estate Winery.
Participating Locations Throughout Chautauqua County Include:
Tickets for the Lucille Ball Comedy Festival Featuring Jeff Foxworthy, David Spade, Rob Schneider, and Kevin Nealon, Go On Public Sale on March 3, 2020: Now in its 30th year, the Lucille Ball Comedy Festival has featured comedy's greatest stars and rising young comedians, including Jerry Seinfeld, Ellen DeGeneres, Trevor Noah, Lily Tomlin, Jay Leno, Amy Schumer, Brian Regan, Lewis Black, W. Kamau Bell, Jim Gaffigan, Paula Poundstone, Dan Aykroyd, Joan Rivers, Bob Newhart, the Smothers Brothers, and more than one hundred other comedic artists.
Comedian Jeff Foxworthy, and "Legends of SNL," David Spade, Rob Schneider, and Kevin Nealon will perform during this year's Lucille Ball Comedy Festival, August 5-9, 2020. Foxworthy is one of the most respected and successful comedians in the country, a multiple Grammy Award nominee and a best-selling author of 26 books. Widely known for his redneck jokes, his act goes well beyond that to explore the humor in everyday family interactions and human nature, with a style that has been compared to Mark Twain's.
David Spade, Rob Schneider, and Kevin Nealon were all part of the cast and writing team of Saturday Night Live during a pivotal era for the NBC show in the 1990s. Each of them created memorable and beloved characters throughout their run on the show, and each was nominated for Emmy awards as part of the SNL writing team. The Lucille Ball Comedy Festival marks the 45th anniversary of Saturday Night Live this year with their "Legends of SNL" show, which will take place on Saturday, August 8, as the National Comedy Center reunites these comedic talents on stage for an extraordinary stand-up comedy show.
Both Foxworthy's performance on August 7 and the Legends of SNL show on August 8 will be held in Jamestown's Northwest Arena, adjacent to the National Comedy Center complex.
Comedy Late-Night, Lucy legacy events, and a kid's comedy show will also go on sale on Tuesday, March 3rd when tickets go on sale to the public, with additional festival events to be announced in the coming months.
Erth's Prehistoric Aquarium Adventure at the Reg Lenna Center for the Arts – March 15, 2020: The creators of Erth's Dinosaur Zoo Live want to take your family on an all-new adventure – this time to the bottom of the ocean. Erth's Prehistoric Aquarium Adventure is an immersive experience that invites you to jump in and explore unknown ocean depths where prehistoric marine reptiles lived eons ago - and maybe live still today! Erth shows are at the forefront of family entertainment, using actors, technology, puppets, science, and imagination to create an amazing visual experience that connects young audiences to the real science of paleontology.
Photo: Perform Stand-Up in Comedy Karaoke Lounge at the National Comedy Center. Credit: Kara Murphy
###
Contact:
Megan L. Arnone, Marketing & Communications Coordinator
Chautauqua County Visitors Bureau
716-357-4569