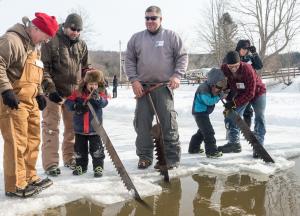 East Meredith, NY – Hanford Mills Museum in the Catskills' East Meredith will hold the 31st annual Ice Harvest Festival on Saturday, February 1, 2020. The popular winter event celebrates an activity that was essential before mechanical refrigeration. Using historic tools and techniques, visitors can cut and harvest ice from the Mill pond and transfer it to the ice house using bobsleds. Each year, seven to eight tons of ice are harvested.
The Ice Harvest Festival will feature ice fishing with the Dave Brandt Chapter of Trout Unlimited, ice carving by the SUNY Delhi Hospitality Center Ice Team, a hot soup buffet with soup from favorite area restaurants, blacksmithing and cooking demonstrations, a snowman village, and local vendors. 
"Along with our staff, we have a great crew of skilled volunteers who help make the Ice Harvest run smoothly," says Hanford Mills executive director Liz Callahan. "Safety is our priority." She noted that there will not be horse-drawn sleigh rides this year. "With the number of visitors moving around the site during the Festival, there is not enough room for the horse-drawn sleigh rides. This change is giving us the opportunity to add some new features, which will be fun for those new to the Ice Harvest Festival as well as for the people who make the Ice Harvest an annual winter tradition."
See hanfordmills.org for more information and updates. The ice must be 8 or more inches deep before the public is allowed on the frozen pond. Because snow acts as an insulator, during the weeks leading up to the Ice Harvest Festival, Hanford Mills staff shovel the pond to ensure there is a good strong crop of ice.    
Admission and Information
Children 12 and under receive free admission. Admission for adults and teens is $9; senior admission is $7. Hanford Mills Museum members receive free admission. Discounts also are available for teachers, first responders, veterans, members of the military, EBT cardholders, and AAA members. See hanfordmills.org for details.
About Hanford Mills Museum
Hanford Mills Museum operates an authentic water- and steam-powered historic site, which includes a sawmill, gristmill and woodworking shop. The mission of Hanford Mills Museum is to inspire audiences of all ages to explore connections among energy, technology, natural resources and entrepreneurship in rural communities with a focus on sustainable choices. The museum, which is listed on the National and New York State Registers of Historic Places, will open for the 2020 season on May 15.
Hanford Mills is located at 51 County Highway 12 in East Meredith, at the intersection of Delaware County Routes 10 & 12, just 10 miles from Oneonta, and 15 miles from Delhi.  For more information, visit www.hanfordmills.org or call 607/278-5744.
###
For more information, please contact:
 Liz Callahan, Executive Director, Hanford Mills Museum, 607/278-5744, lizc@hanfordmills.org
For photos, please contact Peg Odell, pego@hanfordmills.org
Photos of past Ice Harvest available for media use at: https://drive.google.com/drive/folders/1VKbUQTRAalfRWa_dtsDZm8gwvkfbcMwg?usp=sharing
Ice Harvest Festival
February 1, 2020 10 am–3 pm
Hanford Mills Museum
51 County Hwy 12, East Meredith, NY
607/278-5744
Take part in a traditional ice harvest, just as communities did a century ago. Festival also includes ice carving, ice fishing, kids' activities, snowman village, hot soup buffet, blacksmithing and cooking demonstrations, and exhibits by local businesses and farmers. Kids 12 and under get in free; Adults and Teens, $9; Seniors, $7.