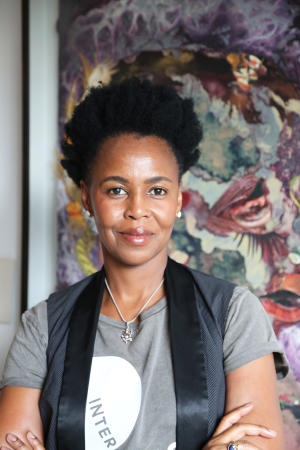 Thursday, February 27, 6 p.m.
Saratoga Springs, NY (January 7, 2020) — The Frances Young Tang Teaching Museum and Art Gallery at Skidmore College welcomes acclaimed artist Wangechi Mutu to deliver the third annual Winter/Miller Lecture at 6 p.m. Thursday, February 27. The event is free and open to the public.
The Nairobi, Kenya-born Mutu has been hailed as one of the most distinguished artists of her generation, known for sculpture, collage, painting, video, and performance. Her work is often centered on the female body and challenges accepted notions of gender, race, and identity. Among her many distinctions is that she is the first artist in the history of the Metropolitan Museum of Art in New York City to be commissioned to create sculptures for the four niches on the museum's façade, which had been empty since first being built 117 years ago. The Brooklyn Rail has said of The NewOnes, will free Us: "Mutu elevates her women to a position of power, imbuing them with an infectious confidence."
Mutu's appearance at the Tang Teaching Museum is by invitation from Caroline Coxe '20, a Studio Art major. She holds the prestigious 2019-20 Eleanor Linder Winter '43 Internship, a one-year pre-professional program in museum work for Skidmore students. In this role, Coxe is charged with the research, planning, and coordination of the annual Winter/Miller Lecture.
"Wangechi Mutu was the first contemporary artists that I discovered and fell in love with as a teenager," Coxe said. "I was doing a lot of collage work in high school and actually did a series based off her work. I admire her use of materials to create layered narratives and meanings. She has the most brilliant mind, and we all have so much to learn from her work. Having this opportunity to bring her here and to meet her is such a gift."
The Winter/Miller Lecture is made possible through a generous gift by the family of Eleanor Linder Winter '43. The inaugural Winter/Miller lecture was delivered in March 2018 by artist Nicole Eisenman. Chris Ware delivered the second annual lecture in February 2019.
This event is free and open to the public. For more information, call the Tang Visitor Services Desk at 518-580-8080 or visit http://tang.skdimore.edu.
About Wangechi Mutu
Born in Nairobi in 1972 and trained at Yale, from which she received her MFA in sculpture in 2000, Wangechi Mutu is one of the most distinguished artists of her generation. Female empowerment is the inspiration, the solution and the result of much of her work. Using organic materials, metal and recycled objects, she references the mythology and classical artistic expressions of several African cultures and delivers a compelling alternative to traditional modes of representation. Her work has been the subject of numerous solo shows, including Wangechi Mutu: A Fantastic Journey, which traveled to the Brooklyn Museum, New York; Nasher Museum of Art, Durham, North Carolina; Museum of Contemporary Art, North Miami; and Block Museum, Evanston, Illinois. Mutu is the recipient of Deutsche Bank's Artist of the Year award, the Louis Comfort Tiffany Foundation Grant, the Joan Mitchell Foundation Painters & Sculptors Award, and the American Federation of Arts' Leadership Award. Her work was recently included in the 2019 Whitney Biennial and is currently in The Metropolitan Museum of Art's The Façade Commission: Wangechi Mutu, The NewOnes, will free Us.
About the Tang Teaching Museum
The Tang Teaching Museum is a pioneer of interdisciplinary exploration and learning. A cultural anchor of New York's Capital Region, the Tang's approach has become a model for university art museums across the country—with exhibition programs that bring together visual and performing arts with interdisciplinary ideas from history, economics, biology, dance, and physics to name just a few. The Tang has one of the most rigorous faculty-engagement initiatives in the nation, and a robust publication and touring exhibition program that extends the museum's reach far beyond its walls. The Tang Teaching Museum's award-winning building, designed by architect Antoine Predock, serves as a visual metaphor for the convergence of art and ideas. Admission to the museum is free (donation suggested). Hours are Tuesday through Sunday, noon to 5 p.m., with extended hours until 9 p.m. on Thursdays. http://tang.skidmore.edu.
Event page link: https://tang.skidmore.edu/calendar/1190-winter-miller-lecture-wangechi-mutu
Work by Wangechi Mutu in the Tang collection: https://tang.skidmore.edu/collection/artist/1981#browse
Media Contact
Michael Janairo
Head of Communications
Tang Teaching Museum
mjanairo@skidmore.edu
518-580-5542
Credit information for image: Portrait of Wangechi Mutu, 2019, photo by Cynthia Edorh