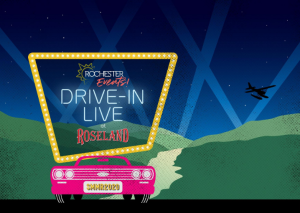 Canandaigua, NY (August 11, 2020)  - The Producers of the Rochester Lilac Festival, Party in the Park and many other events in Rochester, NY, are pleased to work with Roseland Waterpark in Canandaigua, to continue their existing drive-in entertainment this summer.
As part of the continued series, the Drive-In Live Series at Roseland Waterpark will be adding performances by Almost Queen on August 22, Dark Star Orchestra on September 4 and G. Love and Friends on September 5. As in the past, the musical acts are LIVE and in person (not a recording) and attendees will park their vehicles and listen to live shows from the parking lot of the venue. The shows will be enhanced by full PA, digital screens and ASL interpreters.
As a part of Rochester Events' giving back to the community, special arrangements have been made for the Almost Queen show for Ontario ARC to receive a portion of the proceeds of tickets sold.
Tickets for each show range from $99-$250 per vehicle and are on sale now exclusively via RochesterEvents.com. Only touchless, mobile tickets will be valid for this event. There will be an opportunity to purchase food from NY Kitchen and FLX BBQ online prior to and at the show to be delivered to their car.
A maximum of four (4) occupants will be permitted per vehicle.
Social distancing measures will operate in accordance with New York State guidelines (subject to change):
Vehicles will be spaced to accommodate social distancing.
Cars will park in a staggered fashion to achieve spacing and best visibility.
Patrons may only leave their designated vehicle area to use restrooms and will be required to wear masks and maintain social distancing when doing so.
For a COMPLETE LIST of directives please visit  RochesterEvents.com  
State guidance on social distancing, public gatherings and certain procedures and practices is subject to change. Rochester Events will keep customers informed of changes as they pertain to these events at www.RochesterEvents.com and the Rochester Events social channels, Facebook and Instagram.
The shows that have been presented thus far this summer have been safely executed following all State guidelines and requirements. Ensuring the well-being of guests and team members is our top priority with social distancing protocols strictly enforced.
ABOUT THE BANDS: 
Almost Queen: August 22nd - THE most authentic QUEEN live show since the days of QUEEN themselves. A deliberate four piece band, Almost Queen delivers a live performance showcasing signature four part harmonies and intricate musical interludes. Donning genuine costumes, Almost Queen recaptures the live energy and precision that is the ultimate Queen experience.
Dark Star Orchestra: September 4th - Using entire shows from the Grateful Dead's massive catalogue from 30 years of touring,  DSO recreates the original song-for-song set list for an entirely new generation of Deadheads. Dark Star Orchestra presents its critically-acclaimed live show at esteemed venues coast to coast and internationally. Touring nationwide for over two decades, with more than 2600 shows in the rear view mirror, the band's steadfast commitment to "raising the Dead" has drawn national media attention and a huge "deadicated" fan base.
G. Love & Special Friends: September 5th -Born Garrett Dutton in Philadelphia,PA, G. Love grew up equally enthralled with folk, blues, and rap, devouring everything from Lead Belly and Run D.M.C. to John Hammond and the Beastie Boys. After migrating to Boston, he and his band, Special Sauce, broke out in 1994 with their Gold-selling self-titled debut, which earned widespread critical acclaim for its bold vision and adventurous production. Over the next twenty-five years, G. Love would go on to release seven more similarly lauded studio studios albums with Special Sauce (plus four solo albums on his own), solidifying his place in music history as a genre-bending pioneer with a sound The New York Times described as "a new and urgent hybrid" and NPR called a "musical melting pot." G. Love's magnetic stage presence, meanwhile, made him a fixture on festival lineups from Bonnaroo to Lollapalooza, and his relentless appetite for tour and collaboration landed him on the road and in the studio with artists as diverse as Lucinda Williams, Dave Matthews, The Avett Brothers, Jack Johnson, and DJ Logic.    
ABOUT ONTARIO ARC 
Ontario ARC is a resource for people with disabilities or other challenges and their families. They believe that nurturing uniqueness opens the door to endless, exciting possibilities. Whether that means landing a job and excelling in a career, finding new ways to creatively express yourself, or learning the skills needed to live on your own, we help people to realize the numerous ways they can fulfill their potential as valued, respected members of society. 
ABOUT ROCHESTER EVENTS 
The Springut Group is a Rochester company with more than 35 years of experience in bringing high-profile events to the community. We currently produce the Rochester Lilac Festival, Party in the Park, Midtown Eats and other special events. We are dedicated to enhancing life in our area with great music, food and entertainment.
MEDIA CONTACT:
Jenny LoMaglio
(585) 473-4482