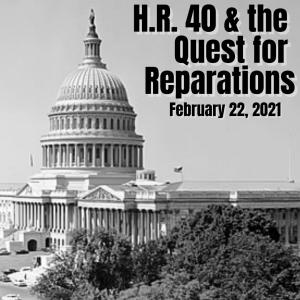 Peterboro, N.Y. – The National Abolition Hall of Fame and Museum (NAHOF) concludes the February 2021 Black History Matters programs in the coming week. These programs address key events in our national history and are topics that are lesser known or whose implications are not usually understood. The brief twenty-eight programs will remain on the NAHOF website after February.
Monday, February 22                    H.R. 40 and the Quest for Reparations
JJ. Citron and Jeff McArn will center this program around legislation H.R. 40, which has been discussed in the House of Representatives for over three decades. The legislation has not made it beyond debate within the house. In addition to explaining the text itself, the presentation will also include videos of 2019 congressional testimonies by Ta-Nehisi Coates and Coleman Hughes (in favor and against reparations, respectively) on Juneteenth. Citron and McArn plan to center Black voices and perspectives on H.R. 40 throughout the presentation. With this in mind, they will also be including prominent voices who have weighed in on the case for reparations, including politicians, religious figures, political organizers and activist groups.
JJ Citron is a Colgate University alumna from the Class of 2020, where she graduated Summa Cum Laude with Honors in Peace and Conflict Studies. She served as the Upstate Institute 2019 Fellow at the National Abolition Hall of Fame and Museum. From June-September 2020, she examined the intersection between race, technology and law as a Research Assistant at the University of Washington's Tech Policy Lab. Jeffrey McArn has been the Hamilton College Chaplain since 1996, when he was ordained as a minister in the Presbyterian Church. A native of Laurinburg, N.C., McArn is a graduate of Davidson College and Harvard Divinity School. Jeff works with both the Protestant Chapel Community and the Interfaith Community on campus, local community outreach initiatives, and service learning. He is a member of the NAHOF Cabinet of Freedom and co-chair of the NAHOF Ongoing Abolition Committee.
Tuesday, February 23                    Black Law Enforcement
Max Smith interviews Gregory L. Riley, Sr. on racism and the need for structural change in the police force in the context of the recent Black Lives Matter movement and police brutality. Riley reflects on his experiences as a police officer and provides insight into what changes he thinks could bring about significant change to the way we do policing in the United States. Riley is a faculty member in the criminal justice department at Norwalk (CT) Community College. He is a retired community police officer from the Norwalk Police Department and served in the NPD Youth Division and as a School Resource Officer at all three Norwalk High Schools. He also was a former Federal Corrections Officer at Danbury (CT) Federal Institution. Mr. Riley has served as a member of the Board of Directors of the SUNY Plattsburgh Alumni Association. He was named a Distinguished Visiting Alumni by SUNY Plattsburgh. Mr. Riley was also a member of the Board of Directors for the National Black Police Association, Washington, DC, where he served a national information officer. He is the co-founder of the James A. Wilson Scholarship at SUNY Plattsburgh for gifted African American students. Mr. Riley is a graduate of Oneida High School, SUNY Plattsburgh with a B.A. in criminal justice, and is presently working toward his M.A. in criminal justice.
Wednesday, February 24               Music of Enslavement and Emancipation
Music was used by the enslaved and the emancipators to express thoughts, feelings, and beliefs. The importance of music to the abolition and Civil Rights movement was, and is, significant. Max Alden Smith will provide background on a selection of songs sung by enslaved Black Americans and by abolitionists at antislavery meetings. Smith will also perform the songs as he had done often for programs at the Gerrit Smith Estate National Historic Landmark and for the National Abolition Hall of Fame and Museum. Max Smith is a founder and co-chair of the Annual Peterboro Emancipation Day held at the Gerrit Smith Estate National Historic Landmark the first Saturday of August. Smith is a member of the Cabinet of Freedom, the governing board of the National Abolition Hall of Fame and Museum and is a former mayor of the City of Oneida, NY. Smith is descended from enslaved families who came to Peterboro, New York, and his rich and passionate musical voice is regarded highly.
Thursday, February 25                 Black Joy
While teaching about the history of white people exploiting and dehumanizing Black people in America is critical to understanding and dismantling ongoing, violent legacies, a singular focus on stories of Black trauma and pain constructs a one-dimensional idea of Blackness as suffering. To resist the omnipresent, intrusive and pervasive nature of white supremacy, Black Americans must also allow themselves to be rebelliously joyous. Where society has told them to "be quiet", and that they are "too loud" and "too different. Erin Burke will present on the definition and importance of making space for narratives of Black Joy.
Friday, February 26                       Anti-Racism Programs
"Anti-racism" is different from "not being racist."  Because media representations, social systems and institutions enfranchise white people and entrench racism, being simply "not racist" allows the continuation of these racist ideas and structures. Anti-racism focuses on how to actively deconstruct and dismantle these racist ideas and structures. Delving into anti-racism for the first time can be intimidating, and the most common fears NAHOF hears are worries about not knowing enough, saying the wrong thing, or not knowing where to start. Erin Burke will use a short video which will signpost to ideas, resources, and actions to help become anti-racist.
Erin Burke, former NAHOF Upstate Institute Fellow, holds degrees in History (BA) and Museum Education (MSc) from Colgate University and the University of Glasgow. She is now based in Glasgow where she works at the Scottish Civic Trust (SCT) as their Communications and Events Officer. She has a focus on inclusive communications and a passion for making Scotland's heritage more representative of and accessible to all. She is also responsible for the Civic Trust's recently released anti-racism policy. In addition to her work at SCT, Erin works alongside peers in 20+ heritage organizations to run a national campaign to increase the number and diversity of heritage volunteers in Scotland.
Saturday, February 27                   Dr. James Stewart's Historical Tonic for Fragile White People
James Brewer Stewart PhD, professor emeritus at Macalester College MN, has done a deep dive to address white supremacy after the Civil War. Dr. Stewart introduces sixteen "mini lectures" Historical Tonic for Fragile White Folks that are six to fifteen minutes long in a casual talk style while sitting on a couch. Stewart sees his videos as a way to challenge the "historical amnesia" that exists about white supremacy. He intends to help people see this neglected history as it truly was and to own that history. Tim McLaughlin PhD, Vice-president of NAHOF and professor emeritus Cazenovia College wrote, "This series introduces its intended white audience to the historical role of whites in creating and sustaining a system of racial supremacy from Reconstruction to 1960 with the aim of getting the audience to "do the right thing" and "stand up" for African Americans." In that the TONIC series pairs with Black History Matters, NAHOF will present Dr. Stewart's "mini-lectures" the first days of March 2021.
Sunday, February 28                     Closing Appreciations
Victoria Basulto, the program and production manager of Black History Matters, will close the Black History Matters with thanks to the those who have viewed the programs, and to those who have presented the programs. Basulto will provide guidance on submitting the final survey, arranging for the Peterboro Academy Certificate for the series, and for a one year membership in the National Abolition Hall of Fame and Museum. Basulto is a Colgate University Senior and the current Colgate Upstate Institute intern.
The National Abolition Hall of Fame and (NAHOF) is chartered by the Board of Regents/New York State Education Department. NAHOF honors antislavery abolitionists, their work to end slavery, and the legacy of that struggle, and strives to complete the second, and ongoing abolition – the moral conviction to end racism. NAHOF is located in historic Peterboro NY in the two-hundred-year-old building in which state abolitionists held the inaugural meeting of the New York State Antislavery Society in 1835. The Gerrit Smith Estate National Historic Landmark is an Underground Railroad site just down the street.
For more information and to access daily releases of the Black History Matters programs:
www.nationalabolitionhalloffameandmuseum.org/events.html
Twitter (@PeterboroNY)
Facebook (@NationalAbolitionHallOfFameAndMuseum), and
Instagram (@NationalAbolitionHallOfFame)