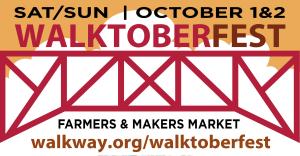 Saturday, October 1 and Sunday, October 2
Area farms and specially curated local products will showcase alongside food and drink tastings at Walkway Over the Hudson State Historic Park and Hudson Valley Rail Trail
POUGHKEEPSIE, N.Y. (September 7, 2022) –  The Walktoberfest Farmers and Makers Market brings a curated selection of the Hudson Valley's finest producers, including farms, distilleries, wineries, restaurants, artists, artisans, and more to the Hudson Valley Rail Trail and west approach to Walkway Over the Hudson State Historic Park on Saturday, October 1 and Sunday, October 2 from 12-5 p.m.  Vendors will exhibit their wares for tasting or purchase, allowing participants to support many local agribusinesses all in one beautiful location.
"Walktoberfest is always one of the best weekends on the Walkway calendar," said Diane Haight, Interim Executive Director, Friends of the Walkway. "From the tasting area featuring the Hudson Valley's finest to the dozens of local vendors, live music, and special surprises that are sure to delight, it's always wonderful to see the community come together to have a great time."
With more than 190 vendors located throughout the Hudson Valley Rail Trail and the Walkway's Ulster Welcome Center Plaza (87 Haviland Road, Highland, NY, 12528), Walktoberfest features not only farm-fresh products, food from local restaurants, and beer, wine, and spirits samples in a designated tasting area, but also art installations, locally made goods, a special area for children's activities, live music from 7he 7eam on Saturday and Americana Oak and Tiny Bubble Ukulele on Sunday, and more. All proceeds from Walktoberfest benefit the Friends of the Walkway and Hudson Valley Rail Trail, who have partnered to present this farmers market.
Walkway Over the Hudson State Historic Park and the Hudson Valley Rail Trail will remain open and accessible at no cost as usual throughout Walktoberfest. Admission to Walktoberfest is free, however special tickets are required for access to the Walktoberfest tasting and showcase area. Tasting tickets are available now for $25 and include full access to wine, beer, spirits, and cider samples from more than 20 area purveyors. Must be 21 & over to purchase tickets. Walkway members, veterans, active-duty military, and senior citizens (65+) receive discounted admission. Children do not need a ticket to enter the tasting area when accompanied by an adult. To see the current list of participants as well as day of information about parking and more, visit walkway.org/walktoberfest.
Children will pose for pictures with their favorite princesses courtesy of The Snooki Shop and with superheroes including Thor, Iron Man, Black Panther, Captain America, and Spiderman thanks to Starlight Studios. Two By Two Petting Zoo and Parrots for Peace will bring their furry/bird friends to Walktoberfest, and there are three craft areas hosted by Crazy for Art and Lowes of Highland, NY. The Lake Placid 2023/FISU University Games are making their debut onsite.
The Walktoberfest Farmers and Makers Market is sponsored by Tompkins Community Bank, The Snooki Shop, Benmarl Winery, Lake Placid 2023, FISU World University Games, Metro North Railroad, Hudson Whiskey NY, Chronogram, Cantele Tents, Guardian Self Storage, iHeart Media, Hops on the Hudson, Hudson Valley Restaurant Week/The Valley Table, Coupe Champagne Bar, Sleep n' Spa, Taste NY, Quality Bus Service, Radio Woodstock, Barbara Carter Realty, Fox Pest Control, Hops on the Hudson, Groups to Go, WMC Health, Mountain Float Spa, Barbara Carter Century21, Sloop Brewing, Knucklebusters Car Care Center, Total Cleanups with the Sorbello Family, Two By Two Zoo, DroninAllDay, Fox Pest Control, Salisbury Bank, and Devine Insurance.
 
About Friends of the Walkway Over the Hudson
Supported by a diverse coalition of members, donors, and corporate sponsors, the Friends of the Walkway organization is responsible for raising funds to enhance the Walkway experience, support capital improvements, and deliver innovative events that engage Hudson Valley residents and visitors that contribute to the vitality of the region. Additional programs and activities supported by the Friends of the Walkway include the volunteer Ambassador program, Walkway tours, interpretative signage in the park, providing accurate and important information to visitors via the Walkway's website and social media channels, the Walkway's membership and merchandise programs, and much more. To learn more about how your support can improve the Walkway Over the Hudson and the Hudson Valley, visit walkway.org.
About Walkway Over the Hudson State Historic Park
Connecting the City of Poughkeepsie and the Hamlet of Highland in the Hudson Valley region of New York State, Walkway Over the Hudson State Historic Park is a renowned tourism and recreation destination visited by more than 620,000 people each year. Standing 212 feet above the river's surface and more than 6,700 feet (1.28 miles) long, the Walkway is the longest elevated pedestrian bridge in the world. The park provides unique access to the Hudson River's breathtaking landscape for pedestrians, hikers, joggers, bicyclists, and people with disabilities. The park is open daily from 7 a.m. until sunset, weather permitting. For more information, visit walkway.org.
###
CONTACT:
Jami L. Anson
Director of Events & Corporate Relations
845-401-9469
Jami.anson@walkway.org