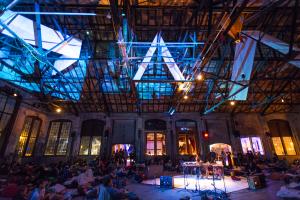 Ft. performances from 2022 Pulitzer Prize Winner for Music Raven Chacon, C. Lavender, Fuji|||||||||||ta, and Photay with Celia Hollander and special guests Laraaji + Arji OceAnanda, + more
Hudson, N.Y. (February 22, 2023) – Experiential music + sound festival 24-HOUR DRONE returns to Basilica Hudson Memorial Day Weekend 2023. Presented by Basilica Hudson and Le Guess Who? in collaboration with Sarah Van Buren,  24-HOUR DRONE: EXPERIMENTS IN SOUND AND MUSIC will take place Saturday May 27 – Sunday 28, 2023 from 12pm to 12pm as part of Drone Day. Tickets are available here.
 
Featuring 24 hours of unbroken, experimental sound, 24-HOUR DRONE is part of a growing international movement of immersive auditory events that blur the line between artist and attendee to create transcendence through communal experience.
 
Among the avant garde artists set to perform at this year's event is Navajo artist Raven Chacon, winner of the 2022 Pulitzer Prize for Music and the first Native American to receive the honor.
 
Ambient pioneer Laraaji, a New Age fixture for more than four decades first championed by Brian Eno, will make a special guest appearance as part of Photay's collaborative set on the heels of his newly reissued landmark recordings Segue to Infinity.
Raven Chacon, C. Lavender, Fuji|||||||||||ta, and Photay with Celia Hollander and special guests Laraaji + Arji OceAnanda will each perform a special three-hour endurance set.
 
The remaining 12 hours of the event include performances by Sarah Hennies + Tristan Kasten-Krause, Laura Ortman, Evans Saxl Seretan Thayer Quartet, WSABI, Anneice Cousin and Sister Redhawk (Nea' Mckinney). It will also feature a special drone set by electronic producer and Beyonce collaborator Kelman Duran.
 
Lisa Bernard Kelley, a close collaborator of the late great music and Deep Listening® pioneer Pauline Oliveros, will facilitate The Heart Chant (© Pauline Oliveros, 2001) sonic meditation to close out the festival.
 
The event activates the entire Basilica Hudson campus through audio/visual art installations and food pop-ups, with music centered in Basilica Hudson's 6,000 sq. ft. Main Hall. Performers will be situated in the center of the room at floor level with attendees surrounding them, dissolving the usual hierarchy between performer and audience. Each performance blends into the next to create twenty-four hours of unbroken, uninterrupted sound (no applause between acts). Attendees are free to come and go over the twenty-four hours, but those who make the commitment to this long-duration work will be rewarded with the intangible feeling of meditative contentment and communal collaboration.
 
"It's a large, unwieldy, audacious magic trick of a thing that gathers folks and tones together in a very particular, charged way and wrenches out the deepest trenches of our attention. Do I dare, you'll ask? And how dare they?" adds returning DRONE musician Ben Seretan.
 
This will be the first 24-HOUR DRONE held in-person at the venue in four years. It will once again be streamed live on Wave Farm Radio (wavefarm.org/listen) broadcast live on WGXC 90.7-FM: Radio for Open Ears. (wgxc.org). Additional audio equipment will be provided by Second Ward Foundation.
Further details about visual art installations, food vendors and more TBA.
24-HOUR DRONE: EXPERIMENTS IN SOUND AND MUSIC
Saturday May 27 – Sunday  28, 2023 (Drone Day)
12pm to 12pm // Tickets: $113 including fees
Address: 110 S Front St, Hudson, NY 12534
Media Contact: Leslie Hermelin, lesliehermelin@gmail.com
About Basilica Hudson:
Founded in 2010 by musician Melissa Auf der Maur and filmmaker Tony Stone, Basilica Hudson is housed in a reclaimed, solar-powered 1880s industrial factory on the riverfront of Hudson, NY. The organization welcomes over 20,000 visitors each season to genre-pushing music festivals, large scale marketplace events, regular film screenings, an artist in residency program, public installations and other community gatherings. The majority of its programs are free or sliding scale.
 
Through its programs, Basilica Hudson supports the creation, production and presentation of independent arts and culture, and strives to forge experiences that aspire to the scale, grit and beauty of its surroundings. It draws inspiration for its mission and programming from the City of Hudson's epic history, as well as the region's artistic legacy and environmental advocacy. Visit basilicahudson.org for more information.
 
Le Guess Who?
Le Guess Who? is a Celebration of Sound in Utrecht, The Netherlands. Across four days Le Guess Who? takes over the entire city center of Utrecht, with over 150 artists performing in pop venues, theaters, churches, warehouses, and clubs. U? is the participative and freely accessible day program of Le Guess Who?, created for and with the city of Utrecht. COSMOS is our hybrid platform, which translates the festival's mission to an online environment.
 
Throughout the years, Le Guess Who? has grown to become a leading international festival, known for its unparalleled presentation of genre-challenging music. In 2022, visitors from 50 different countries traveled to Utrecht in November to attend the festival. https://leguesswho.com/
Sarah Van Buren
Sarah Van Buren (SVB) is an artist, educator, sound maker, dee jay and raver based in Stottville, NY who works with music, sound and collaborative performance to investigate buried histories, communal ritual and collective resonance. She started a DJ school in 2019 which evolved into the Hudson Valley-based DJ collective Community Rave Network, and is co-founder of the NYC-based video art/party/performance collective CHERYL. She is an occasional guest DJ on WFMU's Radio Row program, and a former programmer at WGXC, Wave Farm's community radio station. She is co-curator of Basilica Hudson's 24-HOUR DRONE music + sound festival since its inception in 2015, and is certified in Deep Listening® by The Center for Deep Listening at RPI.
 
Wave Farm
Wave Farm is a non-profit arts organization driven by experimentation with broadcast media and the airwaves. A pioneer of the Transmission Arts genre, Wave Farm programs provide access to transmission technologies and support artists and organizations that engage with media as an art form. Wave Farm Radio encompasses many radio streams available at wavefarm.org/listen and the Wave Farm Radio App, including WGXC 90.7-FM: Radio for Open Ears, a full-power, non-commercial, listener-supported station in New York's Upper Hudson Valley operating out of studios in Hudson and the Wave Farm Study Center in Acra.  https://wavefarm.org/