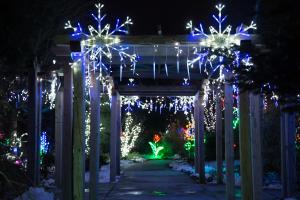 Christmastime events showcase the wonder and excitement of the holiday season
Orange County, N.Y. (December  7, 2020) – When the halls have been decked and the tree has been trimmed, the best way to celebrate the holiday season is with a wintertime adventure in Orange County, N.Y. Walk (or drive) through a spectacular display of lights, sip your afternoon tea in the beautifully-decorated Historic Thayer Hotel, or laugh the night away with a Christmas-themed dinner theatre. There are seasonal activities for the whole family to enjoy in the Hudson Valley.
"It truly is the most wonderful time of the year," said Orange County Tourism Director Amanda Dana. "No matter what you're celebrating, there's a showcase of lights, music, and family-fun waiting for you in Orange County, N.Y. this holiday season. Top off your outing with a view of the region's scenic snowy landscape for a sight that you'll cherish forever."
Below are some holiday experiences available in Orange County, N.Y. Before visiting any of the locations, please contact the venue directly to confirm that they are open and practice safe social-distancing.
Watt Christmas Wonderland, 310 Scotchtown Road, Goshen, Daily through Dec. 27, 6:00-9:00 p.m.: Travel through a dreamland adventure and find yourself surrounded by an astounding array of brightly glowing displays. Hundreds of Christmas inflatables and thousands of lights adorn the almost one-mile path; so many that you'll want to drive through more than once! wattchristmaswonderland.com
Christmas in the Village, Museum Village, 1010 State Route 17M, Monroe, Saturday-Sunday through Dec. 13, 1:00-6:00 p.m.: Experience festive fun for the whole family with an expanded walk-through Christmas in the Museum Village event, now with evening hours. Explore the beautiful village during the day, or arrive later for an illuminated evening experience. Stop by the playhouse for a visit with Mr. and Mrs. Claus and their helpful elves!  facebook.com/events/1243694642673247
Holiday Afternoon Tea at The Thayer Hotel, 674 Thayer Road, West Point, Saturdays through Dec. 19, 3:00 p.m.: Keep tradition alive this year with The Thayer Hotel's Holiday High Tea. The historic hotel will be decked with holiday decor and the crackling fireplace is sure to get you in the festive spirit. Enjoy tea, scones, delicious tea sandwiches, and more.  Reservations required. thethayerhotel.com
A Christmas Carol Dinner Theatre Show, The Meadowbrook, 1 Meadowbrook Road, New Windsor, Saturday, Dec. 19, 5:30-8:00 p.m.: Treat yourself and your family to the perfect gift celebrating the holidays – "A Christmas Carol." The Meadowbrook has decked the halls with your favorite holiday music, sparkling sets, and special effects tied together by a high-spirited cast dressed in lavish costumes to bring this tale of 19th century London to life. And to add to the merriment, they've added a dollop of humor sure to tickle a smile from the crotchety old Scrooge himself. This season's show will be performed by The Riddlesbrood Touring Theatre! eventbrite.com/e/a-christmas-carol-dinner-theatre-show-tickets
Orange County Fair's Holiday Light Spectacular, 239 Wisner Avenue, Middletown, Thursday-Sunday, Dec. 3-13, Daily beginning Dec. 17 - Jan. 3, 5:00-10:00 p.m.: Visit the Orange County Fairgrounds for a socially-distanced, drive-thru holiday celebration. Wind your way through the spectacularly lit fairgrounds, pull into the covered area for a multimedia light show, and order delicious treats from fair food vendors -- all from the comfort of your own car. orangecountyfair.com/pageserver/holiday-lights-spectacular
Holiday Lights in Bloom, Thomas Bull Memorial Park Arboretum, Route 416, Montgomery, Friday-Sunday through Dec. 27, 5:00-8:00 p.m.: Wander through beautiful garden-themed light displays, be amazed by the many paths of lit trees, glowing flowers, animals and insects, and a brilliant 9/11 Memorial Garden adorned with patriotic decorations. This free event is open to the public. orangecountynyparks.com
As the world reopens, Orange County, N.Y., invites residents and visitors to escape, enjoy and explore its wide-open spaces. For a full list of attractions, lodging and dining options, please visit orangetourism.org. Additionally, a fun, free, 56-page travel guide is available for digital download at OrangeTourism.org/travel-guide.
About Orange County Tourism
Orange County Tourism, based in Goshen, N.Y., is the county's tourism headquarters and a participant in the I LOVE NY program. A comprehensive listing of area attractions, lodging and events can be found at OrangeTourism.org. Like Orange County Tourism on Facebook for the latest news on local happenings.
###
Photo features: Holiday Lights in Bloom, located at Thomas Bull Memorial Park Arboretum in Montgomery, N.Y.
Contact:
J.P. McGuirk
Focus Media, Inc.
845-576-2212