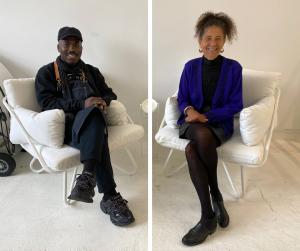 Yonkers, N.Y. - The Hudson River Museum presents a wide range of programs spotlighting the arts, sciences, and history in June.
PROGRAMS
Unless otherwise noted, all programs are free; advance registration is required.
See press images here.

Friday, June 12, 4pm
Science & Nature Project LIVE: The Space Shape Scavenger Hunt
Muffins… chicken bones… footballs… shoes… cauliflower… What do all these have in common? Nothing—except that they all have similar-shaped look-alikes in space! Join Marc Taylor, Manager of Planetarium and Science Programs, and Planetarium Educators, live in our virtual science lab. We'll do a roundup of household objects that resemble some of these space oddities and explain the why behind some of these strange shapes. Suitable for ages 6+. Registration required.

Sunday, June 14, 2pm
Radical Recreation: A Conversation with Derrick Adams and Alison Rose Jefferson
Artist Derrick Adams and historian Alison Rose Jefferson, M.H.C., Ph.D., will explore the theme of water in modern African American history—from segregation to access, from restricted clubs to public bathhouses, pools, and beaches—to the present day. The topic has particular resonance to the artist's work in Derrick Adams: Buoyant, as well as during this time of civil unrest, and as many members of our community will directly experience the loss of recreational outlets this summer due to the pandemic. 

Dr. Jefferson will discuss her new book, Living the California Dream: African American Leisure Sites during the Jim Crow Era, which features an artwork by Derrick Adams on the cover, while Adams will address the complexities of the Black lived experience in his art. Moderated by HRM Director Masha Turchinsky.

Registration required; pay-as-you-wish. Your support provides essential funds to enable the HRM to support our staff, artists, and quality programming.

Wednesday, June 17, 3pm
Art Project LIVE: Baseball Glove Photo Pop-Up
Take your dad out to the ballgame, virtually! Enjoy the trading cards from the Museum's collection and knock it out of the park with a surprise Father's Day gift: a baseball glove pop-up photo. Have a small picture on hand, and we will show you how to make it! 
Image: Tim Jordan, Giants, and Buck Herzog, ca.1911. Chromolithograph with hand-coloring. Turkey Red Premium, No. 45. Gift of Henry S. Hacker, 1998 (98.13.3.43).
Friday, June 19, 4pm
Awesome Astronomy LIVE: Hello, Summer!
Summer starts on the Summer Solstice, when the evening sky is full of beautiful sights. The long days and short nights mean less time for stargazing—but these nights can be warm and comfortable, and are a great time to stargaze. Join Marc Taylor, Manager of Planetarium and Science Programs, and HRM Planetarium Educators, for this Facebook Live event as we take a look at the skies and answer your questions about the Summer Solstice and more. Recommended for ages 8+.

Friday, June 19, 6-8pm
Paint Night at Home: Watercolor and Crayon Collages
Join artist Teresa Pereira for this virtual Paint Night, and create a collage inspired by Susan Hall's striking 1978 painting Moving Home, which takes on new meaning in these times of sheltering-in-place. Choose one of two versions and make it your own, in crayon or in watercolor and magazine clippings—or a combination of the two. We'll also provide a template for the helicopter and house for you to print and use. As you paint or draw, may we suggest a sparkling Blanc de Blanc, a Chardonnay, or a Pinot Noir from one of the many vineyards in Marin County, where Susan Hall was born and raised?

Tickets $10, $5 for Members. Registration required.
Image: Susan Hall (American, b. 1943). Moving Home, 1978. Acrylic on paper, mounted on canvas. Gift of Mr. and Mrs. Herbert Schorr, 1983 (83.19.1). © Susan Hall / Licensed by VAGA at Artist Rights Society (ARS), New York, NY
Saturday, June 20, 2pm
The Fight for Marriage Equality
Nationally recognized local activists Michael Sabatino and Robert Voorheis lead a discussion and Q&A on LGBTQ+ history, along with readings from their co-authored book The People's Victory, Stories from the Front Lines in the Fight for Marriage Equality. Several co-authors of the book also will be present, including Brian Silva, Executive Director of NEAT (National Equality Action Team); Cathy Marino Thomas, Board Member, GAG (Gays against Guns); Charles Scatamacchia; and Michael Boyajian. 

Sunday, June 21, 5pm
Soulful Dads: A Father's Day Concert Featuring Monday Best
Treat your dad or favorite father figure(s) to the folk music and soul sounds of Monday Best, a talented local quartet of musicians who have prepared a special Father's Day concert for everyone to enjoy. Their sound is characterized by expressive songwriting, intricate vocals, and groovy rhythms. 

Friday, June 26, 4pm
Science and Nature Project LIVE: Be an Origami Naturalist
At this time of year, the Hudson Valley is full of life, and one of the best ways to learn about it is to make a drawing, painting, or sculpture of an organism. Join Marc Taylor, Manager of Planetarium and Science Programs, and Hudson River Museum educators, in our virtual science lab. With just some plain paper and crayons or pencils, use the art of origami to make a beautiful group of animals. Recommended for ages 8+. 

Saturday, June 27, 2pm
A Celebration of African American Music With Soprano Yolanda J. Johnson
Celebrate African American Music Appreciation Month with us as Soprano Yolanda F. Johnson, accompanying herself on piano, presents Art Songs by African American composers, featuring spirituals, opera, and contemporary music. Inspired by the exhibition Self in the City: Highlights from the Collections of the HRM and Art Bridges, particularly the colorful work by Archibald Motley, Bronzeville at Night, this concert-lecture will highlight the contributions of African Americans to the American musical experience. 

Sunday, June 28, 1:30-2:30pm
Curator Tour from Home: Glenview's Gilded Age Woodwork
Our historic home of Glenview's restored period rooms feature a grand staircase with a carved walnut sunflower banister and a sideboard featuring scenes from Aesop's Fables, delicate floral details, and elegant brass hinges. Find out more about the man who created these treasures, renowned woodworker Daniel Pabst and his workshop, in a virtual tour from home with Laura Vookles, Chair of the Museum's Curatorial Department. 

Museum from Home
Be sure to also visit HRM's Museum From Home, a digital initiative for audiences to virtually experience all the HRM has to offer. There are a variety of recorded programs and workshops available, with new content being added each week in the categories of: Art Projects, Science Projects, Awesome Astronomy, Storytime, Teaching Resources, and HRM Collections & Exhibitions.

#MuseumFromHome 
Pictured: Artist Derrick Adams and Historian Alison Rose Jefferson
The HUDSON RIVER MUSEUM (hrm.org) is a preeminent cultural institution in Westchester County and the New York Metropolitan area. Situated on the banks of the Hudson River in Yonkers, New York, the HRM's mission is to engage, inspire, and connect diverse communities through the power of the arts, sciences, and history. 

The Museum offers engaging experiences for every age and interest, with an ever-growing collection of American art; dynamic exhibitions that range from notable 19th-century paintings to contemporary art installations; Glenview, an 1877 house on the National Register of Historic Places; a state-of-the-art Planetarium; an environmental teaching gallery; and an outdoor Amphitheater. The Museum is dedicated to collecting, preserving, exhibiting, and interpreting these multidisciplinary offerings, which are complemented by an array of public programs that encourage creative expression, collaboration, and artistic and scientific discovery. 
Press contact:
Jen McCaffery
jmccaffery@hrm.org
(914) 963-4550 x240