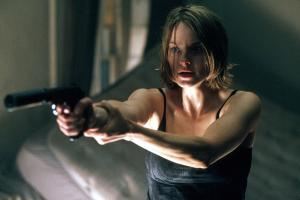 A celebration of Foster's contributions to the art of cinema will be held at
George Eastman Museum on May 25.  Tickets go on sale to members on April 25.
Rochester, N.Y. (April 11, 2023) —The George Eastman Museum will honor actor and filmmaker Jodie Foster with the George Eastman Award for distinguished contribution to the art of cinema on Thursday, May 25. Tickets for the benefit gala will go on sale to Eastman Museum members on April 25, and any remaining tickets will go on sale to the public on May 2. Tickets and other information for the gala and a related series of seven films at the Dryden Theatre will be available at eastman.org/eastmanaward2023.
In receiving the award, Foster joins an elite group of film artists, including Lauren Bacall, Louise Brooks, Charlie Chaplin, Gary Cooper, Cecil B. DeMille, Michael Douglas, Greta Garbo, Lillian Gish, Audrey Hepburn, Michael Keaton, Gregory Peck, Mary Pickford, Martin Scorsese, James Stewart, Meryl Streep, Gloria Swanson, and most recently Julia Roberts. The George Eastman Award was established in 1955 as the first award to recognize the enduring artistic value of the oeuvre of a film actor, director, or cinematographer.
One of the most critically acclaimed actresses of her generation, Foster has created a wide range of unforgettable and inspiring characters for more than 45 years. Among many accolades, she has received two Academy Awards for Best Actress in a Leading Role and two other Academy Award nominations, as well as four Golden Globe awards from among eleven nominations. In 2012, she was presented with the Cecil B. DeMille Award for outstanding contributions to the world of entertainment, the fourth-youngest among the august recipients of that tribute.
"We are thrilled to salute Jodie Foster for her extraordinary contribution to the art of cinema," said Bruce Barnes, the Ron and Donna Fielding Director of the George Eastman Museum. "Throughout her career, she has compellingly portrayed strong women who have bravely and cannily confronted and overcome circumstances from challenging to harrowing. Though she disappears into each role, her intelligence and sensitivity are always apparent."
After making her film debut, at eight, with a role in Walt Disney's Napoleon and Samantha (1972), Foster garnered attention in Alice Doesn't Live Here Anymore (Martin Scorsese, 1975) and then delivered a powerful portrayal of a streetwise teenager in Taxi Driver (Martin Scorsese, 1976), which brought her widespread critical praise and international recognition, including her first Academy Award nomination. She became the only American actress to receive two British Academy of Film and Television Arts (BAFTA) awards in the same year—Best Supporting Actress and Best Newcomer for her performances in Taxi Driver and Bugsy Malone (Alan Parker, 1976), respectively.
Foster earned a degree in literature from Yale University, graduating magna cum laude in 1985. A few years later, she stunned and inspired film audiences with her portrayal of a courageous rape survivor in The Accused (Jonathan Kaplan, 1988) and as FBI Special Agent Clarice Starling in the thriller The Silence of the Lambs (Jonathan Demme, 1991)—earning her two Academy Awards for Best Actress in a Leading Role before age 30. She received another Academy Award nomination for Best Actress for her performance as the title character in Nell (Michael Apted, 1994).
Foster has appeared in more than 40 films, with leading or key roles in Foxes (Adrian Lyne, 1980), Contact (Robert Zemeckis, 1993), Panic Room (David Fincher, 2002), Inside Man (Spike Lee, 2006), The Brave One (Neil Jordan, 2007), and many others. Most recently, Foster starred alongside Benedict Cumberbatch and Shailene Woodley in The Mauritanian (Kevin Macdonald, 2021). Later this year, she will appear alongside Annette Benning in Netflix's film Nyad (Jimmy Chin and Elizabeth Chai Vasarhelyi, 2023) and star in HBO's coming season of True Detective: Night Country.
In addition to acting, Foster has always had a keen interest in the art of filmmaking. She made her motion picture directorial debut in 1991 with Little Man Tate, in which she starred. She has directed other films, including Home for the Holidays (1995), The Beaver (2011), and Money Monster (2016).
Foster will accept the George Eastman Award in a ceremony on Thursday, May 25, at 8 p.m. in the Dryden Theatre at the George Eastman Museum. The ceremony will feature an appreciation of her career by Peter Bagrov (Senior Curator, Moving Image Department), a compilation of highlights of her work, and a conversation with Foster, to be followed by a gala in the museum.
The award ceremony and gala will be open to the public. Members of the museum will have access to advance ticket sales, beginning on Tuesday, April 25 at 10 a.m. To become a member of the George Eastman Museum, visit eastman.org/membership or call (585) 327-4833 for information. Any remaining tickets will go on sale to the general public on Tuesday, May 2 at 10 a.m.
Benefit Event Ticket Information
All tickets for the George Eastman Award benefit event include reserved seating for the award ceremony, admittance to the festive gala, and valet parking.
Patron tickets: $400
Supporter tickets: $250
Friend tickets: $150
Visit eastman.org/eastmanaward2023 for more information and to purchase tickets.
Sponsorship
The Eastman Museum is deeply grateful to Constellation Brands, which has been the lead sponsor of George Eastman Award events for Jodie Foster, Julia Roberts (2019), and Michael Keaton (2016).
Film Series
In addition, the Dryden Theatre will screen a series of Foster's films leading up to and following the award ceremony. Tickets will go on sale at 10 a.m. on Tuesday, April 11.
Friday, May 5                                                     The Accused (Jonathan Kaplan, 1988)
Saturday, May 6                                                 Taxi Driver (Martin Scorsese, 1976)
Tuesday, May 9                                                  Little Man Tate (Jodie Foster, 1991)
Wednesday, May 10                                           Nell (Michael Apted, 1994)
Wednesday, May 17                                           The Mauritanian (Kevin Macdonald, 2021)
Friday, May 19                                                   Contact (Robert Zemeckis, 1993)
Friday, May 26                                                   Panic Room (David Fincher, 2002)
About the George Eastman Museum
Founded in 1947, the George Eastman Museum is the world's oldest photography museum and one of the largest film archives in the United States, located on the historic Rochester estate of entrepreneur and philanthropist George Eastman, the pioneer of popular photography. Its holdings comprise more than 400,000 photographs, 28,000 motion picture films, the world's preeminent collection of photographic and cinematographic technology, one of the leading libraries of books related to photography and cinema, and extensive holdings of documents and other objects related to George Eastman. As a research and teaching institution, the Eastman Museum has an active publishing program and, its L. Jeffrey Selznick School of Film Preservation's graduate program
(a collaboration with the University of Rochester) makes critical contributions to film preservation. For more information, visit eastman.org.
About the George Eastman Award
The George Eastman Award for distinguished contribution to the art of cinema was established by the Eastman Museum in 1955 to raise awareness of the imperative of the film preservation. The first two presentations of the award in 1955 and 1957, known as the Festival of Film Artists, were a tribute to the legends of the silent film era (1915–1930). Since then, the George Eastman Award has honored a range of actors, directors, and cinematographers.
# # #
ATTENTION—Media: High-resolution images for this year's George Eastman Award event can be downloaded here: eastmanmuseum.box.com/v/jodiefostergeaward2023.
 Image: Jodie Foster in PANIC ROOM
Media Contact:
Nate Smith, Communications Manager
George Eastman Museum
(585) 327-4813