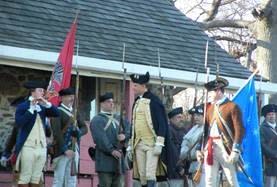 Newburgh, NY (January 24, 2020) – Help us celebrate General George Washington's birthday– his 288th–at Washington's Headquarters State Historic Site. As one of the critical figures in our country's birth, one or two days honoring him just isn't enough; we do THREE days-February 15th, 16th and 17th, from 12 PM until 4 PM each day. Admission is free for all those three days, though donations are accepted.
Sing "Happy Birthday" to the General (reenactor John Koopman) as he cuts into his birthday cake, officially starting the day's festivities. Have a piece of cake and prepare to enjoy all that each day offers: demonstrations, topical talks, historical presentations and a take-home craft.
After enjoying his cake, the General will meet visitors at his Headquarters. Mrs. Washington will join him Sunday and Monday. Each day, Balladeer Thad McGregor will offer musical entertainment in the Headquarters' dining room. Reenactors will perform military drills ending each day with the General reviewing the troops. They are: Saturday– the 5th Connecticut Regiment, Sunday–Lamb's Artillery and Morgan's Rifles and the 4th CT Regiment, and Monday the 5th New York Regiment.
In the Museum, create a take-home craft and while there, listen to interesting and informative historical presentations. On Saturday, Matthew O'Leary will talk about, At the End of our Tether: The Road to the Newburgh Conspiracy & its Aftermath. On Sunday, Josephine Bloodgood from Historic Huguenot Street, will discuss Full Possesssion, The Wyntje Hasbrouck Household in 1760s New Paltz. On Monday, Steve Lynch from the Fishkill Historical Society, will speak about into The Importance of the Fishkill Supply Depot & Van Wyck Homestead During the Revolutionary War, and Sandy Spector (aka Martha Washington) will elaborate On How to Make a Past Life Relevant to Present People.
Saturday and Sunday, Newburgh Enlarged City School District students will present, The Washington Project 2020!, consisting of individually created theatrical pieces highlighting events during Washington's tenure at Headquarters Newburgh. The Washington Project 2020! is a collaborative effort of the Newburgh Enlarged City School District, Safe Harbors of the Hudson, and Washington's Headquarters State Historic Site. Funding is provided through the New York State Connect Kids to Parks initiative, a program of New York State Parks, and the Environmental Protection Fund.
Sponsorship for this program is provided by the Friends of the State Historic Sites of the Hudson Highlands, the Palisades Interstate Park Commission, and the Palisades Parks Conservancy. Call 845-562-1195 for further details. 
Washington's Headquarters State Historic Site is a registered national historic landmark. It is located at the corner of Liberty and Washington Streets within the city of Newburgh's East End Historic District. The site is one of 35 historic sites within the New York State Office of Parks, Recreation and Historic Preservation and is one of 28 facilities administered by the Palisades Interstate Park Commission in New York and New Jersey. For more information about New York State Parks and historic sites, please visit www.nysparks. com.  For more information about Washington's Headquarters, please call 845-562-1195 or visit us at www.nysparks.com or on Facebook at www.facebook.com/washingtonsheadquarters.
Our Vision-Connecting Parks, People, and History. Our Mission–Is to preserve the Palisades Interstate Park's rich history and biodiversity and protect America's first bi-state park system. We are committed to supporting parks where all visitors can recreate and play, connect, and immerse themselves in nature and culture.
Find us at http://www.palisadesparks.org/ or, to donate for future improvements for George Washington's Headquarters, visit us directly at http://www.palisadesparks.org/donate. You can also reach us at Palisades Parks Conservancy, P.O. Box 513, New York, NY 10018 or call us at 1-845-630-8174.
Contact:
Elyse B. Goldberg | elyse.goldberg@parks.ny.gov | 845-562-1195