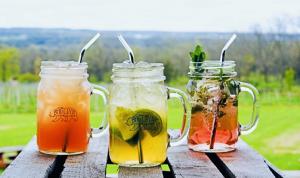 From wine and food pairings to live music, there is something for everyone to enjoy!
Watkins Glen, NY – As the reopening of our region continues, Seneca Lake wineries are ready to welcome you back to events and experiences that are truly one of a kind! From wine and food pairing to live music – and seemingly everything in between, you can take your pick from a long list of opportunities to enjoy this month: 
Food and Wine
·         Chocolate and Wine Pairing at Glenora Wine Cellars. A little chocolate, a little wine, a lot of happiness! That's what you'll get with the Chocolate & Wine Tasting at Glenora Wine Cellars. The chocolates are created by Dimitry's Confections in Corning. These tastings are available by advance reservation only - call 800-243-5513 to schedule your tasting.
·         Vineyard Picnic Experience at Chateau LaFayette Reneau. Enjoy a private picnic experience amongst the vineyards, accompanied by magnificent wines and breathtaking views. Advance reservations at least 5 days ahead of your visit required.
·         Taste Bud Flights at Fox Run Vineyards. Elevate your tasting to a Taste Buds Flight! This flight plays on the connection between food, wine, and the 5 taste receptors – salty, sour, sweet, bitter, and umami. 5 preselected wines paired with 5 bites to awaken your senses and challenge your palate. $20/person, no reservations required – just ask at the tasting counter.
·         Sunday Seasonal Bounty Boards at Boundary Breaks, beginning June 12. Join them on Sundays beginning June 20th for a delicious wine and food pairing experience! The menu will continually change to include new, local, and in-season items with a choice of protein, starch, fermented vegetables, and fruits. Reservations are required.  
After-Hours/Live Music
·         Golden Hour at Bagley's Poplar Ridge Vineyards every Thursday, Friday, and Saturday night from 5:30pm to 8:30pm. Enjoy wine by the glass and bottle, specialty wine cocktails, wine slushies, beer, snacks, and music. No reservations required.
·         Wednesday night live music at Ventosa Vineyards from 5-8pm. In addition to live music, you can also enjoy delicious food from Café Toscana, which includes paninis, wraps, salads, pizza, and more! Reservations required.
·         Pub Night "Lite" at Wagner Vineyards on Friday evenings from 5-9pm. Wine and beer by the glass, flight, or bottle, as well as light fare from the famous Ginny Lee available for purchase. No reservations required.
·         Live music at The Oasis at Hazlitt 1852 Vineyards, every Friday evening from 5-8pm. There's no cover charge for this family-friendly night out. Enjoy wine, local snacks, wine slushies, Cider Tree hard cider, other local beverages, and of course, live music!
·         Sunset Saturdays at Boundary Breaks. On the first Saturday of every month, beginning June 5 and ending October 2, they'll celebrate with musical entertainment and fresh-made, locally sourced dinners from 6:30-8:30pm. Reservations required. 
Pet-Friendly
·         Dogs and Dogs at Fox Run Vineyards on Sunday, June 27 from 12-5pm.  Walk your doggo on a special trail through the vineyards, let them chow down on dog-friendly ice cream, and treat yourself to a very punny meal of specialty hot dogs. 
Outdoors + Wellness
·         Fulkerson Winery Heritage 5K on Sunday, June 6. Registration deadline is Friday, June 4. This 5K takes runners through the beautiful, historic Fulkerson vineyards. Show your bib for a tasting afterwards!
·         Friday Morning Yoga at Castel Grisch Winery. Venture to the beautiful country setting at Castel Grisch for a refreshing, relaxing start to your weekend. Offered at 9am on Fridays throughout the summer. 
Tours
·         Guided Tour and Tasting at Lakewood Vineyards. Get an inside look at the wine-making process—from the vineyards and how they are cared for, to how the grapes become wine. Complete the experience with a flight of wines specially selected by their wine stewards. Available on Saturdays at 10am and 11am, and on Sundays at 1pm. Reservations required.
·         VIP Tour at Fox Run Vineyards. Co-Owner, Scott Osborn, takes you on a personal tour of the estate, through the vineyards and winemaking facility. After the tour, he'll host a private wine tasting with you in the historic barrel room, including wines from the entire Fox Run portfolio, paired with a special cheese and charcuterie board. Reservations required at least two weeks in advance. 
To learn more about the events mentioned above and other upcoming events, visit: https://senecalakewine.com/calendar/.
 To learn more about other unique experiences (plus those mentioned above), visit: https://senecalakewine.com/unique-experiences/.   
###
Photo provided courtesy of Bagley's Poplar Ridge Vineyards. Please contact with any questions about usability.
Founded in 1986, the Seneca Lake Winery Association, known publicly as the Seneca Lake Wine Trail, is a nonprofit organization, dedicated to promoting its member wineries; to developing a spirit of cooperation between members of the association; to developing an outstanding wine producing and tourism area; to stimulating interest in wine in general and the wines of Seneca Lake, specifically; and to gaining recognition of the Seneca Lake Winery Association as an independent leader in the grape growing, wine, and tourism initiatives.
Contact: 
Brittany Gibson | Executive Director | Seneca Lake Wine Trail
607-535-8080 | www.senecalakewine.com