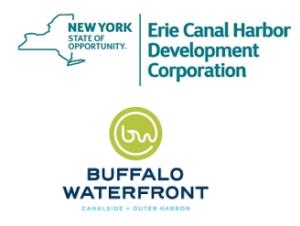 The Waterfront is Open and Health and Safety Will Be the First Priority for Visitors
See visual of new signage at Canalside and the Outer Harbor here
Erie Canal Harbor Development Corporation (ECHDC) and Be Our Guest are encouraging visitors to the Buffalo Waterfront to engage in responsible recreation during the ongoing COVID-19 public health crisis. ECHDC and Be Our Guest recommendations incorporate guidance from the Centers for Disease Control and Prevention and the New York State Department of Health for reducing the spread of infectious diseases and encourage everyone to enjoy local recreation areas while, practicing social distancing and using common sense to protect themselves and others.
"Canalside has become a destination location and is the catalyst for the rebirth of Buffalo's historic waterfront," said Lieutenant Governor Kathy Hochul. "While in more traditional times we would be welcoming visitors from far and wide, we need to take precautions to protect ourselves and others during these unprecedented times. I applaud Erie Canal Harbor Development Corporation and Be Our Guest for taking these necessary steps to safeguard guests and help ensure we can still enjoy the beauty Buffalo's waterfront has to offer. I encourage everyone to follow the safety guidelines, be physically distant from others, and wear a mask. It is up to all of us to stop the spread of this virus and continue on our path forward together."​
"The Buffalo Waterfront is open for the public to enjoy, we are just asking visitors to be smart and follow social distancing rules while we work to keep our waterfront a safe and beautiful destination," said Robert Gioia, ECHDC Board Chairman. "The success of the upcoming summer season is entirely dependent on our ability to enjoy the waterfront in a whole new way; without crowds, concerts or even sharing food at a table. But in these difficult times we promise there will still be much to enjoy—especially the water, the wildlife and the magnificent sunsets."
As ECHDC and Be Our Guest prepare for the summer season, several steps have been taken to ready the waterfront for visitors. An ongoing schedule for cleaning and sanitization has been put in place, including common areas and restrooms at both Canalside and the Outer Harbor. In addition, restrooms at Canalside will be temporarily limited to one user at a time. Most of the outdoor seating has been placed in storage, and any remaining seating has been spaced more than six feet apart. The beach at Canalside has been temporarily closed but the transient docks will be open.
Both Clinton's Dish at Canalside and the beer garden at Wilkeson Pointe will be available for takeout orders and food trucks will periodically be on site during busy weekends and holidays. In addition, many activities that people have grown to love at Canalside and the Outer Harbor will be available in an online format to allow for safe and responsible participation, including fitness classes and children's programming. Buffalo Waterfront is also planning on-site programming that can be enjoyed while practicing social distancing, including scavenger hunts, the Creators on the Boardwalk Farmers Market at Canalside, and a Drive-In Movie Series at the Outer Harbor. A listing of all activities will be updated throughout the season, but the initial offerings and hours of operation can be found here. Although some larger events and festivals, such as the annual July 4 Celebration, will be cancelled this year to keep the community safe, other events will continue to be evaluated during the summer season based upon government guidelines and mandates.
"Be Our Guest is hopeful there may be opportunities for future events and festivals to be programmed towards the end of summer into early fall, but in the meantime we will continue to offer safe and socially distant programming for our communities to enjoy at both Canalside and Outer Harbor this summer season," said Kevin Parkinson, Vice President of Be Our Guest, Ltd.  "Getting outdoors to walk, jog, hike, or ride a bicycle on a waterfront site is a healthy way to stay active, spend time with immediate household family members, and reduce stress and anxiety when practicing social distancing."
Both kayak and water bike rentals will be available at Canalside, while kayak and SUP rentals at Wilkeson Pointe will be open in the coming weeks. Other site vendors, such as caricatures, bicycle rentals and boat tours and cruises, will remain temporarily closed until State and CDC guidelines allow them to resume. In addition, the Queen City Bike Ferry will be closed for the season.
While crews are working hard to ready Canalside and the Outer Harbor for the summer, visitors also need to be aware of their responsibilities ahead of a very different, but always beautiful summer on the waterfront.
New signage has been put in place to advise visitors about their responsibilities to safely enjoy the outdoors, including recommendations to wear face masks and stay at least 6 feet apart from others. Visitors should gather in small groups, ideally limited to immediate household members, and stay at home if they feel sick. If the Buffalo Waterfront appears crowded, visitors are advised to move to a different location, trail or park and/or consider a different time to visit. Hand wash and sanitizer stations will be available on site. The full guidelines can be found here.

About Erie Canal Harbor Development Corporation
The ECHDC is governed by a nine-member board consisting of seven voting directors and two non-voting, ex-officio directors. The seven voting directors are recommended by the New York State Governor and are appointed by the New York State Urban Development Corporation d/b/a Empire State Development as sole shareholder of ECHDC. The two nonvoting, ex-officio director positions are held by the Erie County Executive and the City of Buffalo Mayor.
As a subsidiary of Empire State Development, the state's chief economic development agency, the Erie Canal Harbor Development Corporation supports and promotes the creation of infrastructure and public activities at Canalside, the Ohio Street corridor and the Outer Harbor that is attracting critical mass, private investment and enhance the enjoyment of the waterfront for residents and tourists in Western New York. Its vision is to revitalize Western New York's waterfront and restore economic growth to Buffalo based on the region's legacy of pride, urban significance and natural beauty. For more information on ECHDC, visit here. 
About Be Our Guest, Ltd. 
Be Our Guest, Ltd., a subsidiary of Rich Products Corporation, is an event and operations management team for both Canalside and the Outer Harbor on the Buffalo Waterfront. Be Our Guest is committed to the world class management and execution of daily programming and events at the waterfront. Working collaboratively with government and public partners, its mission is to provide the Western New York community with public access and creative programming that maximizes the unique spaces at both Canalside and the Outer Harbor. For more information, visit www.buffalowaterfront.com.  
###
Contact: 
Pamm Lent (Governor's Office) | pamm.lent@esd.ny.gov | (716) 846-8309 
Laura Magee (ECHDC) | laura.magee@esd.ny.gov | (716) 374-4246 
Paige Gress (Be Our Guest/Rich Entertainment Group) | pgress@buffalowaterfront.com |
(716) 430-9072