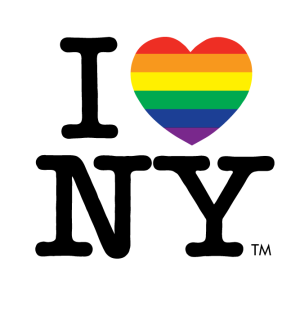 Events Across New York State Honor LGBTQ History and Heritage in Monumental Year for LGBTQ Pride
New York, NY – January 17, 2019: Fifty years ago this summer, a group of LGBTQ individuals stood up to discrimination at the Stonewall Inn in New York City – a pivotal moment that started the modern gay rights movement. That night became known as the Stonewall uprising, and the Stonewall Inn is now the country's first national monument dedicated to LGBTQ rights. In conjunction with the anniversary this June, New York City will host WorldPride 2019, an international month-long celebration of the LGBTQ community, taking place in the United States for the first time ever.
New York State has always been a leader in advancing equal rights, with a proud legacy that includes abolition, women's rights and LGBTQ equality. The state continues to be a welcoming destination for all visitors with events celebrating Stonewall 50 and WorldPride 2019. Millions of people are expected to visit New York City for this momentous celebration. With commemorative events scheduled all summer long, visitors are encouraged to extend their trips and explore New York State to create the ultimate LGBTQ vacation:
"Sing Out, New York!" – May 28-June 2 and June 6-9
The Albany Symphony will present "Sing Out, New York!"; a major national music festival and regional tour of free, outdoor concerts celebrating equal rights.
The five-day American Music Festival, scheduled for May 28-June 2 in Troy, will feature performances by David Del Tredici's Pop-Pourri, as well as John Corigliano's Symphony No. 1, "Of Rage and Remembrance," a tribute to those lost to AIDS. Both Del Tredici and Corigliano are fierce advocates for gay rights as well as renowned composers.
A regional tour of free, outdoor concerts from June 6-9 will highlight events like the Stonewall uprising, World Pride 2019 and the women's suffrage movement, showcasing New York State's role in social justice movements. Several works will premiere at "Sing Out, New York!" including a piece by composer Viet Cuong inspired by events between the 1969 Stonewall uprising and the first Gay Pride march in New York City in 1970.
Pride on the Beach – June 21-23 Long Island, birthplace of Harvey Milk, will kick off New York's Pride celebrations with Pride on the Beach. During the three-day destination weekend, more than 30,000 people will flock to Long Beach for 30+ LGBTQ events, including the festival's 29th annual Pride Parade, the second annual Pet Pride Parade in collaboration with Animal Planet, concerts and parties.
Pride on the Vines – June 25
Visitors to Long Island can head straight from the beach to the vineyard for Pride on the Vines. This day-long event on the North Fork's picturesque wine country will include tours, tastings, receptions and parties.
Chautauqua Institution's Conversation with Bishop Gene Robinson – July 2
Bishop Gene Robinson will lead a discussion about the building of America's LGBTQ community through major events including Stonewall, the AIDS crisis and marriage equality. Robinson is the Episcopal Church's first openly gay bishop and Vice President of Religion at the Chautauqua Institution. The discussion, paired with a reception hosted by Chautauqua's LGBTQ community organization, will be part of a weeklong program examining "Uncommon Ground: Communities Working Toward Solutions."
Pride at the Falls – July 5
Celebrate WorldPride and Stonewall 50 at a natural wonder: Niagara Falls, America's oldest state park. Pride at the Falls features a free concert by the Buffalo Philharmonic Orchestra, along with fireworks and the Falls lit in rainbow colors.
For more information on these and other WorldPride 2019 and Stonewall 50 events in New York State this summer, visit iloveny.com/WorldPride. Media can find press releases at iloveny.com/thebeat. 
About New York State
New York State features 11 beautiful vacation regions. New York's attractions encompass landmarks such as Niagara Falls, the largest park in the continental U.S. in the Adirondacks and treasures such as the Baseball Hall of Fame in Cooperstown and the Strong Museum of Play in Rochester. New York State offers diverse activities for all seasons, from fishing, hiking and boating to year-round festivals and exploring the rich history and culture of one of the 13 original colonies. Throughout the state, visitors enjoy fine cuisine, beverage trails and farm-to-table fresh foods.
Learn more at iloveny.com and follow us on social media:
Twitter: @ILoveNYPR (PR handle)
Twitter: @I_LOVE_NY (consumer handle)
Facebook: Facebook.com/ILOVENY
Instagram: ILOVENY
YouTube: YouTube.com/OfficialILoveNY
CONTACT:
Phillip Novoa
Finn Partners
(646) 307-6330
Phillip.Novoa@finnpartners.com
Eric Scheffel
Empire State Development
(518) 292-5274