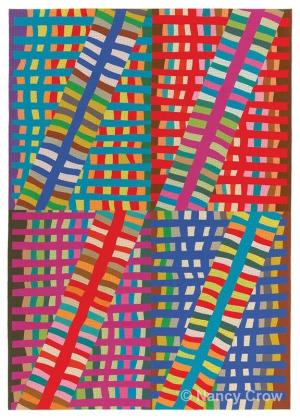 Auburn, NY – Schweinfurth Art Center's three summer exhibits, "Nancy Crow: Sequences, Riffs, and Drawings," "The Palace at 3AM" by Buffalo artist Gary Sczerbaniewicz, and "I Am a Friend of Dorothy" by Rochester-area artist Kevin Carr, will open at 4 p.m. Saturday, June 10, 2023.
The opening is 4 to 6 p.m. at the Schweinfurth, with light refreshments available, and is free and open to the public.Carr's exhibit, which is part of the Emerging Artist joint project of the Schweinfurth and Cayuga Museum of History & Art, is located in both locations. The Cayuga Museum will also host an opening from 4 to 6 p.m. Saturday.
All three exhibits will run through Aug. 20, 2023.
Nancy Crow, an accomplished and influential quilter, is displaying recent work that represents the three directions she takes as she creates. "Because I always have a lot of anxiety, I have found that sequences, which means putting an order to how things are put together, helps quell my anxiety," she said. "At least while I'm working on that, I calm down and relax."
Her piece "Drawing: Riff #5" is the sequence that underlies most of the pieces in that series. "If someone comes to the exhibit, studies 'Drawing: Riff #5,' they will then see as they walk along how I have scaled things up and scaled things down, have changed colors, have changed values, but that sequence is there."
Her exhibition is in the Schweinfurth's second floor Davis Family Gallery. While she won't be present at the opening, Crow will be in town to give an informal gallery walkabout at 7 p.m. July 19, 2023. The talk is free with $10 per person admission and open to the public. No reservations are required.
Buffalo-based artist Gary Sczerbaniewicz builds dioramas, some encased in wooden pedestals, that highlight some aspect of anomalous phenomena that he has been researching for nearly a decade: séance parlors, alien abductions, inter-dimensional ruptures, apocalyptic scenarios, and more.
The title piece in his exhibit shows a normal two-bedroom house, until you notice something sticking into a window of one bedroom. Look outside that window, and you find a giant praying mantis trying to get inside.
Sczerbaniewicz's exhibit will be in the Schweinfurth's first floor main gallery.
Artist Kevin Carr, who grew up in Canadaigua and now lives in Farmington, NY, creates multimedia pieces with a strong focus on fabrics and quilting. It wasn't what he planned to pursue when he began attending School of the Art Institute of Chicago for his master's degree in painting and drawing.
"The first month there, I hated everything I made," he said. "I ended that semester feeling so defeated." But Carr realized that he didn't move to Chicago to study traditional media; he came to experiment.
The results of those experiments can be seen in both the Schweinfurth and Cayuga Museum. Carr is the second Emerging Artist to be featured this year in both institutions as part of a joint project. His work is located in Gallery Julius in the Schweinfurth and in second floor galleries at the Cayuga Museum.
For more information about the exhibits, link to the Schweinfurth website at myartcenter.org. Summer exhibits are sponsored by the Osborne Memorial Association, Nelson B. Delevan Foundation, and New York State Council on the Arts.
If you go…
WHAT: Opening reception for Schweinfurth Art Center's three summer exhibits
WHERE: Schweinfurth Art Center, 205 Genesee St., and Cayuga Museum of History & Art, 203 Genesee St., both in Auburn
WHEN: 4 to 6 p.m. Saturday, June 10, 2023
COST: Free and open to the public; light refreshments will be available
###
Image: Nancy Crow - Drawing Riff #12
Note to editors
High-res images to accompany this story can be downloaded from the following Dropbox folders:
For Nancy Crow: https://www.dropbox.com/scl/fo/7phrnunkbbt9i4be29bla/h?dl=0&rlkey=i5nnw4t6cg1al09mvo9e6raec
For Gary Scerbaniewicz: https://www.dropbox.com/scl/fo/zv3a81n632wb18h300e1o/h?dl=0&rlkey=n5boeyolzuxmll835cpqtu6by
For Kevin Carr: https://www.dropbox.com/scl/fo/xp0q2hh34q1qbci7ey1wn/h?dl=0&rlkey=89bi1dzb0vt1giz8t22p83l7p
About the Schweinfurth
The Schweinfurth Memorial Art Center is a multi-arts center that opened in 1981 thanks to a bequest from Auburn-born architect Julius Schweinfurth. The art center's programs include more than a dozen exhibitions each year and educational programs for children and adults, which feature local, national, and international artists. For more information, link to schweinfurthartcenter.org.
For more information, contact:
Maria Welych, Marketing Director
Schweinfurth Art Center
315.255.1553 w. | 315.380.6472 m.