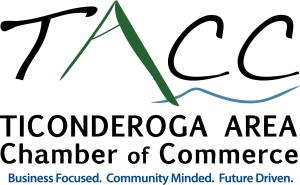 Ticonderoga, NY – June 29, 2021 – Take Out Tuesdays will officially launch in coordination with the 2021 Summer Concert Series presented by the Ticonderoga Festival Guild. Take Out Tuesdays is being organized by the Ticonderoga Area Chamber of Commerce (TACC).
Dates for the Summer Concert Series and special Take-Out Tuesdays are July 6th, July 13th, July 20th, July 27th, and August 10th at 7:00 PM. The concerts take place at 132 Montcalm Street in Ticonderoga in front of the Ticonderoga Community Building with a rain location of the Knights of Columbus Pavilion. All concerts take place rain or shine.
2021 Ticonderoga Summer Concert Series: Tuesdays at 7:00 PM
The 2021 Summer Season is dedicated to the memory of Ticonderoga Festival Guild Board Member and Director of the Festival Guild Players, Vincent Smith.
July 6th: Big Fez and the Smartmatic's
Great instrumental & vocal tunes from era bands like the Ventures and the Beach Boys.
July 13th: The Ruta Beggars
Traditional Bluegrass & early swing together create a timeless act filled with smooth harmonies.
July 20th: Jacksland
Soulful, Groove, & Pop Duo featuring the voice of Jackie Dugas & singer/guitarist Rick Bolton.
July 27th: Canal Street String Band
Fiddles tunes, sea shanties, cowboy songs, canal ditties, western swing, & originals.
August 10th: Richie & Rosie
New sound to traditional music with a mix of Americana, oldtime & folk.
"Grab your dinner, support local restaurants, and join us for the Ticonderoga Festival Guild's Summer Concert Series on Tuesday evenings through July and August. Participating businesses should be offering specials for these evenings and posting them on their social media. Attendees of the concerts as well as general visitors and community members are encouraged to get take out from local restaurants and eateries," shared Erin Mullen – TACC Member Service & Event Manager.
Participating businesses include Bodette's Barbecue, Burgoyne Grill, Dunkin Donuts, Emeralds II, Hot Biscuit Diner, Madden's Pub, McDonald's, Seymour's, Stewart's Shops, Ticonderoga Natural Foods Co-Op, Walmart, and The Wind-Chill Factory.
Please note that not all restaurants and eateries are listed on the Take-Out Tuesday information but only those open on Tuesday's evenings for the concerts. A restaurant, dining, and general eatery directory can be found at www.ticonderogany.com.
For specific information on the Ticonderoga Festival Guild Concert Series or other programs visit their facebook page or www.tifestivalguild.org.
For Ticonderoga Area business directory, calendar of events, or area information contact the TACC at 518-585-6619, via email at chamberinfo@ticonderogany.comm, visit www.ticondeorgany.com, or the TACC facebook page.
The Ticonderoga Area Chamber of Commerce (TACC) – The TACC is a non-profit organization that serves, markets, and promotes the Ticonderoga area including, Ticonderoga, Crown Point, Hague, Moriah, and Putnam, NY. TACC serves as the Ticonderoga Area Business and Visitor Center. The mission of the TACC is to initiate and provide programs, services, and leadership which will enhance a cooperative business community and create a vibrant economy, making the Ticonderoga Area an exceptional place to live, work, and visit. For more information on the Ticonderoga Area Chamber of Commerce or the Ticonderoga Area please visit www.ticonderogany.com, "like" the Chamber on facebook, "follow" TiconderogaADK on twitter, and TiconderogaNY on Instagram.
###
CONTACT:
Matthew Courtright, President & CEO: mcourtright@ticonderogany.com or 518-585-6619