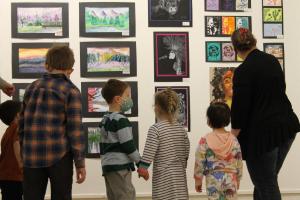 Auburn, NY (March 2, 2023) – Families are invited to visit Schweinfurth Art Center 1 to 4 p.m. on Sunday, March 5, 2023, for a free fun family craft. Participants will draw a portrait to be added to the walls of the Art Center as part of our current exhibition, Both Ends of the Rainbow. All supplies will be provided. All you need to bring is your creative self!
Visitors can also tour the exhibits for free. For more information, see our website at myartcenter.org.
###
About the Schweinfurth
The Schweinfurth Memorial Art Center is a multi-arts center that opened in 1981 thanks to a bequest from Auburn-born architect Julius Schweinfurth. The art center's programs include more than a dozen exhibitions each year and educational programs for children and adults, which feature local, national, and international artists. For more information, link to schweinfurthartcenter.org.