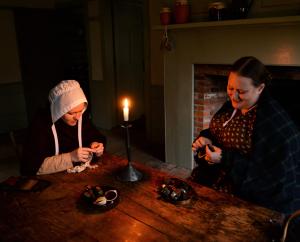 Mumford, N.Y. -- 
WHAT:
Preparing for Winter, Saturday, November 21, 10 am-3 pm
·         Watch the village busily prepare for the colder months with spinning, candle-making, and warm winter woolens.
·         Enjoy food tastings, like chestnuts roasting on an open fire, or purchase some tasty items in our historic Confectionery!
·         Understand the labor of preparing food for winter with butchering, smoking, and sausage-making demonstrations.
·         Enjoy story telling with Tonia Galban, from the Mohawk Nation Bear Clan. She will share Native American stories about the woodland animals and the fall nighttime skies.
·         Join our Nature Center staff to learn all about what birds do to prepare for winter, as well as how you can help them get through the winter! Play games, do interactive crafts, and watch a demo on how to create a bird house at home.
·         Watch historic and contemporary craft demonstrations and if you're inspired by the handmade gift-making you see, then get in on the fun at home by purchasing take-and-make seasonal and holiday craft kits
Additional information:
·         Flint Hill store will be open for some holiday shopping, where you'll find unique, village-made artisan goods.
·         Tickets available at the door, all non-members ages 13 & up are $10 each, GCV&M members and kids 12 and under are FREE
·         To maintain an atmosphere of healthy fun, GCV&M has put safety protocols in place in accordance with state and local guidelines. For our mutual protection all visitors should practice social distancing, and per New York State executive order, all visitors over the age of two are required to wear a mask when in any indoor or high traffic outdoor spaces.
·         In the Historic Village, houses have guidelines in place for physical distancing, and hand sanitizing stations will be available throughout the grounds.
WHO:
Genesee Country Village & Museum, the largest living history museum in New York State, and the third largest in the nation.
WHEN:
Saturday, November 21, 10 am-3 pm
WHERE:
Genesee Country Village & Museum
1410 Flint Hill Road, Mumford NY 14511
https://www.gcv.org/events/preparing-for-winter/
WHY:
Enjoy the turn of the seasons and a day of cozy winter preparations at Genesee Country Village & Museum!
Visit gcv.org for more info.
MEDIA CONTACTS:
Jen VanRy, (585) 294-8280
Becky Wehle, (585) 330-7267